Ketamine, a dissociative agent, is listed on the 21st WHO Model List of Essential Medicines for basic health care systems. It first gained U.S. Food and Drug Administration approval as an anesthetic in 1970 and again in 2019 for treatment-resistant depression in combination with another oral antidepressant. Dr. McEntee, a practicing med-peds hospitalist and palliative care/hospice physician presented a compelling case for the uses of ketamine as part of the Clinical Update series at SHM Converge in March.
Proceeded in history by phencyclidine, better known as "PCP," ketamine binds to the same receptor site, offers an improved safety profile, and has fewer side effects including severe delirium. It has a wide variety of emerging off-label uses and can be an effective analgesic in cancer-related pain, sickle cell pain crises, ischemic pain, neuropathic pain, and perioperative pain.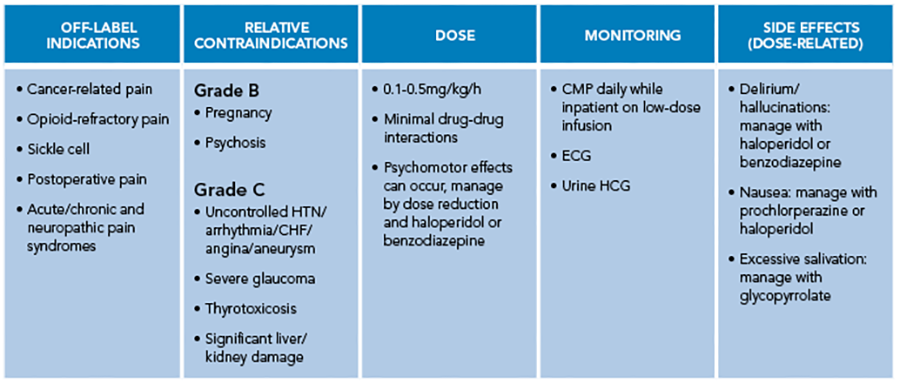 Ketamine is lipophilic and water-soluble and is many times used as a racemic mixture of its R and S enantiomers. Ketamine acts on multiple receptors: NMDA, opioid, muscarinic, dopamine, norepinephrine, and serotonin. In the acute pain setting, it is thought that through its action at the NMDA receptor, ketamine improves analgesia and decreases opioid tolerance. Additionally, its opioid-sparing properties and analgesia can persist after discontinuation. Its formulation is unique in that the intravenous (IV) solution can be administered orally, rectally, intranasally, IV, subcutaneously, and transdermally. It is metabolized through the liver and there are no renal or hepatic dosing recommendations. Many case reports on experimental usage have been reported, but a 2017 Cochrane review found no sufficient evidence to support ketamine for pain control excluding perioperative use. In 2018, consensus guidelines were published on the use of IV ketamine by the American Society of Regional Anesthesia and Pain Medicine, the American Academy of Pain Medicine, and the American Society of Anesthesiologists.
A challenging patient case that ended poorly, and the spouse's plea for better care, are what motivated Dr. McEntee to advocate for a ketamine infusion policy at the University of North Carolina. After the development of the hospital policy, she was able to successfully help a 40-year-old mother of three with de novo metastatic breast cancer and bone metastasis reduce intractable 10/10 pain, prompting hospitalization, to 0/10 with the support of ketamine infusion. Like many patients, she experienced hallucinations that were only pleasant in nature. As a side note, Dr. McEntee commented that hallucinations of bunnies were common for other patients she has treated. Ultimately, the aforementioned 40-year-old mother of three was transitioned from IV to oral dosing at discharge and was able to walk into her daughter's graduation, walk up to her bedroom, where she had not slept for six months, and play tennis. Before she passed, she told Dr. McEntee, "Please tell everyone about ketamine and my story."
At the beginning of the session, words that came to the minds of learners when they thought about ketamine were "confusion," and "K-hole," a term used to describe its use in severely injured soldiers during Vietnam. At the end of the session, learners equipped with new understanding were asked again about how they would describe the drug. This time, they responded with the words like "hope," "relief," and "potentially promising quality." Dr. McEntee posed this final question to the audience: ketamine is extremely safe, effective, and potentially very helpful, so why not consider it the next time you're planning for multimodal pain management? 
Key Takeaways
No lethal dose has been administered from 1974-2019
It can be an effective analgesic in cancer-related pain, sickle cell pain crisis, ischemic pain, and perioperative pain
We need more randomized control trials to show its efficacy for widespread use
Routes of administration included IV, intramuscular, subcutaneous, transdermal, and oral
Additional Resources
Dr. Spaeth is a hospitalist at OhioHealth Riverside Methodist Hospital, Columbus, Ohio. She serves as a member of The Hospitalist magazine editorial board and is a member of the Physicians in Training committee.