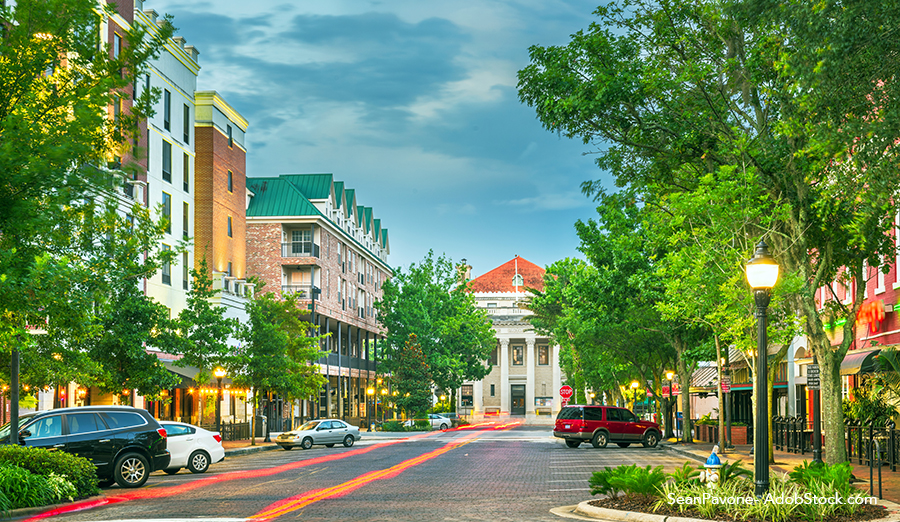 Matthew Calestino, MD, FACP, SFHM,—along with Drs. Handel Desa and Calixto Zaldivar—helped found the North Florida chapter of SHM in 2018 with an eye toward building a cohesive network of hospitalists and others who could come together in case of an emergent health care situation. From his base in Gainesville, at the HCA Florida North Florida Hospital, the expectation was shared resources and manpower to help during the annual wave of hurricanes that ravage the Sunshine State each summer and fall.
"One of my biggest concerns was for disaster preparedness—if a hurricane had hit our region—to have contacts in all these other health care systems," said Dr. Calestino, the chapter's immediate past president. "Not only to support one another with ideas and innovations, but also to, in an emergency situation, be able to say, 'Hey, I know the physicians at this hospital, and right now their hospital is hurting. Can we go help?'"
But it was the COVID-19 pandemic in 2020 that first gave the North Florida chapter—and its roughly 80 members—the chance to do what it was built to do.
"I applied for privileges over at the University of Florida so that if needed I'd be more than happy to go over there and support them," Dr. Calestino said. "Out of that were born some excellent lectures that were given by a couple of SHM members, Dr. Nila Radhakrishnan and Dr. Frederick Southwick, who are from the University of Florida.
"They gave state-wide lectures on updates with COVID-19. Again, all virtually, but CME accredited, so our ties to the University of Florida really strengthened with that. That was it, just to help one another in our struggles, because there could be disasters of any kind. This one was particularly scary."
During 2021 and 2022, Dr. Calestino also organized a statewide virtual meeting of chapters. The ability to remotely connect leaders from across the state is exactly what he wants to see as he sets up the future of his chapter.
"One of the things SHM challenges the leaders to do is, you have to hand this off at some point," he said. "It's not a dictatorship. You need to find people who you have developed over the years and are able to take over the reins of the chapter."
While the COVID-19 pandemic shone a brighter spotlight on the value of working together across practice lines and geographies, that value is apparent to Dr. Calestino all the time. And when recruiting new chapter members, he's quick to point out that hospitalists can sometimes be so focused on their patient censuses, they lose sight of a broader perspective. So, Dr. Calestino sees his chapter—and all chapters—as the way to create hospitalists that focus on not just the buildings they work in, but the communities that surround those buildings.
"Try to get engaged," he said. "Go to these medical conferences and scientific symposiums where you can earn your CME credits and meet some new individuals. That is really how we repair as health care providers, physicians, and clinicians of any kind. If you stay within those four walls, there's no room to grow. Go out and get that water and sunlight."
Dr. Calestino is proud of the fact that North Florida, specifically Gainesville, has a place in hospital medicine history. His hospital in Gainesville was once home to Dr. John Nelson, a co-founder of SHM and one of the first three practitioners given the Masters of Hospital Medicine designation.
Looking forward, Dr. Calestino is pleased that the North Florida chapter has its next round of leaders in place. New president Dr. Kaitlin Moran and president-elect Dr. Aleksandara Murawska Baptista, both based at Mayo Clinic Florida in Jacksonville, took over the leadership at SHM Converge in Austin, Texas in March.
"I'm very confident that the chapter is going to continue to grow," Dr. Calestino said. "We're hoping to have another statewide summit later this year, and another scientific symposium. I feel like the chapter is in excellent, excellent hands."
And, to Dr. Calestino's founding hope of forming a chapter to build a diverse network of support, he's also confident that the North Florida chapter will continue to attract not just hospitalists themselves, but all who work in their ecosystem.
"I think that's the biggest misconception, that SHM is just for hospitalists," Dr. Calestino said. "But it's not. It's for everybody who works at a hospital. Whether it's a pharmacist, a nurse, a unit clerk, or a respiratory therapist. It's not the Society of Hospitalist Medicine, it's the Society of Hospital Medicine."
"There is so much talent that is caged within the walls of their brand, whatever that may be," he said. "The view becomes very myopic because you are dedicated to the system that you're in. But there are so many talented people outside of those walls that have the same victories, the same struggles, the same defeats, the same challenges."
Richard Quinn is a freelance writer in New Jersey.