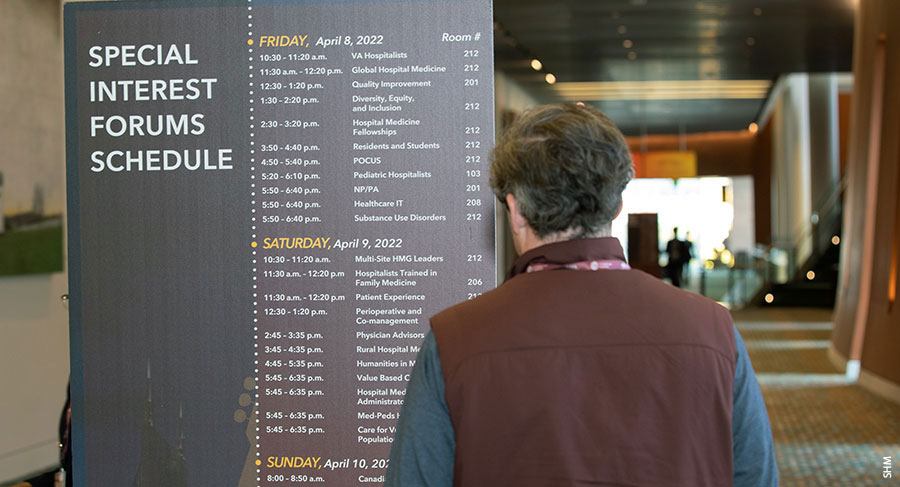 One of the many benefits of SHM membership is connecting and learning from fellow members. One of the best ways to do that is to join a Special Interest Group (SIG) or Chapter. SHM's SIGs are communities of hospitalists built around common topics of interest, practice areas, and care models while Chapters are communities of hospitalists built around geography.
There are more than two dozen SIGs covering a wide range of topics from academic leaders and pediatrics to quality improvement and value-based care.
As an SHM member, you can participate in as many SIGs as you want, and, if there's not a SIG for the topic that you're interested in you can apply to start one. Each SIG has its own online community and discussion boards, and you can network and connect with your fellow SIG members in person at SHM Converge 2023.
If you're already in a SIG you can catch up with your group at the Special Interest Forums (SIFs), throughout Converge. If you haven't joined a SIG yet or are interested in other topics, this is the perfect opportunity to learn more about the different groups, their goals, plans for the coming year, leadership, and more.
These 50-minute SIFs are group discussions, great networking opportunities, and low-commitment ways to learn more about each group. There are 31 SIFs scheduled, 29 of which are tied to a SIG. Looking for a job in pediatrics? Recently matched? Interested in quality improvement? Are you a rural hospitalist trying to navigate transfers? Curious about oncology? Interested in well-being? Want to learn more about women in hospital medicine? You may find the information you're looking for by participating in a Special Interest Forum.
Two of the Special Interest Forums are focused on topics that are not currently SIGs—Oncology and Women in Hospital Medicine. 
The Oncology SIF is "an informal gathering of generally a relatively small group of hospitalists who are involved in the niche field of onco-hospital medicine i.e., hospitalists who principally care for hospitalized cancer patients" said its leader, Barbara C. Egan, MD, FACP, SFHM, chief, hospital medicine service at Memorial Sloan Kettering Cancer Center in New York. Attend this SIF if you work within this space or if you're interested in this field even if you aren't actively working in it. Attendees will discuss challenges and successes and make personal connections so you can keep in touch when issues or challenges arise.
The Women in Medicine SIF leaders, Marisha Burden, MD, FACP, SFHM, professor of medicine, division head of hospital medicine at the University of Colorado School of Medicine in Aurora, Gaby Frank, MD, FACP, SFHM, medical director of the biocontainment unit at Denver Health Hospital Authority, and Emily Gottenborg, MD, a hospitalist and program director of hospitalist training at the University of Colorado at Denver, say the goal of this SIF is to have a dynamic and interactive discussion, while also ensuring attendees have the opportunity to contribute to the overall goal of eliminating the gender gap in hospital medicine.
Attendees will be encouraged to share their perspectives on the most pressing issues for women in hospital medicine and work together to generate project ideas to address the challenges of gender equity.
The Well-being SIF was an SHM Board-appointed task force until last month when it became a full-fledged SIG. Its leaders, Swati Mehta, MD, CPXP, FACP, SFHM, the national director of quality and patient experience for Vituity, a physician-led health care innovation company based in Emeryville, Calif., and a practicing hospitalist at Dignity Sequoia Hospital in Redwood City, Calif., and Read G. Pierce, MD, division chief of hospital medicine and associate chair for faculty development and well-being at Dell Medical School at the University of Texas in Austin will lead the SIF with a discussion on the SHM Wellbeing Champion Toolkit, what attendees do for their personal well-being and what their teams have done to address burnout, and what they hope to accomplish in the SIG's first year. 
Access the SIF Converge schedule.
Another way to connect and network is through your local chapter. There are more than 60 SHM chapters nationwide to provide networking, education, and collaboration within the hospital medicine community. The chapters are grouped into 12 geographic districts and four regions (East, South, Midwest, and West). All SHM members are assigned to a chapter based on the address in their membership profile. If there isn't a chapter in your area, you can apply to start one.
Whether in-person or virtual, chapters have a minimum of two local events per year, and throughout Converge, there will be designated times for attendees to meet with people from their own chapters or explore volunteer opportunities to get involved.
If you happen to strike up a conversation with a local leader, be sure to ask about the amazing initiatives they undertake throughout the year to engage membership. Attendees will see Chapter Excellence Award winners featured throughout Converge.
Access the Chapter Meet Up Converge schedule.
There are two chapter leader events during Converge—the Chapter Leader Training and Chapter Leader Summit.
The Chapter Leader Training Program, conducted annually at Converge, was established by SHM staff and the Chapter Support Committee (CSC) in 2018 to provide in-person training to all SHM chapter leaders, including those whose terms begin at the annual conference. During training, leaders receive updates on SHM policy, procedures, and resources, review best practices (especially as it relates to chapter meetings and chapter leadership), and conduct both small table and large group discussions.  It's also a great opportunity for chapter leaders to network and share ideas with other leaders from across the country.
R. Lucas Shelly, DO, SFHM, a hospitalist at WellSpan Hospitalists in Chambersburg, Penn., and the chair of the CSC and District 3 said, "New and seasoned chapter leaders will benefit from attending the Converge 2023 Chapter Leader Training session. They'll learn tips to handle the more difficult aspects of being a chapter leader and they'll benefit from the wide depth of knowledge from having so many leaders in one place."
The Chapter Leader Summit is a networking event for chapter leaders and district chairs. While chapter leaders meet virtually on a quarterly basis, the summit is an opportunity to meet in person. Leaders also celebrate chapter successes and awards and conduct the official transition of incoming and outgoing leaders, during the summit.   
"The summit is where you can mingle among the finest leaders in hospital medicine," Dr. Shelly said. "You can make new friends, build your leader support group, and be inspired."
At Converge, you'll find an agenda packed with learning opportunities and education, but you'll also find occasions to network and collaborate with your colleagues and peers. Make the most of both.