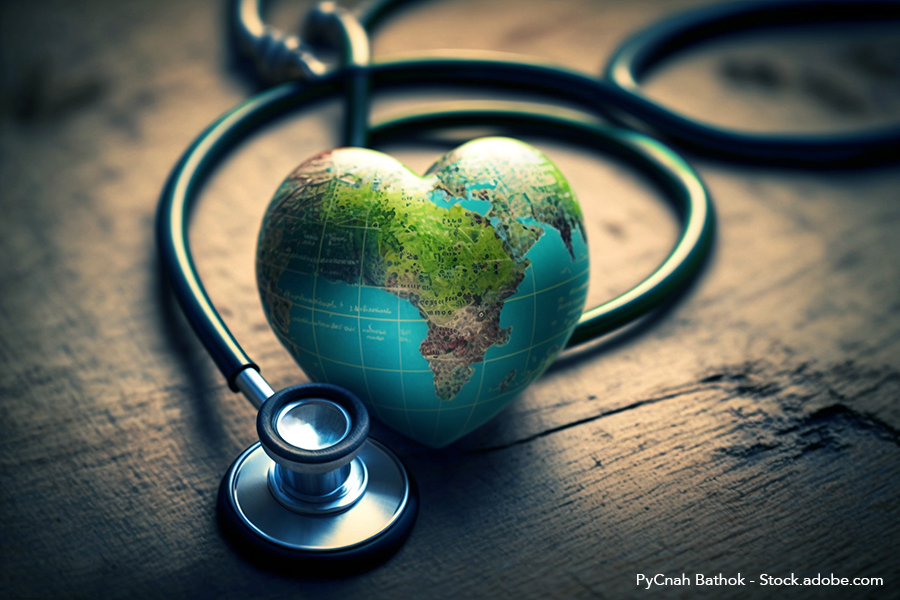 All of SHM's Special Interest Groups (SIG) look to solve issues, but some are more challenging in scope than others.
Those focused on the spread of interdisciplinary rounding, or the improvement of health information technology, for example, can produce tactile examples of success.
But the Global Hospital Medicine SIG?
Defining hard-fought victories can be more ephemeral—if no less profound.
"We really want to normalize the idea of partnership across the board," says SIG chair Khaalisha Ajala, MD, MBA, FHM, an assistant professor of medicine at Emory University School of Medicine in Atlanta. "Not just the idea of charity care in one area, and partnership in the other. It should actually be across the board, and we should be learning from each other.
"And we should be learning about ways to improve what we do here in the U.S. from our partners abroad, from the global north and global south, as we hope to create sustainable ideas and solutions to improve what is done around the world."
Dr. Ajala says the key to tackling a topic as large in breadth as global health is "we start with actionable items."
"We have overall lofty goals," she said. But "for us, it's not to take over the world. For us, it's not the colonial ideal of going out in the world and standardizing hospital medicine across the world. We understand that various hospitals function differently. The key thing, for us, is to be a hub and to be a safe place for hospitalists who are interested in global health and global rights, and hospitalists who are interested in working abroad."
The SIG started in 2021 and has 251 members. Understandably, many practice abroad. And while those folks provide inpatient care to patients, hospital medicine is an American term.
"A lot of us who are hospitalists who work inpatient, still like to travel around the world and care for patients around the world," Dr. Ajala said. "Those places don't necessarily have to be in a hospital."
Dr. Ajala adds that when many think of international medicine, they most often think of countries in the global south, a conceptual term used to describe the countries in Latin America, Africa, Asia, and Oceania. The majority of the world's population lives in the global south—while the U.S. is in the global north.
"Our ideas are to kind of erase those boundaries," Dr. Ajala said. "We want to build that partnership and create that support and spread the message of the idea of quality of care, patient safety, and improving outcomes."
But eliminating boundaries for best practices is not to say that the SIG—or any of its members—want to impose the U.S. standard of health care anywhere else. For that matter, which hospitalist group's standards would be the fittest to export?
"Even within hospital practices within the U.S., we're not all the same," Dr. Ajala said. "We do have a lot of common goals that fall under what we learn together. But I just left Converge at SHM, and we learned about practices at other hospitals. We learned about patient safety protocols, and quality improvement in other places. The goal wouldn't necessarily be to standardize in every hospital around the world, whether it be global north or global south, because each actually has individual approaches."
To not respect the practices elsewhere globally "has a strong history in colonial practice" and often causes pushback, Dr. Ajala said.
Instead, the SIG aims "to create a network so we can discuss ideas and trade and learn from each other about the way we practice, so we can help improve that practice."
Dr. Ajala says progress needs to be recognized along the way, such as when professors visit abroad—in either global direction. One victory of late is from Dr. Ashti Doobay-Persaud, one of the SIG's executive committee members, who is helping create a global hospital medicine fellowship at Northwestern University's Feinberg School of Medicine, Chicago, where she is a co-director of the Robert J. Havey, MD Institute for Global Health.
Dr. Doobay-Persaud has also created her first faculty development conference in Kenya, where they taught practices including advanced and basic life support.
"When you go to certain hospitals in other countries, they have more tertiary services, where cardiologists actually have an inpatient service, GI has an inpatient service, renal, hematology, oncology—they all have inpatient services. So, the internal medicine doctor present is (sometimes) more someone who is an outpatient physician, who may come around as a consultant, but doesn't have the same kind of inpatient treatment as a general internal medicine team that rounds specifically in the hospital."
Dr. Ajala says that whether the work is domestic or abroad, the key remains to focus on attainable success.
"You start with key items," she said. "How can we connect? How can we talk about what we're doing in our various countries? How can we collaborate…and talk about what we're all doing within global health and international medicine?" 
Richard Quinn is a freelance writer in New Jersey.