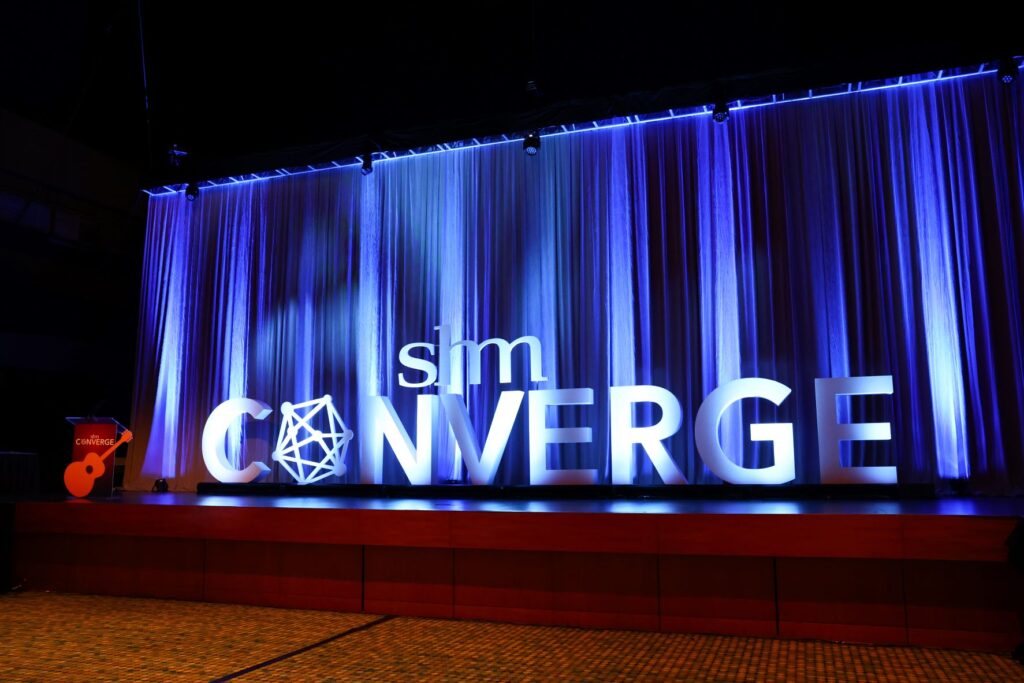 Every year since, 2009, SHM has awarded the Master in Hospital Medicine (MHM) designation to those members who reach the apex of distinguished prestige in the hospital medicine community. These members have made remarkable and significant contributions to the HM field and health care in general.
At this year's SHM Converge, MHM designees for 2022, 2021, and 2020 were recognized in person for the first time.
These members stand out with their character, positions of honor, contributions toward furthering SHM goals, distinction in practice, education, medical research, and achievements in science or the art of hospital medicine.
MHM recipients are highly accomplished individuals, and their accomplishments range from excellence in clinical care, health care initiatives, education, and research to writing and publication, volunteerism, and administrative positions.
Because of the significance of this recognition, candidates may not self-nominate. To learn more about the nomination process and requirements, visit SHM's Fellows & Master Designations. The deadline to submit nominations for the 2023 Masters of Hospital Medicine is December 31, 2022.
To date, there are 39 Masters of Hospital Medicine. Here's a look back at the MHM recipients for the last five years.
2022
Christopher Frost, MD, MHM
Dr. Frost completed his combined internal medicine and pediatrics residency at the University of Tennessee Health Science Center, where he also served as chief resident in internal medicine. He currently serves as LifePoint Health National Medical Director of Hospital-Based Services in Brentwood, Tenn.
At LifePoint, Dr. Frost oversees five departments, including care management, medical staff credentialing, and LifePoint's component Patient Safety Organization. He was the project leader of their COVID Surge Playbook.
Dr. Frost served on SHM's Board of Directors for six years, including one as president. During his year as president, he was instrumental in steering SHM through the initial wave of the pandemic, preparing the society for the challenges to come. He also guided the organization's CEO search, leading to Dr. Eric Howell assuming the role. He also helped establish SHM's role in population health during this tenure.
He has also held a variety of positions within the Society, including as a Leadership Academy facilitator more than a dozen times, serving on the Practice Management Committee, NP/PA Special Interest Group (SIG), Rural Hospital Medicine SIG, Opioid Task Force Work Group, and more.
Kevin O'Leary, MD, MS, MHM
Dr. O'Leary is known for his contributions to education in hospital medicine. He has created an international reputation with nearly 100 peer-reviewed journal publications leading the way in health care quality and safety research, showing improvements in hospital-based care with interventions in areas such as teamwork, interdisciplinary training and communication, and geographic localization.
Dr. O'Leary completed his internship and residency in internal medicine at Northwestern University in Chicago. He currently serves as the John T. Clarke Professor of Medicine at the Northwestern University Feinberg School of Medicine, where he is also Chief in the Division of Hospital Medicine. He also is the Medical Director of Quality at Northwestern Memorial Hospital, where he is the site liaison to the Hospital Medicine Reengineering Network, also known as HOMERuN. He serves as faculty in the Health care Quality and Patient Safety Master's Program at Northwestern. He also formed and is director of the Academy for Quality and Safety Improvement at Northwestern Medicine. He has performed national work with grant support from AHRQ, the NIH, and SHM.
He has been a member of SHM since 2002 and has been an active member of the Interdisciplinary Rounding Special Interest Group (SIG), for which he currently serves as Executive Council Member. Dr. O'Leary has also presented at multiple SHM annual conferences and regional meetings. He also was one of the original core faculty for SHM's Quality & Safety Educators Academy, or QSEA.
2021
Nasim Afsar, MD, MBA, MHM
Dr. Afsar is the Chief Health Officer of Cerner. Prior to this role, she served as the Chief Operating Officer for Ambulatory Care for UCI Health and Associate Chief Medical Officer at UCLA Health. Throughout her career, she has led the development and successful implementation of forward-thinking and ambitious health care strategies across multiple organizations.
She served on SHM's Board of Directors from April 2012 through April 2020, including as president and treasurer. During her time on the board, she was instrumental in defining SHM's role in population health management.
She has also held a variety of positions within the Society, including as Chair of SHM's Hospital Quality & Patient Safety Committee, founder and past Co-President of SHM's Los Angeles Chapter, and faculty at numerous annual conferences. Dr. Afsar was also an esteemed mentor within SHM's Project BOOST, a program within SHM's Center for Quality Improvement focused on care transitions, and served as an Associate Editor of the Journal of Hospital Medicine for nearly 13 years.
Dr. Afsar received her MD from UC Davis, School of Medicine, and completed her residency and internship at UCSD and UCLA, Internal Medicine programs. She received her MBA from UCLA Anderson School of Management.
Jeffrey L. Schnipper, MD, MPH, MHM
Dr. Schnipper's research efforts and impact on the medical field can be found in over 150 peer-reviewed publications including JHM, JAMA Internal Medicine, Annals of Internal Medicine, and the Journal of the American Medical Informatics Association. Dr. Schnipper has also received numerous awards and honors throughout his career, including SHM's Award of Excellence for research in 2013.
His medication reconciliation research project, known as MARQUIS, was funded through the Agency for Health care Research and Quality (AHRQ) and led to a partnership with the SHM Center for Quality Improvement for more than five years. When Dr. Schnipper obtained a second AHRQ grant for the MARQUIS2 study, he also partnered with SHM's Center for Quality Improvement.
Dr. Schnipper joined the Society in 2005 and remains an engaged member of the Boston Association of Academic Hospital Medicine Chapter. He has been a member of SHM's Annual Meeting Committee and serves as an associate editor of the Journal of Hospital Medicine. He has also been invited to speak at numerous SHM annual conferences.
Dr. Schnipper currently serves as the Director of Clinical Research of Brigham and Women's Hospital's Hospital Medicine Unit. In addition, he is the Research Director of its General Internal Medicine and Primary Care Division and the Fellowship Director of the Harvard-Brigham Research Fellowship in Hospital Medicine. He is also an associate physician at Brigham and Women's Hospital and is a Professor of Medicine at Harvard Medical School.
Dr. Schnipper graduated from Harvard Medical School in 1996 and went on to receive his Master's in Public Health from the Harvard School of Public Health in 2001. Dr. Schnipper also completed his residency, along with a General Medicine Fellowship, at Massachusetts General Hospital in 2001.
Shaun D. Frost, MD, MHM
Dr. Frost currently serves as the Associate Medical Director of Care Delivery Systems at HealthPartners Health Insurance Plan. He is also a practicing hospitalist at Regions Hospital in St. Paul, Minn., and is an assistant professor at the University of Minnesota's Medical School. Prior to this role, he worked at the Cleveland Clinic as the Director of Non-Teaching Inpatient Services for 6 years, and also served as the Northeast Region Chief Medical Officer of Cogent Health care from 2006 to 2012, where he standardized program operations through structured leadership training according to phased priorities and critical functions.
Dr. Frost joined SHM soon after its inception in 1999, and soon after, he founded and led the Northeast Ohio Chapter. His influence, leadership, and guidance helped to shape the creation of SHM's Chapter Program, which is an integral part of the Society, connecting hospitalists at the local level.
Dr. Frost also received SHM's Award of Excellence in the Clinical category in 2005. He served on SHM's Board of Directors for 6 years, including as President and Treasurer. During his tenure as SHM President from 2012 to 2013, he helped to focus the organization's work to define hospital medicine's strengths and benefits to health care, culminating in the publication of the Key Principles and Characteristics of an Effective Hospital Medicine Group.
Dr. Frost has led and actively participated in numerous SHM committees, councils, and workgroups, including service as the Chair of SHM's Membership Committee for five years. The SHM fellows designations, including the Master in Hospital medicine, originated within this committee under his leadership. He has spoken at many of SHM's Annual Conferences, participated in Annual Meeting Planning Committees, and served as course director for the Perioperative Medicine Pre-Course.
2020
William D. Atchley, Jr., MD, FACP, MHM
Dr. Atchley, a hospitalist at Sentara Medical Group, was honored for his unwavering dedication to the specialty and his established leadership within SHM. After completing his residency at Upstate Medical Center in Syracuse, he held a private internal medicine practice until he became a practicing hospitalist, launching his career in the specialty alongside the budding field. Dr. Atchley's long-term commitment to hospital medicine has coined him a "founding father" of hospital medicine because of his leadership in forming the first hospitalist team in the Hampton Roads region. Dr. Atchley is also known as one of SHM's founding members and served on the Board of Directors for six years.
His contributions to the SHM community extend beyond his continual attendance at all 23 annual meetings; he has taken on a variety of roles throughout our organization, including an editorial board member with The Hospitalist, SHM's representative to ACP's Council of Specialty Societies, and was awarded SHM's Award for Outstanding Services in 2012. He continues to showcase his unrivaled passion and work ethic through a variety of administrative and educational commitments and is a respected voice for quality for hospitalists and specialists alike. 
Daniel D. Dressler, MD, MSc, FACP, MHM
Dr. Dressler is a Professor of Medicine, Associate Program Director for the Internal Medicine Residency Program, and Fellowship Co-Director for the Hospital Medicine Faculty Fellowship at Emory University. Dr. Dressler is being honored for his leadership, innovations, and service to advancing the field of hospital medicine.
Dr. Dressler served as one of the editors of the Core Competencies in Hospital Medicine, an Associate Editor of the Journal of Hospital Medicine, and has served as a course director of the annual Southern Hospital Medicine conference for the past eight years. Outside of SHM-related efforts, he has also had a hand in completing national work with support from the CDC in developing a quality improvement toolkit, redesigned Emory's medical epidemiology curriculum, and was instrumental in developing the Division of Hospital Medicine Faculty Development program. Dr. Dressler continues to epitomize the value, mission, and vision of SHM and the future of hospital medicine.
 Howard R. Epstein, MD, FACP, MHM
Dr. Epstein has more than 20 years of service to the hospital medicine community and SHM and started a nationally recognized hospitalist program at Health Partners, where he also founded their palliative care program and led their quality improvement and care management programs. Dr. Epstein has a distinguished and varied career in medicine, holding medical leadership positions in multiple institutions, including the Institute for Clinical Systems Improvement, and BCBS of Minnesota, Preferred One Health Plans.
Dr. Epstein served on the SHM Board of Directors for six years, including a term as secretary. He lent this talent and leadership to ten committees and special interest groups during his time with SHM and was presented with the Award of Excellence for Clinical Leadership in 2006. No matter what the role, Dr. Epstein is known by his colleagues as someone who will always confront a challenge head-on and do whatever it takes to advance the organization, consistently putting the greater good above personal achievements.
 Jeffrey J. Glasheen, MD, DTM&H, MHM
Dr. Glasheen became one of the first-ever academic hospitalists in the country after completing his chief resident year at the University of Colorado. Currently, Dr. Glasheen is the Director of Hospital Medicine at the University of Colorado Anschutz Medical Campus and is the Associate Dean for Clinical Affairs, Quality and Safety Education. He is being recognized as a Master in Hospital Medicine for his exceptional contributions to the field in the domains of research, education, and administration.
Equally impressive as his leadership in education and certification on a national scale are his contributions to SHM. Dr. Glasheen served as editor of The Hospitalist for five years, led the development of the Academic Hospitalist Academy, and served on SHM's Board of Directors for six years. Dr. Glasheen's impact on hospital medicine continues to be felt by many today and will be for years to come.