Editor's note: "Everything We Say and Do" is an informational series developed by SHM's Patient Experience Committee to provide readers with thoughtful and actionable communication tactics that have great potential to positively impact patients' experience of care. Each article will focus on how the contributor applies one ormore of the "key communication" tactics in practice to maintain provider accountability for "Everything we say and do that affects our patients' thoughts, feelings and well-being."
As providers, how do we define the patient experience? Over the past year, I have had the pleasure of working with a dedicated group of 15 fellow members on the newly formed SHM Patient Experience Committee. One of our first goals was to define the patient experience in a way that acknowledges our role and its potential impact on patients as emotional beings and not just vessels for their disease.
To this end, we define the patient experience as "everything we say and do that affects our patients' thoughts, feelings, and well-being.
Although it's true that patients bring with them their own history and narrative that contribute to their experience, we cannot change that. We can only adjust our own behaviors and actions when we seek to elicit or respond to patients' concerns and goals.
And although "everything we say and do" is inclusive of providing the most effective and evidence-based medical care at all times, we believe that accurate clinical decision making absolutely must be accompanied by superior communication. By offering clear explanations, listening compassionately, and acknowledging patients' predicaments with empathy and caring statements, we can restore a degree of humanity to our care that will allow patients to trust that we have their best interests in mind at all times. This is our role in improving the patient experience.
Beginning next month, members of the Patient Experience Committee will be sharing key communication skills and interventions that each of us believes to be important and effective. Each member will share what they do, why they do it, and how it can be done effectively. The items we'll be focusing on will be taken from the "Core Principles" and "Key Communications," as compiled by the committee (see Table 1, below). Some have evidence to back them up. Some are common sense. All of them are simply the right thing to do.
We hope you'll reflect on "everything we say and do" each month as well as share it with your colleagues and teams. And we need look no further for a winning argument to focus on the patient experience than Sir William Osler and one of his most famous quotes: "The good physician treats the disease; the great physician treats the patient who has the disease."
We're going for great. Are you with us? TH
Dr. Rudolph is vice president of physician development and patient experience for Tacoma, Wash.–based Sound Physicians. He is chair of SHM's Patient Experience Committee.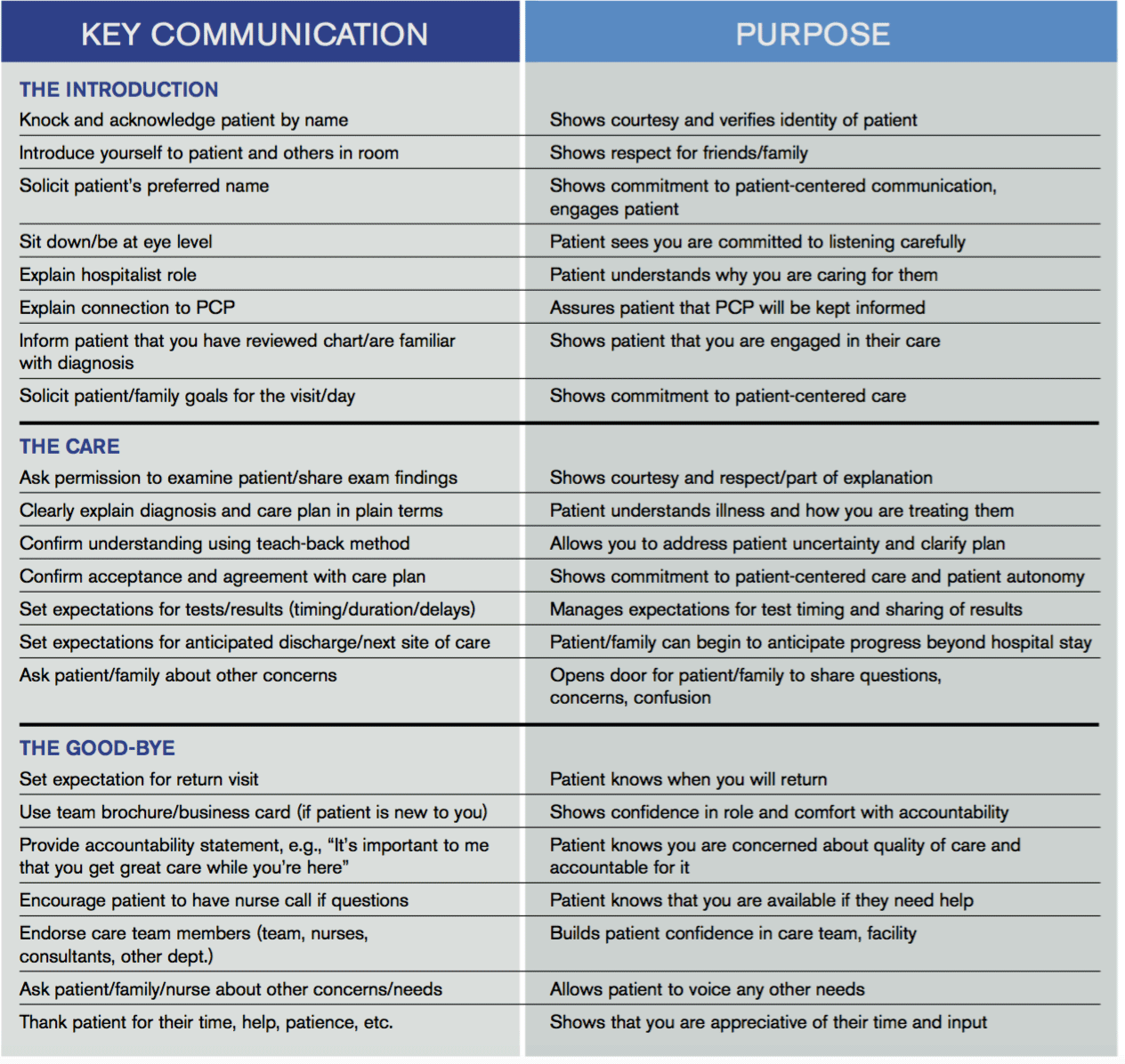 ---