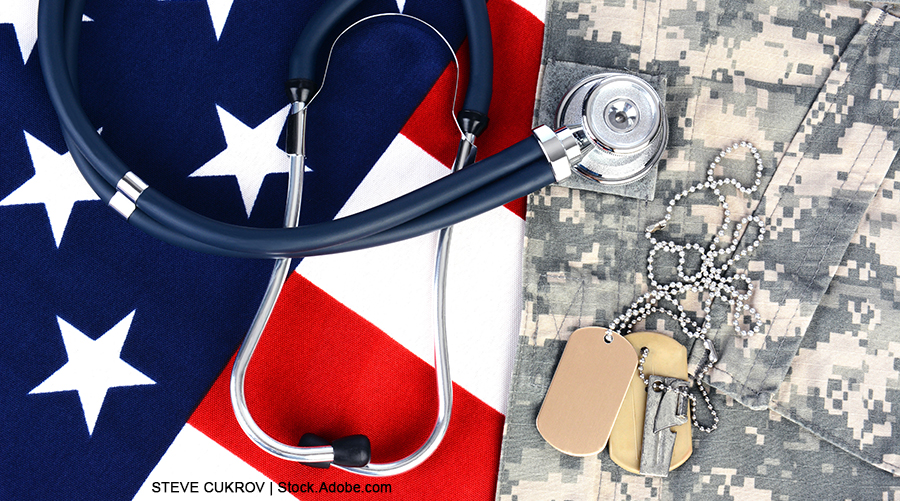 Caring. Effective. Dutiful. Supportive. Serving. Protective. Leading. Responsible. These words easily describe a hospitalist or a soldier—and sometimes both. In honor of Veteran's Day, we talked with five SHM members, working hospitalists, who also have served, or currently serve, in the military. While their paths differ, their commitment to their patients and their country is the same.
Jon Sweet, MD, FACP (@jonmsweet)
Chair of medicine and senior vice president, Carilion Clinic, professor, Virginia Tech Carilion School of Medicine in Roanoke, Va., former major, United States Air Force
Dr. Sweet began his military career in the U.S. Air Force (USAF) as an internal medicine resident at the medical center at Wright-Patterson USAF Base in Ohio, after the Health Professions Scholarship Program (HPSP) put him through medical school at the University of Virginia in Charlottesville, Va.
He joined the military for several reasons. "I delighted in the opportunity to serve," he said. "The HPSP program was a fantastic route to this service, which also allowed me to graduate from medical school with no educational debt. My stepfather, grandfather, and father-in-law all served, the latter as an Army physician for several years. They were all exemplars of humility, service, sacrifice, and honor."
After his residency, he remained on staff at Wright-Patterson, first as the chief resident, and then as the site internal medicine clerkship director for medical students from the Uniformed Services University's F. Edward Hébert School of Medicine in Bethesda, Md., and the Wright State University School of Medicine in Dayton, Ohio.
"My clinical role was as a traditional academic internist, seeing patients and teaching in both the inpatient and outpatient settings," Dr. Sweet said. "I had the opportunity to serve on two international humanitarian medical expeditions during my military tenure but otherwise stayed in Ohio for all seven years."
Dr. Sweet has always had and enjoyed a teaching role, starting with his year as chief resident. After leaving the USAF, he returned to Virginia with his family and joined Carilion Clinic. There, he became a core faculty member with the internal medicine residency program, before eventually serving as residency program director, chief of hospital medicine, and eventually chair of the department of medicine at Carilion's integrated health system and affiliated medical school. For the past 15 years, he's practiced exclusively as a hospitalist at the level 1 trauma center, a 750-bed flagship hospital in Roanoke, always with a team of residents, medical students, and pharmacists.
The first 15 years of his career were as a traditional general internist, both outpatient and inpatient. "During my time as residency program director, I transitioned completely to the hospital medicine role," he said. "That allowed me to focus more completely on graduate and undergraduate medical education while advocating for and delivering high-value, patient-centered, quality, efficient, inpatient care to patients in our resident and faculty practice, along with patients in our vast integrated network of family medicine practices."
Dr. Sweet says serving in the military not only had a positive influence on his career, it taught him lessons that stayed with him. "The military hard-wired service above self. I am grateful for this," he said. "Although the path to medicine is arduous and the days can be long, we have a truly just mission in improving the health of the patients and communities we serve. Many of us are physicians in America and are therefore wonderfully blessed by both our occupation and the country in which we are able to practice."
He adds that military medicine is strong on mentorship and leadership training. Some of this is baked into the experiences of a military physician and is part of the promotion process. "I learned to show up, engage, take calculated risks, and the importance of 'deepening the bench' and succession planning," he said.
Toward the end of his service, he went to the Uniformed Services University's medical school every quarter and was mentored by Dr. Louis Pangaro and his teams. Dr. Sweet also took other leadership courses, including courses on medical-education faculty development, ranging from short workshops on precepting to the abbreviated Stanford Faculty Development Course, and says he leans on some of these lessons every week.
Dr. Sweet says one of his most meaningful experiences while serving in the USAF was the patients themselves. "The patients we served were extraordinary," he said. "In one week, I recall caring first for a patient who presented me with a signed copy of his book about his experiences in the Bataan Death March, another who took live photographs of the bombing of Hiroshima from approximately 10,000 feet, and then caring for Gen. Paul Tibbets, pilot of the Enola Gay."
Serving in the military as a physician "is a great opportunity to experience the best of both worlds—practicing medicine in a wonderful culture while serving one's country and the men, women, and families who put themselves in harm's way," Dr. Sweet said. "I have always appreciated my service and the opportunities it afforded."
Jennifer E. Colella, MD (@colella_jen )
Nebraska Medical Center/University of Nebraska Medical Center, Omaha, Neb., former captain, United States Air Force
When asked why she joined the military, Dr. Colella's answer was simple. She felt called to serve. "During high school and college summers, I worked at my father's medical office," she said. "I also visited the VA clinic where my father was the chief medical officer and I enjoyed watching the interaction and bonds that formed between my father and his veteran patients. After college, I remembered the veterans and their sacrifices that my father tended to, and I decided to join the military before pursuing my career in medicine."
Dr. Colella was a captain in the USAF, an electronic warfare officer (EWO) instructor (at a time when only about 4% of EWOs were female), and an evaluator and subject-matter expert on the EC-130H Compass Call aircraft in the USAF. "I was the test EWO on the new Block 35 Weapons System Upgrade and developed and authored the first manual for the upgraded electronic operating system and completed training of all individuals ahead of schedule," she said. "I briefed members of Congress in Washington, D.C. on the aircraft's capabilities. I completed four tours to Operation Enduring Freedom in Afghanistan and Uzbekistan and one tour to Operation Iraqi Freedom in Kuwait."
"The bonds among soldiers who shared common experiences (especially deployed during wartime) is unmatched in any other experience," she said. "I cherish these veteran friendships and look forward to our reunions."   
Dr. Colella says her seven years of active duty provided the most valuable lessons of her life. She honed her teamwork, leadership, and problem-solving skills, which enabled her to become a highly-regarded EWO, a successful government contractor, and ultimately a physician. She also credits one of her EWO instructors (one of the few females paving the way for others) with helping her understand the importance of fostering relationships with new colleagues and helping them engage in the workplace while understanding how the organization operated and how to fit in and be successful within the company culture.
"My leadership experience prepared me mentally and physically to face challenges, communicate effectively, and garner the full support of my teams," Dr. Colella said. "Many life experiences have given me confidence, motivation, and the ability to think critically. My passion for medicine and my lifelong belief in continued personal growth, improvement, learning, and desire to teach, have positively affected my commitment to the health and welfare of my patients and society with compassion and humanism." 
These days her time is spent as a hospitalist and medical director of patient experience for Nebraska Medical Center in Omaha, Neb., and Bellevue Medical Center in Bellevue, Neb. She develops, coordinates, and implements strategies to improve patient experience, including working with leadership and providing administrative oversight, direction, and consultation in meeting the system-wide experience-related goals.
"I'm also the co-chair of the Strategy and Design Workstream for the New Innovation Design Unit at Nebraska Medical Center," she said. "This unit will be an active care environment focused on inpatients and a place to pilot new models of care and innovation."
As if that wasn't enough, Dr. Colella is co-chair of the POWER Committee to recruit and retain physicians, a member of the grievance committee to review medical cases and collaborate with other members to improve processes, an assistant professor of medicine at the University of Nebraska Medical Center in Omaha, Neb., where she's dedicated to teaching medical students and internal medicine residents, and she recently became vice chair of SHM's Patient Experience Special Interest Group. 
Philip Huang, MD (@philhuangmd )
The Ohio State University Wexner Medical Center, Columbus, Ohio, captain, Ohio Army National Guard
Dr. Huang, an academic general hospitalist at The Ohio State University (OSU) Wexner Medical Center in Columbus, Ohio, recently finished residency, and currently attends a variety of primary services between OSU's main quaternary academic medical center and community hospital. He participates in research, quality-improvement projects, and teaching, and he plans to serve in a consultant role in perioperative medicine and substance use disorders.
He joined the Ohio Army National Guard (OHARNG) as a reservist "out of a desire to be of service and to follow family tradition."
After going through the medical-school application process, Dr. Huang wanted to find a way to serve his community as a physician outside of direct clinical care in the U.S. He considered overseas mission programs, such as Doctors Without Borders/Medecins Sans Frontieres (MSF), but after watching the 2008 documentary Living in Emergency written about MSF and a few incidents (especially the bombing of an MSF facility in Afghanistan in 2015), he opted for the formal training and support of the OHARNG.
"Deciding to pursue internal medicine came naturally to me as I enjoyed taking a good history from my patients and thinking through a wide differential diagnosis," Dr. Huang said. "My decision was confirmed during my third-year rotations as found that I enjoyed being a generalist, being able to follow a patient throughout their life. During residency, I then settled on working in hospital medicine for the flexibility it would allow in light of my plans to go on military deployments."
As a reservist, Dr. Huang's main job is to review soldier medical records to determine deployability and suitability for various missions/jobs. He also advises as needed regarding health concerns, and assists in recruitment/career counseling and educational efforts. When he's deployed, there are more responsibilities. "I personally served as a brigade surgeon recently," he said. "As brigade surgeon, you are advising the leadership team regarding health issues that may arise such as trends in sports injury, infectious disease, or mental health. There are also opportunities to serve in a medical unit where a physician could work in their specialty (e.g., hospitalist, general surgeon, intensivist)."
Dr. Huang says his reservist experience has given him perspective and appreciation for his civilian career that he otherwise would not have. "Working alongside individuals from diverse backgrounds in different settings has been very rewarding and informative," he said. "I have also been through a fair share of challenging situations which have taught me patience and problem-solving skills. Finally, the requirement to adapt to the demands of military life, especially in a forward active duty setting." 
The expectation to be a leader happens earlier in service careers than it does in medicine as a student and resident, Dr. Huang says. "Even as a junior officer, you have a heightened expectation to conduct yourself with honor, respect, and integrity. Your words and actions are taken seriously by those around you. You are also expected to be confident while leading teams and making decisions. This has allowed me to learn many lessons on mentorship and leadership."
During his recent deployment as a brigade surgeon, having a positive attitude, investing in his team, and communicating clear goals were the biggest lessons. "I had the privilege of working with two very different staff members, a veteran enlisted officer with five previous deployments and a junior officer who had just completed the Basic Officer Leadership Course," he said. "This experience highlighted the importance of setting appropriate goals for each and the team to accomplish our mission. I was then able to leverage each of their strengths accordingly as we worked through various projects ranging from completing a blood screening drive to preparing for flu vaccination season to reporting on public health concerns such as local air quality."
Dr. Huang says his most meaningful experience as a reservist has been the opportunity to help mentor junior soldiers. During a recent deployment, he worked with a junior officer with limited health care experience. "We were able to set some goals that we then achieved," he said. "It was very rewarding to see her confidence and problem-solving abilities mature by the end of our time together. I have personally been the recipient of a lot of grace and goodwill from my fellow soldiers and it has been very meaningful to be able to give back."
Having a foot firmly planted in both medicine and military service "allows you to serve your community, work alongside amazing people, and gain valuable leadership skills. My time in the military has honed my problem-solving skills, broadened my perspective on global issues, and enhanced my communication skills. Being in the military has also developed my understanding of physical fitness and pushed me to stay disciplined in school when I otherwise would not have had the motivation. Serving as an officer in the military also gave me a sense of a higher purpose during the late nights studying."
Lauren Spaeth, DO, PGY-1 (@LSpaeth23)
OhioHealth Riverside Methodist Hospital, Columbus, Ohio, former staff sergeant, Ohio Air National Guard
Dr. Spaeth served in the military for six years—which included two deployments. During that time, she also completed nursing school. But she didn't stop there; after several years of nursing, she continued her medical training and became a physician. What's next? She's eager to return to the Ohio Air National Guard (OANG) and continue her service as a flight surgeon.
Like many who are called to serve, Dr. Spaeth followed in her parent's footsteps. "My dad served in the OANG his entire career working on fighter jets and refueling airplanes," she said. "Growing up, he taught me to honor those who served, respect the flag, love our country, and do what we could to serve others. My parents were able to help pay for college. The OANG also offered a way to supplement through a scholarship in exchange for a six-year enlistment, so I enlisted when I was a senior in high school."
In the OANG, Dr. Spaeth was trained as a medic (EMT-basic) and fulfilled two roles.  Her primary role was in the aerospace medicine clinic where she assisted flight surgeons in screening aircrew and other military members for deployment-related health conditions, administered immunizations, and helped evaluate clinic operations and patient flow. She also served on the OANG Homeland Response Force (state disaster response) as a search and extraction medic.
Dr. Spaeth says her military service instilled a set of core values that have helped guide her through her professional career: "integrity first, service before self, and excellence in all I do," she said. "I continue to be inspired by my military commander's determination and progressive success outside of the military, he has graciously continued to mentor me during my journey."
Being in the OANG taught her "the importance of leading from within a group, actively doing what you ask others to do, and realizing nothing is beneath you as you climb in rank," she said.
Aside from the invaluable experience, and other benefits, Dr. Spaeth says serving is a burnout antidote. "It serves as a diversion from the complexity and illness seen in so many patients, allowing you the opportunity to take care of people who believe in doing something beyond themselves, many of whom are very healthy," she said. "There is also a strong element of comradery within individual services and also between services which is frequently comforting and fun. There are financial incentives and opportunities to travel as well."
One of her most meaningful experiences while serving was witnessing the formal, dignified transfer of remains. "It was sobering to watch the caskets of young men and women who sacrificed their lives for our country's freedom go by," Dr. Spaeth said. "They were service members who served their country and were full of vitality and promise. Those moments were very meaningful, making me feel the seriousness of what I had signed up to do and realizing that could have been me."
While eager to get back to serving in the OANG, Dr. Spaeth is well into her first-year internal medicine resident role at a large community teaching hospital in central Ohio—the same hospital where she spent her seven years in nursing, first as a med-surg nurse, then a critical care nurse in the medical intensive care unit, and finally a nurse in the cardiovascular intensive care unit. Dr. Spaeth is also a member of The Hospitalist's editorial board.
Anthony Radice, DO, Cleveland Clinic Foundation, Cleveland, captain, medical corps, Ohio Army National Guard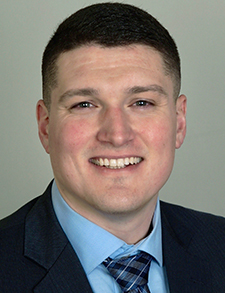 Dr. Radice's military service led to his decision to become a physician. "During my initial training, I had the privilege of working at Brooke Army Medical Center in Houston, where I would see countless service members with debilitating and disabling injuries coming in and out of the hospital," he said. "It was here, at the doorsteps of this hospital, that I decided to become a physician. I found my life's purpose to care for others and dedicate part of that to these service members. I felt obligated to do everything I could to help these wounded warriors who took an oath to defend our country and put themselves in harm's way to do so."
Family history also played a part. Dr. Radice's father and grandfather served in the military, and, while they were happy to recount stories of their time in the service, they didn't pressure him to follow in their footsteps.
"I certainly felt an allure to the honor and duty that a military career espouses from a young age but it was the academic rigors of college that pushed me to want to develop my independence and self-discipline," Dr. Radice said. He enrolled in the Army Reserve Officers' Training Corps program at his university, where he immediately felt a "sense of comfort, belonging, and familiarity within the program and among my new peers." He signed his official military contract shortly after and says it's been one of the best decisions of his professional career.
As a captain in the Ohio Army National Guard, Dr. Radice's main job is to ensure service members get the medical care they need. He also helps them establish their disability as service-connected, ultimately enabling them to access the benefits and compensation they're entitled to. As about 30% of veterans ages 21-64 are reported to have a disability, this is a huge undertaking.1
"On an individual level, this entails helping service members navigate their recovery, rehabilitation, and subsequent reintegration back into military service or possible medical discharge depending on the injury severity," Dr. Radice said. "On a larger scale, my position helps maintain the medical readiness of an entire unit to ensure their overall fitness to accomplish the missions they are tasked with."
As other veterans have expressed, the military often provides the foundation from which they build their careers. Dr. Radice agrees. "First, it gave me the leadership training and experience I rely on daily managing medical teams and making decisions in the hospital setting. Second, working as a member of a team to accomplish a mission as a part of a larger organization has always been second nature to me. Third, the military offers specialized medical training such as combat casualty care, tropical medicine, and medical evacuation that sharpen my acute and niche medical skills. It has pushed me to be a better clinician."
Mentorship and leadership are common threads among hospitalists and those who've served in the military. Dr. Radice says the most effective leaders are those who lead by action, communicate clearly, demonstrate mutual respect, and face their challenges head-on. "A true leader will develop a unifying mission that will be executed by those in their command but won't hesitate to get involved with themselves," he said. "Someone who will provide clear goals with praise when done right and guidance if done wrong. Someone who will find the signal from the noise to keep their organization focused on the issues that matter. All practices that admittedly are obvious but become quite difficult to practice when the environment becomes challenging. These challenging environments are the ones where real leaders will show their true attributes."
A military physician may, at times, serve as the frontline physician for the forward-deployed, which could mean they're the only physician in that operating environment. On his latest assignment, Dr. Radice was one of two physicians tasked to run a field hospital caring for more than 4,000 service members. He treated patients with everything from superficial wounds to traumatic injuries requiring stabilization and emergent evacuation.
"The tempo and acuity of the cases pushed me out of my comfort zone and left me exhausted," he said. "In a moment when we were managing a critical case, while seeing the eyes of the patient and the entire medical staff on me, the weight of my advancement from private to physician hit me. I was finally where I wanted to be all those years ago when I originally sought to become a military physician. People were relying on me to make the right decision on hard cases with limited resources. I felt proud and then got back to work."
Based on his experiences, Dr. Radice encourages physicians who want to give back to their country to join the military. "The men and women who enlist in the military are a special group who deserve medical providers who are willing to be at their side in their moment of need. I pride myself in being that physician and anyone looking to make the same impact should consider joining."
 Reference
Employment Data for Veterans With Disabilities. ADA National Network. 2017. https://adata.org/factsheet/employment-data-veterans-disabilities