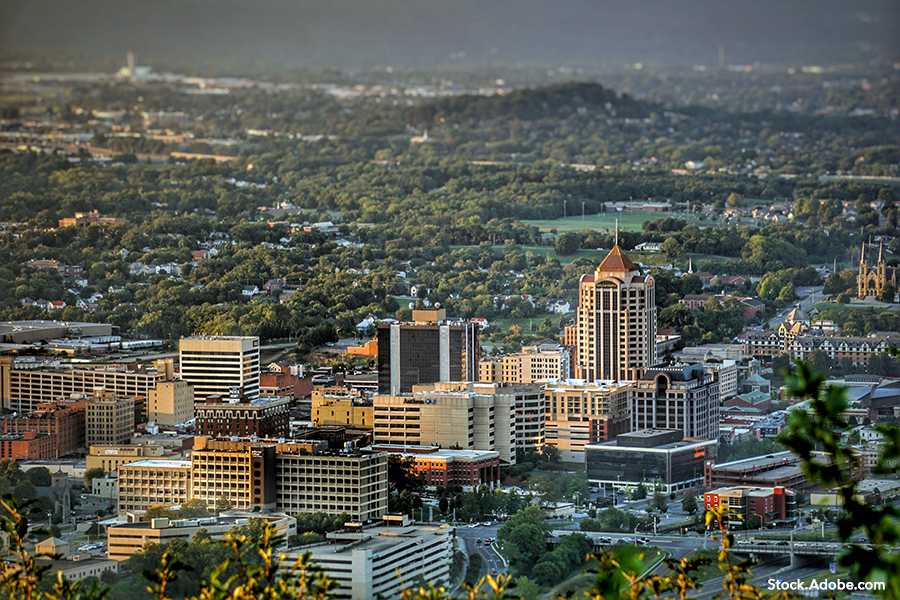 Shyam Odeti, MD, MS, FAAFP, MBA, SFHM, was in Johnson City, Tenn., five years or so ago when he helped start an SHM chapter in the Blue Ridge Mountains of Tennessee and Virginia.
He recalls the hours it took to recruit executive board members and the effort it took to wrangle and schedule event speakers. He knows all too well the time it takes away from other things, and the support it requires from so many for it to be a success. 
So of course, he helped start another one. 
And that's how the Central and Southwest Virginia Chapter started this year. 
"Proximity is important," said Dr. Odeti, section chief of Carilion Clinic in Roanoke, Va. "It has to be local enough that people can socialize. I cannot join the chapter in, say, Norfolk or Northern Virginia, or a chapter in Maryland or Tennessee. The focus is on forming a local community that allows face-to-face interactions, fosters connections, and facilitates gatherings amidst the busy schedules of hospitalist work." 
Dr. Odeti, an ardent advocate of the value of communal professional development and networking, views chapter gatherings less as work and more as a meet-up.
"It's akin to reconnecting with a high-school friend," he said. "You discover a plethora of shared interests and challenges. We aim to establish a chapter that provides a platform for sharing these common experiences, finding collective solutions, and fostering camaraderie through mutual understanding and support."
As in many states with large swaths of rural areas, Central and Southwest Virginia have unique traits, but they also share socioeconomic problems and geographies peppered with mountains and valleys.
To Dr. Odeti, commonalities always outweigh differences.
Take payer mix, for example. Dr. Odeti says that across Virginia, about two-thirds of the population has private insurance, which usually indicates a much more affluent community, with good resources and also better reimbursement for hospitals.
"But, when you come to Central and Southwest Virginia, it's opposite," Dr. Odeti said. "About 65% of our patients have Medicare and Medicaid, and fewer than 40% have private insurance. Again, it speaks to the similarities of socioeconomic status of this region, the disparity with other regions of the state, and the distinct challenges we are dealing with."
Dr. Odeti wants the chapter to grow quickly, but organically. He's hoping to have at least one quarterly event and to rotate events between different geographic regions to facilitate local member engagement and provide a virtual option for others who can't travel. He's hopeful to tailor educational topics to those suggested by members—as the key to a successful chapter is engaged rank-and-file, not an enthusiastic chapter founder. 
"What will keep them engaged is the value SHM and this chapter brings them and what happens at these meetings," he said. "It's fun, just like meeting your high-school friends or extended family, because you find a community when you come to these meetings. You learn from one another, and you will be able to take something back to where you work and improve the care for the patients you serve. With personal engagement, members will have opportunities for professional and leadership growth." 
One advantage of starting a chapter from scratch is that it makes it easier to pitch membership to anyone in the hospital medicine sphere, not only front-line doctors. That's a little easier in a region with four medical schools.
"We have a breeding ground of future hospitalists," Dr. Odeti said. "We have multiple physician assistant and nurse practitioner schools in the area, and we plan to invite them. Same thing with the residency programs. The ultimate goal is to welcome all individuals associated with hospital medicine, both clinically and non-clinically, whether currently involved or aspiring to join this field in the future."
Dr. Odeti says he realizes that starting a chapter in a post-COVID-19 world could seem to some to be ill-timed. He flips that perspective and thinks of it as starting an in-person group at a time when hospitalists—and society at large—realize the value of face-to-face interactions.
"The first meeting we had was on July 21," Dr. Odeti said. "And we had about 50 attendees turn out. And we had members joining from Charlottesville, which is about a two-and-a-half-hour drive. We also had hospitalists from Augusta, Blacksburg, and Radford, driving from a good distance to attend the evening meeting, and it was a great gathering. Everybody loved it. And Eric Howell was part of it, the CEO of SHM.   
"Even though people work in different organizations, it feels like you are part of a larger family. We saw attendees sharing ideas about starting a new hospitalist fellowship program, hot to recruit. In some discussions, we might not have found solutions, but at least learned we are not alone."
At the chapter's inaugural meeting, several seasoned hospitalists from community hospitals met folks they've transferred patients to for years. 
"They never had the opportunity to collaborate or see people face-to-face," Dr. Odeti said. "Hospitalists were thanking their counterparts for taking care of patients, but they never had the chance to interact or mingle. I see a bright future for this chapter." 
Richard Quinn is a freelance writer in New Jersey.