Case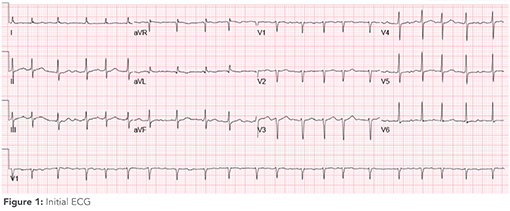 Ms. S. is a 60-year-old woman admitted with gastroenteritis and hypovolemia in the setting of three days of nausea and diarrhea. She was also found to have atrial fibrillation with rapid ventricular response. Her tachycardia improved after intravenous fluids. The following morning, nausea prompted her nurse to request antiemetic medications. You inspect the admission electrocardiogram (ECG) (Figure 1). Are QT-prolonging antiemetics safe to administer?
In this review, we provide background and practical guidance regarding QT interval (QTc) interpretation for the internist caring for hospitalized adults. 
Accurate measurement of the QTc is important in clinical practice given the risk of torsades de pointes (TdP) with QT prolongation. TdP occurs when an ectopic ventricular beat arises during repolarization of the previous heartbeat (called the R-on-T phenomenon). The more prolonged the repolarization phase (QTc), the more likely the R-on-T phenomenon is to occur. Rate-corrected QTc prolongation is defined as >450 milliseconds (ms) in men and >460 ms in women and is most concerning when >500 ms. With each 10-ms increase in QTc, the risk of TdP increases by 5 to 7%.1 Frequent causes of acquired QTc prolongation include medications, electrolyte abnormalities, cirrhosis, and structural heart disease—all common risk factors in patients admitted to the hospital.2,3
What is the best method to measure the QTc?
The QTc is measured from the beginning of the QRS complex to the end of the T-wave. Leads II and V5 are best to measure QTc.4 Since the QTc is affected by heart rate, this interval needs to be corrected for rate variations. One correction method is the Bazett formula, which derives corrected QTc by dividing the QTc by the square root of the preceding R-R interval.5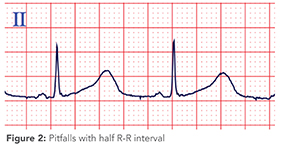 A commonly taught shortcut to screen for the presence of QT prolongation is to visually estimate whether the QTc is more than half the length of the R-R interval; however, various studies have demonstrated this method is unreliable and can miss significant prolongation, particularly in the setting of bradycardia (<60 beats per minute)6 (Figure 2).
In this example, a visual estimation about whether the QT is less than half of the R-R interval may be reassuring to many, but the QT is severely prolonged (~550 ms).
When is the computer's reported QTc unreliable?
The computer's measurement may be inaccurate if there are abnormalities in the T wave wherein its return to baseline is hard to determine. This can occur with flattened or biphasic T waves or in the presence of U waves. Additionally, if a noisy background or poorly recorded leads are present, the computer's averaging of multiple leads may lead to falsely elevated or shortened QTc lengths.7 In these scenarios, manual calculation of the QTc is best.
Approach to the QTc in tachycardic rhythms

In patients with sinus tachycardia, the current standardized methods for QT analysis may not be as accurate. Studies have demonstrated that the Bazett formula loses accuracy at faster heart rates, while other formulas such as the Fridericia and Framingham perform better.8
For patients with sinus tachycardias, the Framingham or Fridericia formulas are recommended for QTc analysis (Table 1).
Approach to QTc in atrial fibrillation
As an irregular rhythm, atrial fibrillation induces variability in the QT and R-R intervals, posing a challenge for QTc assessment. In 2017, the American Heart Association (AHA) reported multiple potential methods to evaluate QTc in atrial fibrillation, including:
Average between the longest and the shortest QTc during a 10-second ECG
Average of all QTcs available during a 10-second ECG9
Small population studies have attempted to examine which approach for measuring QTc in atrial fibrillation most correlates with QTc length after conversion to sinus rhythm, but they've been inconclusive.10
The process of averaging QTc measurement across a 10-second strip may be cumbersome. In our view, a more practical approach to QTc assessment in atrial fibrillation is to identify the longest RR interval and measure the subsequent QTc (which represents the corresponding repolarization phase).
Approach to the QTc measurement in the setting of prolonged QRS duration
The QTc captures both ventricular depolarization (the QRS complex) and ventricular repolarization (the ST segment and T-wave). Thus, prolongation of the QRS, whether caused by bundle branch block, interventricular conduction delay, or ventricular pacing, will prolong the QTc. However, the risk of TdP relates only to prolonged repolarization, and QT-prolonging medications may be safe if the prolonged QT is accounted for entirely by the prolonged QRS. For this reason, additional adjustments have been proposed for this scenario.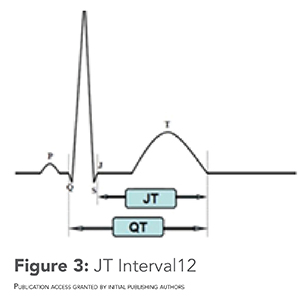 The AHA recommends measuring the JT interval as an alternative to the QTc, but this approach has not been widely studied11 (Figure 3).
Given that QRS duration may confound the underlying QTc calculation, additional methods for analysis such as the use of the JT segment have been proposed.
Another approach is subtracting 50 ms from the QTc to adjust for the prolonged QRS. One small study attempted to validate this in patients with intermittent pacing, showing that it correlated well to the QTc during normal QRS conduction. However, this approach has not been tested in larger populations or patients with other reasons for QRS prolongation and will underestimate repolarization time and risk of TdP in patients with QRS durations that are only minimally prolonged.13
We recommend another commonly used approach for adjusting the QTc that removes the amount of QT prolongation accounted for by QRS prolongation before correcting for heart rate:
Adjusted QTc = [QT – (QRSduration – 120)] / R-R1/2
Given that no consensus guidelines exist on this topic, caution and close monitoring are warranted when prescribing QT-prolonging medications in such patients.
Approach to QTc monitoring on cardiac telemetry
Telemetry monitoring may not be as accurate at QTc measurement as a standard 12-lead ECG. No large-scale studies exist examining the accuracy of telemetry and thus it is not recommended to utilize telemetry methods for QTc analysis.
Back to the case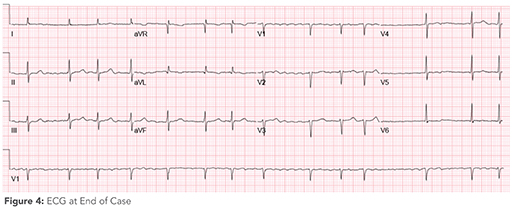 The patient's initial tachycardia and atrial fibrillation made QTc analysis more difficult. Now that the tachycardia had resolved, a repeat ECG was performed. The ECG demonstrated the following (Figure 4).
The longest R-R interval appears at the end of the ECG strip with a QT length of around 200 ms, and the patient is thus eligible for anti-emetic therapy.
Bottom line
Accurate QTc measurement is relevant and important to hospital medicine practice, especially given the risk of QTc prolongation and TdP with numerous commonly administered inpatient medications. Tachycardia, atrial fibrillation, and prolonged QRS duration make QTc measurement challenging. A practical approach to QTc measurement is needed for clinical decision making.
Quiz
A 67-year-old woman is admitted to the hospital with cystitis. You are evaluating antibiotics and consider ciprofloxacin. Given this medication's risk of QT prolongation, you obtain an ECG which shows QTc at 520 ms in the presence of a chronic right bundle branch block. How do you account for a prolonged QRS when estimating the risk of TdP?   
There is no method for correction and a different antibiotic should be chosen.
Subtract the patient's QRS prolongation above 120 ms from the QT, then correct for heart rate.
Repeat ECGs and use the average of the two reported QTc values.
For patients with prolonged QRS duration, the risk of TdP is low regardless of QTc. 
Correct option: B. The patient's QTc is artificially prolonged in the presence of underlying QRS prolongation (in this case, a right bundle branch block). Additional analysis can be done to account for this.
QTc = [QT – (QRSduration – 120)] / R-R1/2
There is no data to suggest there is a lower risk of TdP in those with baseline prolonged QRS duration (answer choice D). Similarly, given the patient's right bundle branch block is chronic, repeat ECGs would not be expected to change the underlying QTc and therefore not expected to change the average (answer choice C).
Dr. Bianchina is a resident clinician in the internal medicine residency program and hospitalist track at the University of Colorado School of Medicine, Aurora, Colo. Dr. Sargsyan is a hospitalist in the department of internal medicine at Baylor College of Medicine, Houston. Dr. Zipse is a cardiac electrophysiologist and program director for the clinical cardiac electrophysiology fellowship program at the University of Colorado Anschutz Medical Campus, Aurora, Colo. Dr. Lessing is a hospitalist in the division of hospital medicine, department of medicine, University of Colorado School of Medicine, Aurora, Colo.
References
de Lemos ML, et al. Approach to initiating QT-prolonging oncology drugs in the ambulatory setting. J Oncol Pharm Pract. 2019;25(1):198-204.
Drew BJ, et al. Prevention of torsade de pointes in hospital settings: a scientific statement from the American Heart Association and the American College of Cardiology Foundation. Circulation. 2010;121(8):1047-60.
Beach SR, et al. QT Prolongation, torsades de pointes, and psychotropic medications: A 5-Year Update. Psychosomatics. 2018;59(2):105-22.
Krahn AD, et al. Congenital long QT syndrome. JACC Clin Electrophysiol. 2022;8(5):687-706.
Al-Khatib SM, et al. What clinicians should know about the QT interval. JAMA. 2003;289(16):2120-7.
Berling I, Isbister GK. The half RR rule: A poor rule of thumb and not a risk assessment tool for QT interval prolongation. Acad Emerg Med. 2015;22(10):1139-44.
Zhou SH, et al. Philips QT interval measurement algorithms for diagnostic, ambulatory, and patient monitoring ECG applications. Ann Noninvasive Electrocardiol. 2009;14 Suppl 1:S3-8.
Vandenberk B, et al. Which QT Correction Formulae to Use for QT Monitoring? J Am Heart Assoc. 2016;5(6):e003264.
Sandau KE, et al. Update to practice standards for electrocardiographic monitoring in hospital settings: a scientific statement from the American Heart Association. Circulation. 2017;136(19):e273-e344.
Musat DL, et al. Correlation of QT interval correction methods during atrial fibrillation and sinus rhythm. Am J Cardiol. 2013;112(9):1379-83.
Rautaharju PM, et al. AHA/ACCF/HRS recommendations for the standardization and interpretation of the electrocardiogram: part IV: the ST segment, T and U waves, and the QT interval: a scientific statement from the American Heart Association Electrocardiography and Arrhythmias Committee, Council on Clinical Cardiology; the American College of Cardiology Foundation; and the Heart Rhythm Society. Endorsed by the International Society for Computerized Electrocardiology. J Am Coll Cardiol. 2009;53(11):982-91.
Duan J, et al. Anticancer drugs-related QTc prolongation, torsade de pointes and sudden death: current evidence and future research perspectives. Oncotarget. 2018;9(39):25738-49.
Chakravarty S, et al. Corrected QT in ventricular paced rhythms: what is the validation for commonly practiced assumptions? Cardiology. 2015;130(4):207-10.