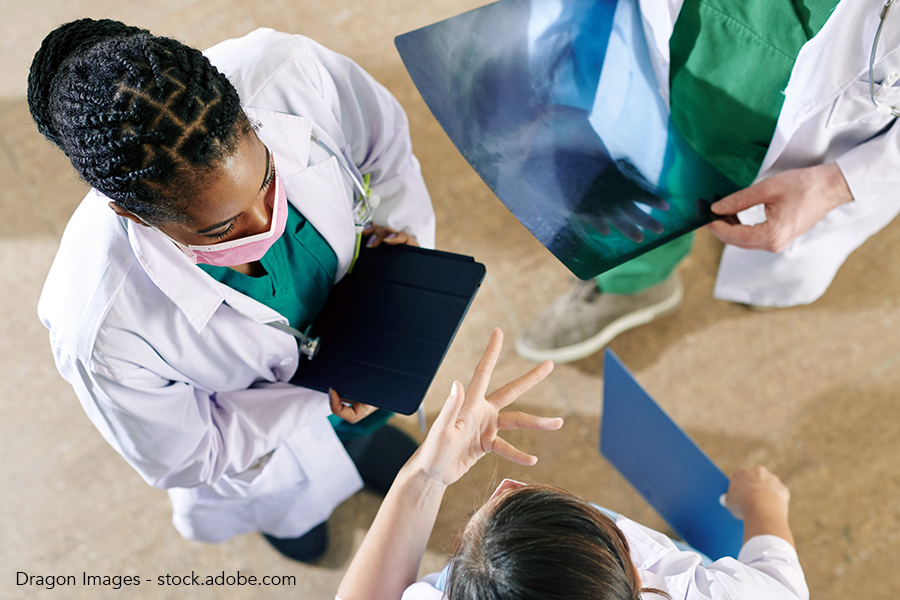 Dr. Michael and Dr. Andrew Pfeffer are brothers who each presented a side of the emergency department(ED)/hospitalist points of conflict. They set the scope of the talk with data from 2020 that there were 131.3 million ED visits in the U.S. and 18.6 million of those resulted in admissions. As noted in several other sessions throughout Converge, boarding is only getting worse in our EDs.
They noted that the handoff between the ED and admitting physician has a high opportunity for error, and reviewed the PREP-4C transition of care practice for handoff:
Preparation—having the right access, time, and space
Contact—conducting introductions either face-to-face or voice-to-voice
Communicate patient information—using one of many available tools (HANDOFFS, I PASS, SBARR, SHARQ, SOAP), and making sure to identify high-risk patients
Closing the loop—inviting questions and discussing next steps and pending workup
Conclusion—documenting plan and planning, if needed, to reconnect. A bedside handoff often would be ideal, with a discussion of the next steps.
They discussed that burnout can be an issue resulting in poor communication, with 60% of ED physicians and 52% of hospitalist physicians reporting burnout.  Three pillars were noted to support professionals' intrinsic motivation and psychological well-being—autonomy, competence, and relatedness. These pillars are often an important part of the perceived conflict between ED physicians and hospitalists.  Word clouds were presented as related to ED patient experiences that showed the doctor was an important factor when there were neutral or negative reviews.
Points of conflict between the ED and hospitalists were addressed through case examples acted out through phone-call scenarios. Does this patient need to be admitted? Is this patient ready to be admitted? Is the ward the best or safest place to admit? Is medicine the right or appropriate service?
Strategies for resolving the conflict of whether the patient needs admission included hospitalist consults. A hospitalist evaluates the patient in the ED and helps with care coordination and the decision to admit. Up to 10% of patients referred to admission are discharged. This structure could be through admission coordinators or a 24-hour hospitalist in the ED. ED observation units are other solutions, with shorter observation lengths of stay (11.9 hours versus 35.6 hours), lower costs, and lower admission rates (12.3% compared to 26.4%). It was noted that 78.3% of patients discharged from the ED after referral for admission did not return at 30 days, mortality was unchanged, and 87.7% did not require hospitalization at 30 days.
Strategies for addressing the conflict of whether the patient is ready for admission included recognizing all the time-based metrics on which the ED team is measured and all the areas they are covering, including the waiting room. This is countered by the fact that hospitalists get patients not only from the ED but multiple other areas, are encouraged to discharge before noon and reduce the length of stay, balance rounding on current patients with working on admissions, and are working to reduce the overall cost of care. Often hospitalists request extra studies in the ED as the ED has the resources and infrastructure for quicker turnaround and can help delineate if a patient may need transfer to a higher level of care or if another specialty needs to be involved. The solution to this case-based conflict was a conversation and a compromise with a few hours of extra monitoring before admission.
For the floor-versus-intensive care unit (ICU) conflict, we reviewed data that factors leading to medical patients escalating to ICU within 24 hours of admission included elevated lactates (>4) on admission and nighttime admissions. In another study, independent predictors of subsequent ICU transfer included respiratory compromise in the ED, congestive heart failure, and peripheral vascular disease. The solution to this case-based conflict was again a conversation, with the hospitalist evaluating the patient in the ED, monitoring another hour for stability, then admitting to step-down, with ICU aware and available.
The case used to debate whether medicine is the right admitting service highlighted a 68-year-old with no doctor or past medical history who fell and presented with a right femoral neck fracture (and a creatinine of 2.1, sodium 128, glucose 480, no evidence of diabetic ketoacidosis, and urinalysis with nitrates and 100 white cells). Solutions to this conflict included having established service designation lists for your hospital, outlining when a surgical service admits a patient with a medicine consult and vice versa. The case resolution was a conversation between the ED, hospitalist, and orthopedist with the hospitalist evaluating in the ED, reviewing the service designation list, and the patient admitted to orthopedics with a hospitalist consult based on that hospital's protocol.
Overall, sources of conflict and navigating conflict were discussed. More inquiry and curiosity were recommended: both asking questions about why the colleague thinks a patient needs to be admitted, and also checking in and making sure that your team is doing okay. We need to balance our ED doctors feeling interrogated about each admission with the need to get good clinical and social information on the patient. We can recognize there are different "right ways" to manage clinical presentations. Using "I" statements rather than "you" statements can help avoid some defensiveness. Socializing with different members of the team and engaging with each other in and out of the hospital can help build team relationships as well, rather than adversarial us-versus-them relationships. 
Key Takeaways
The handoff between the ED and admitting physician has a high opportunity for error, with bedside handoff and discussion of the next steps best practice.
Strategies to resolve conflicts over admissions include hospitalist consults, communication, and compromise of more monitoring in the ED before admission or bed placement, and having preestablished service designation lists for medical or surgical admissions.
Dr. Green is an internal medicine hospitalist and chief medical officer at Paris Regional Health, Paris, Texas.