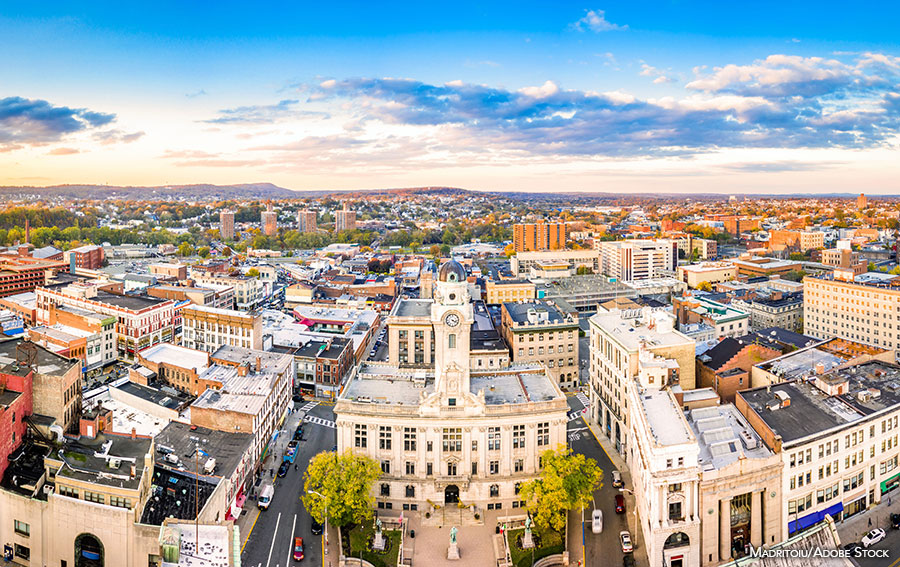 North Jersey, which represents the area between the upper Delaware River and the Atlantic Ocean, is considered part of the greater New York City metropolitan area; it has a higher population compared to the rest of the state. Colloquially, North Jersey includes everything north of 1-295 in the west and everything north of I-195 in the east.
Since 2014, it's been home to Gazala Dave, MD, who is now president of the SHM North Jersey Chapter. Here she's found a professional family and a sense of community.
"It is important to be together in a community," said Dr. Dave, a hospitalist with Valley Health System, which covers parts of New Jersey and New York. "To have that kind of nurturing, interactive environment to learn from each other, to learn from our experiences, and to work on our weaknesses together as a group so we can grow together and provide quality-based care to all hospitalized patients."
Dr. Dave, who went through medical school and residency in her native India, rose to vice president of the chapter before the pandemic and took the reins in 2020, a role she's held since. She acknowledges the challenges in the early days of the COVID-19 pandemic, especially given the severity of hospital admissions and deaths in metropolitan New York, one of the densest population centers in the world.
"As frontline workers, COVID-19 affected our physical burnout and the mental health of all physicians," Dr. Dave said. "We, as hospitalists, were frontline workers, and throughout the pandemic, we, as a group, continued to support and motivate each other."
Dr. Dave says the chapter worked to hold virtual meetings as often as possible "to discuss various strategies adopted across the state and neighboring states so we could improvise accordingly, as we were all going through a learning curve.
"This was all new to us," she said. "During the pandemic, we continued to hold virtual seminars addressing physician well-being. Even though we could not hold in-person events, it was very essential for us to meet and connect as a community, and thanks to the miracles of modern-day medicine that we were finally able to have an in-person event."
But, perhaps unsurprisingly, Dr. Dave was immensely proud of how her chapter's members—and health care professionals as a whole—mostly emerged for the better from the largest public health crisis in a generation.
"Through the COVID-19 pandemic, it has been tough and challenging for all health care workers," she said. "But, once again, we, as hospitalists, have proven that no matter what circumstances and challenges we are put through, we continue to strive and provide high-quality and valuable care to our patients."
That progress makes it a little hard to argue to replace Dr. Dave as the chapter head, given that the roughly 250-member group last year was given a Gold Award by SHM as part of the national society's 2021 Chapter Excellence Awards. The recognition—one of four award-level designations meant to honor "good hospital medicine citizenship while demonstrating innovation and sustainability"—was a point of validation for Dr. Dave.
"It means a lot coming out of the pandemic," she said. "It was a joint effort. I would like to thank all the program directors, fellow hospitalists, our leadership team, and all the participants who helped make these in-person events a huge success despite just coming out of the pandemic."
The chapter held four in-person events in 2022, perhaps none more popular than its poster competition.
"We are proud that this event was a huge success coming out of a pandemic," Dr. Dave said. "It is this event that brings together the medical student, residents, and hospitalists. It helps us showcase our specialty to the medical students and provides a window to the lifestyle and values added by hospitalists to the health care system."
To Dr. Dave, that's a value that hospitalists need to understand both professionally and personally.
"It is difficult because, as physicians, we think everything is going well with us. We want to take care of our patients, and we want to take care of those nearest to us. We can completely forget how this is all impacting our personal life. That's why I think it was very essential (during Covid) to have that tactile environment because I think this is when we realized it and we were able to downpour our feelings, our emotions, the stresses, and the health issues we had been through, and move past the pandemic."
Now, Dr. Dave sees the chapter's role as providing that sense of a professional family that lured her in nearly a decade ago.
"We want to continue to provide a fun, nurturing, collaborative, interactive environment for all hospitalists to come together," she says. "Not only across New Jersey but through the entire country." 
Richard Quinn is a freelance writer in New Jersey.