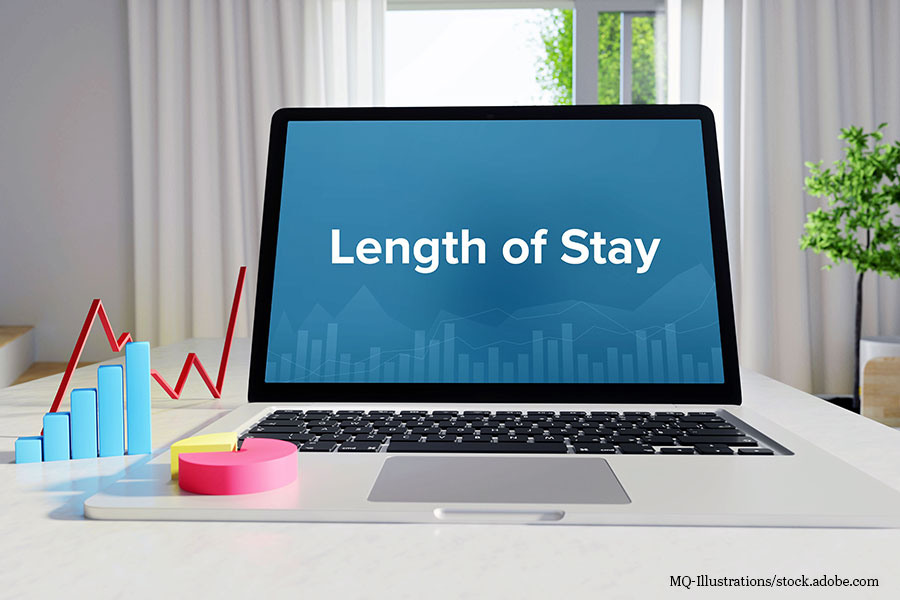 Hospitalization is an essential resource for the treatment of many patients, but are we doing it in the safest and most efficient way? Achieving effective hospitalizations with a lower length of stay (LOS) has become essential to treat more patients with limited bed resources. Reducing the LOS also promotes timely access for patients waiting in the emergency department, or for those who are ready for discharge from the intensive care unit.
Prolonged hospitalization is a complex problem: it comes from the patient's profile, therapeutic planning patterns, and from failures in several processes that aren't within the physician's control. However, sometimes we develop habits that contribute to unnecessary LOS. I have, in the past, fallen into several of these habits myself.
As a hospitalist, I've dealt with the LOS as the attending physician, team coordinator, preceptor of resident physicians, and hospital-medicine services-implementation consultant. Throughout these experiences, some problems showed up that are likely common in most hospitals.
Whether you're an attending physician or a manager of medical teams, check if any of these seven "deadly sins" are present in your practice:
Not planning the entire hospitalization. Can you tell me when your patient will be discharged? Maybe your answer is, "I don't know, it depends on how they respond to treatment." In point of fact, you made a diagnostic hypothesis and an investigation/treatment approach for today, but it's necessary to go further. Hospitalization is like a project (with a beginning, middle, and end) with varying degrees of uncertainties and risks, and if you don't draw up an execution plan early, it will be heavily influenced by circumstances. This may not only increase the LOS but also make you lose focus, leading to medical errors and risks to the patient. The final goal of any hospitalization is hospital discharge. Clearly define what is necessary for your patient to be discharged and plan how to achieve it, then you'll be able to assertively predict the discharge date.
Doing all the investigation/treatment during hospitalization. This is very common in academic hospitals, where the interest in observing the entire hypothesis-investigation-treatment-result cycle is natural for students. This makes sense when thinking only about the learning process. However, it doesn't justify keeping a stabilized patient in the hospital if outpatient alternatives for additional investigation and treatment are safe and available. Moreover, this habit sometimes comes from a false assumption that it's safer to do everything in an inpatient setting, which isn't true. Every day of a hospital stay comes with risks of adverse events, so remember to put it in perspective. It's important to understand the hospital as a part of the health system: it has a specific role in care pathways, integrated into the outpatient and home-care structure.
Adjusting medications for the home only when the patient is ready to be discharged from the hospital. Medication reconciliation is fundamental to safe care transitions and contributes to the LOS as well. If you have a therapeutic plan and it's working, it's feasible to anticipate these adjustments at least two or three days before the estimated date of discharge. Common examples of this problem are adjusting the oral anticoagulant warfarin only when the patient already has conditions for discharge, and leaving the patient education on how to manage subcutaneous drugs and other self-care issues for discharge day.
Prolonging the patient's stay over the weekend to discharge on Monday. It's common to extend the hospital stay to the next week for other reasons than clinical stabilization and safety issues. The patient or their family may be concerned about how to proceed if things get worse during the weekend at home, so they ask the doctor to discharge them on Monday. Sometimes, it's a decision made to (unnecessarily) "monitor the patient" at the end of therapy before discharge, usually doing some control labs on Monday.
Not checking the patient's family support prior to the date of discharge. Talk with family members early about discharge, explaining the patient's care and support needs when coming back home. Also, be aware of problems related to the transition of care and the patient's post-discharge destination. You should put the multidisciplinary team together on the case as soon as possible.
Requesting excessive consultation from other specialties (often with vague questions). When calling a colleague from another specialty for consultation, be clear about your doubts and what you need answered. With too many specialists on the case, care coordination can become difficult, with ambiguous recommendations. Also, the expert evaluation will be too broad, with little value added to your patient's care plan, if you pose vague questions. Ask appropriate, direct questions to get clear answers.
Requesting complementary exams whose results do not change the therapeutic plan. Whenever you request an exam, ask yourself if it's really necessary and aligned with the care plan. Be aware of the possible results and what you'll do with each one; consider if there are faster alternatives (from execution until results) that adequately answer your questions. Can it be done safely and timely in an outpatient setting? Do not request "routine" or "control" tests if the results won't change your plan.
I hope this list was helpful for you to analyze your daily practice. We need to aim for adaptability in clinical practice to get better results and generate greater value for the patient and the health system. Part of that goal involves the best use of resources; not only which ones to use, but also when (during hospitalization or on an outpatient basis, for example). Keep your patients at the hospital only for the time necessary, no more or less.
Can you think of more "sins" frequently observed in clinical practice that also lead to prolonged hospitalization? I welcome your comments. 

Dr. Soares has been working with hospital-medicine implementation projects in Brazil for more than 10 years and is currently working as projects coordinator at Eficiência Hospitalista in Porto Alegre, Rio Grande do Sul, Brazil.