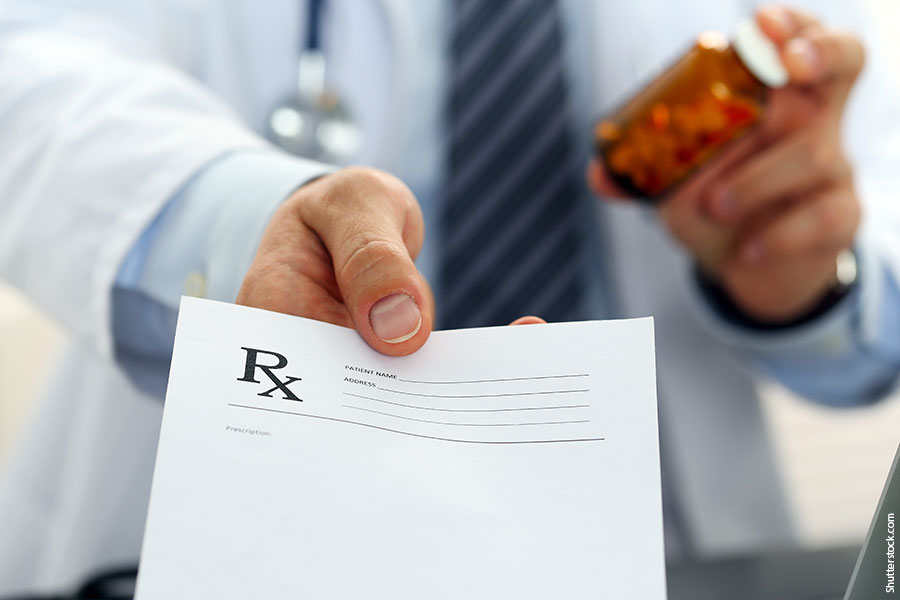 "Never doubt that a small group of thoughtful, committed citizens can change the world; indeed, it's the only thing that ever has." — Margaret Mead
They say there are two things you don't want to see made, laws and sausages. But, sometimes recounting the journey that turned an important issue into law can be inspiring. Such is the case of the passage of the Mainstreaming Addiction Treatment (MAT) Act to eliminate the X-waiver, part of the 2022 omnibus bill.
While the U.S. Drug Enforcement Administration (DEA) and the Substance Abuse and Mental Health Services Administration (SAMHSA) announced the immediate elimination of the X-waiver for prescribing buprenorphine in January, Kendall Rogers MD, CPE, SFHM, chief of the division of hospital medicine and professor at the University of New Mexico Health Sciences Center, Albuquerque, said SHM's Public Policy Committee (PPC) started talking about this issue many years ago.
The journey
"Since becoming X-waivered in 2006, I've advocated for the deregulation of buprenorphine," Dr. Rogers said. "SHM's PPC has been discussing this for years and was one of the early medical societies to publicly take a stance on the issue. The initiative gained momentum as we raised awareness with lawmakers, organized talks at our annual meetings, wrote op-eds, and supported #XtheXWaiver on social media."
The removal of the X-waiver requirement has been one of SHM's top policy priorities, and over the past five years, SHM's PPC members educated legislators during yearly Hill Days about the safety and efficacy of using buprenorphine to treat opioid use disorder (OUD), addressed their misconceptions and concerns about abuse and diversion, and encouraged them to support the passage of the MAT Act.
One of the most significant roles in any advocacy initiative is education, and it's no different in this case. Dr. Rogers said when the PPC started meeting with legislators he was surprised by the lack of awareness of the overdose issues and that there was a safe, effective treatment available.
Suparna Dutta, MD, MPH, FACP, SFHM, chief of the department of medicine at Hartford Hospital and associate professor of medicine at the University of Connecticut, and PPC member said, "I'm proud of the group because we came out early and said this is something we really want to advocate for—getting rid of the X-waiver, which was just an artificial construct, based on stigma and fear of how to treat this patient population. I think that made other groups comfortable with advocating for it as well."
Though education has taken years, it's often as easy as repeatedly sharing your knowledge. "I addressed fears of diversion—are we substituting one addiction for another? I talked about what the evidence shows, what the literature shows, what my experience had been in prescribing this medicine and learning it about it," said Jennifer Cowart, MD, FACP, SFHM, vice chair for quality in the division of hospital internal medicine, patient safety officer at the Mayo Clinic Florida, and SHM PPC member.
Hospitalists were among the earliest advocates for the use of buprenorphine to treat OUD patients because, along with emergency medicine physicians, they're the specialists who see the impact of this illness on people who don't normally seek health care. They're also the physicians who see the patients who've been admitted for completely different reasons and ended up going through withdrawal during the inpatient setting.
Another part of advocacy is figuring out which "levers we need to pull," said Dr. Rogers. "Who controls this? It's not the DEA, they're just following whatever legislation exists. It's not the states, because it's a federal legislative initiative rooted in almost 100 years of laws." The goal was to find out what was preventing the deregulation of this medication.
"We've been working on this for several years, pulling all of the levers we felt we had at our disposal, and recognized that SHM was one of many organizations pulling all those levers at the same time. There's strength in numbers and I think that really showed," Dr. Cowart said.
Also, SHM's grassroots advocacy network played a big role. Lillian Freundlich, SHM's government relations specialist, makes sure that action items are shared with hospitalists who've signed up for that advocacy network, encouraging members to email or call their legislators.
The barriers
After a hospitalist identified and diagnosed patients with OUD and initiated therapy, often the challenge was finding a community partner to continue the therapy. One barrier to having enough physicians able to prescribe buprenorphine was the eight hours of continuing medical education (CME) required to receive an X-waiver.
"That's an entire day of CME," said Dr. Cowart. "CME budgets are being stretched tight across the country if you're even fortunate enough to work at an institution with a CME budget. Eight hours on a single topic is a lot when you have a tight CME budget. And that was eight hours for MDs, it was 24 hours for advanced practice providers—which puts it out of reach for a lot of people. I would expect to see some quick development of high-quality CME that everyone could use—an hour would be sufficient."
For those hospitalists who earned their X-waiver and were able to prescribe buprenorphine, the next challenge was if there was someone to hand the patient off to once they were discharged from the hospital. Finding an X-waivered primary care physician or other practitioner was a challenge.
Dr. Cowart said, "The implications for hospitalists are huge, but now we really have to work to tell everyone that the artificial barrier is gone. We're trying to educate people on how and why you would prescribe it. I try to liken it as much as possible to insulin. When I diagnose diabetes, I discharge a patient with insulin. I would consider that standard of care. And I would consider it malpractice if I don't prescribe them the medicine they need for their diabetes and OUD. We have an effective treatment, and it should be the standard of care."
Dr. Dutta said treating OUD like a chronic disease may also help reduce the stigma associated with it.
While there will be new DEA training guidelines (as set forth by the Medication Access and Training Expansion Act, MATE Act, also part of the 2022 omnibus bill), which are being developed and will go into effect this summer, that education will be around all opioid prescribing, and not specific to buprenorphine. Dr. Cowart hopes the new national training benchmarks will enable changes at state medical boards and legislatures as well.
More access to treatment
Susan Calcaterra, MD, MPH, MS, the director of addiction medicine consultation service, associate professor of hospital medicine, associate program director of the addiction medicine fellowship at the University of Colorado Anschutz Medical Campus, Aurora, Colo., and a faculty expert for the SHM Center for Quality Improvement's opioid project, said "I'm hoping more patients will get access to life-saving medications to treat opioid use. And then the downstream effects are reduced morbidity and mortality related to opioids."
Marlene Martin, MD, an associate professor of medicine at the University of California, San Francisco, and director of the Addiction Care Team and hospitalist at San Francisco General Hospital, is also a faculty expert for the SHM Center for Quality Improvement's opioid project. She said removal of the X-waiver should "make it easier for us to prescribe buprenorphine when it comes time to discharge our patients and link them to care." She also hopes it reduces some of the barriers previously experienced.
Dr. Rogers said, "The act was called the Mainstreaming Addiction Treatment Act—and I think the true goal of the MAT Act is for this to become mainstream. There's still a lot of work ahead for us to actually achieve its namesake. The big goal is to destigmatize OUD treatment, both in and out of the hospital."
Removing the barriers to care may mean more OUD patients can receive their post-acute care treatment through their primary care physicians "and the people with complex mental health comorbidities or who may be abusing multiple substances will have better access to the very scarce mental health resources they need," said Dr. Cowart.
According to DEA administrator Anne Milgram, removing this barrier will increase immediately the number of practitioners who can prescribe buprenorphine from 130,000 to 1.8 million in the U.S.
Next steps
Though the X-waiver is gone, there are still barriers to OUD treatment with buprenorphine—both immediate and ongoing.
The immediate concern is getting the word out. Though the DEA, SAMHSA, and SHM have communicated the news, informing and educating health care professionals is still crucial.
"We can help by continuing to encourage hospitals to prescribe buprenorphine and providing education that helps hospitals feel comfortable to actually do the work of prescribing," said Dr. Calcaterra.
Dr. Martin agrees that communication and education are important next steps. "We have to do substantial education on how to initiate and continue the medication to increase hospitalists' confidence and its actual use."
"I think it's going to take time," Dr. Dutta said. "Just because we're getting rid of the X-waiver doesn't mean that magically our patients are going to have access immediately everywhere. But I think we can use this to push for culture change in a way that we couldn't before."
Drs. Rogers, Dutta, Calcaterra, Martin, and Cowart agree—this journey was a success thanks to the efforts of many people across many institutions and organizations. It took determination, perseverance, and hope.
"And so, if nothing else, I hope this inspires people who are interested in advocacy but aren't sure if that actually is a way to make an impact. It is," Dr. Dutta said. "And if there are things they see in their day-to-day practice that could be improved—this journey has shown that advocacy can work."