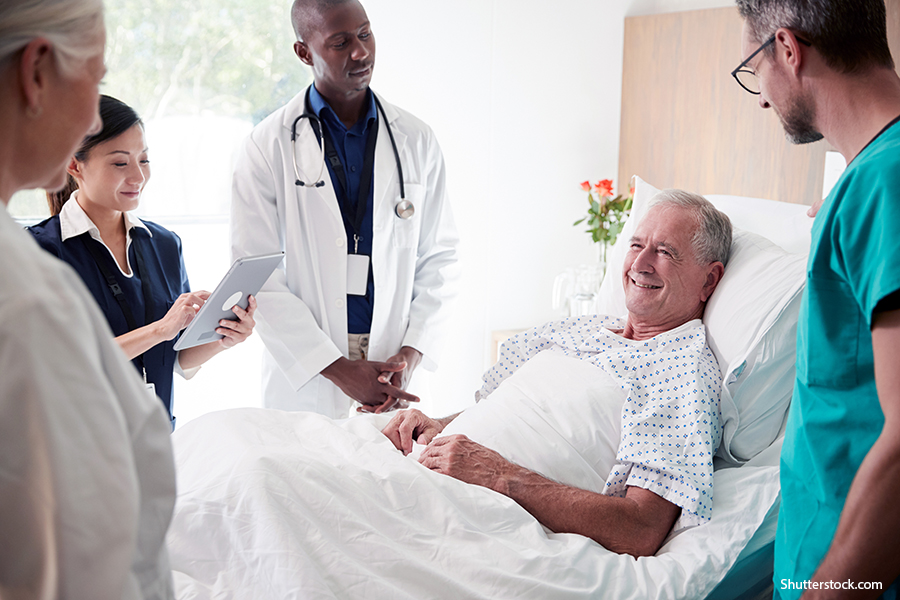 Sarah Horman, MD, helped lead the launch of interdisciplinary rounding at the University of California San Diego in 2017. But it wasn't until two years later that she found herself at the annual SHM national meeting, in a session with others who seemed as interested in the systematic approach to workflow as she was. 
Toss in support from SHM and the Special Interest Group (SIG) on Interdisciplinary Rounding (IR) was born.
"Interdisciplinary rounding enforces a standard workflow around synchronized communication from multidisciplinary team members involved in the patient's care—in a reliable way," said Dr. Horman. "And it's really a vehicle for anything you design it for patient safety, care utilization, patient experience, discharge planning, and readmission risk mitigation. Groups can customize it to fit their patient populations and organizational priorities."
To Dr. Horman, IR is a tool to streamline "a very chaotic and often inefficient care environment."
And who better to take a leading role in that system than a hospitalist, the proverbial quarterback of the inpatient medical team?
"Hospitalists are subject-matter experts on how to get a patient in the hospital, treated in the hospital, and then discharged to a safe plan and follow up," Dr. Horman said. "And the ability to communicate with a lot of different team members—while keeping the patient in the loop—is a very natural rhythm for the hospitalist to fall into. These rounding models are really the car we drive. We understand the parts and the relationship between these parts."
Dr. Horman says having a SIG for practitioners to discuss the pearls and pitfalls of IR serves as a valuable resource, given the adage that anyone who has seen one hospitalist group has seen another hospitalist group.
"We have lots of different care environments that make up the membership for SHM," she said. "We have academic teaching hospitals, we have community hospitals, and we have critical-access hospitals. The one thing all those places have in common is chaotic communication pathways. IR streamlines this. But it can be daunting to get things started wherever you are and we all end up asking the same questions. 
"How do you get leadership support? How do you recruit buy-in from hospitalists? How do you keep other disciplines engaged?  How do you maintain fidelity over time?  How can we measure success?"
Having a SIG dedicated to the topic gives its members a chance to talk to like-minded folk—and usually, like-minded folk who have already solved similar problems.
"One of the biggest barriers that people talk about at the national level is the resource allocation toward dedicated care management and dedicated pharmacy support," Dr. Horman said. "We also talk about the role of geographic cohorting to maintain IR efficiency. We have had forums discussing how to negotiate with hospital leadership to advocate for IR. More recently we have shared ways to leverage the electronic medical record to monitor and track IR metrics and prove success.
"Our SIG helps members interested in IR forge this unity. The power comes when we're all doing IR the same way and collectively can say we found the same result. When things have so many different flavors, it becomes hard to compare and translate outcomes across the board. Standardizing processes and metrics helps us speak the same language, compare outcomes, and actually combine data toward a more powerful story." 
Dr. Horman says she saw the heightened value of the SIG during COVID-19, which caused a lot of disruption in many IR programs. 
"When care became more remote, especially in the early part of the pandemic, it was a little bit of an identity crisis for IR programs that prided themselves on bedside contact and in-person, multi-team-member participation in small patient rooms," she said. "The pandemic challenged this mantra, and some programs went to operating in a remote form or just pausing for a while. 
"There was a lot of camaraderie in our SIG during that time, where we would meet on a regular basis and share, 'How are you adapting your rounding model infection control policies and social distancing?' Comparing notes during that time was a real-life example of how you can lean on the SIG outside your organization to develop ideas and come back to your own work and improve it." 
Dr. Horman says a unique feature of the IR SIG is that it serves as a mix of seasoned hands looking for solutions to complex problems—and IR rookies looking for a basic introduction. 
"For example, this year we're planning a session on the taxonomy of IR and the definitions," she said. "We also offer content toward more advanced interdisciplinary-rounding leaders who already have their programs up and running. A hot topic this year is going to be how to leverage IR for improving length of stay and reducing readmissions. A lot of hospitals are experiencing census surges due to the pandemic and flu season, so implementing a team-rounding model to improve bed capacity can be impactful, and this is the time to do it." 
Richard Quinn is a freelance writer in New Jersey.