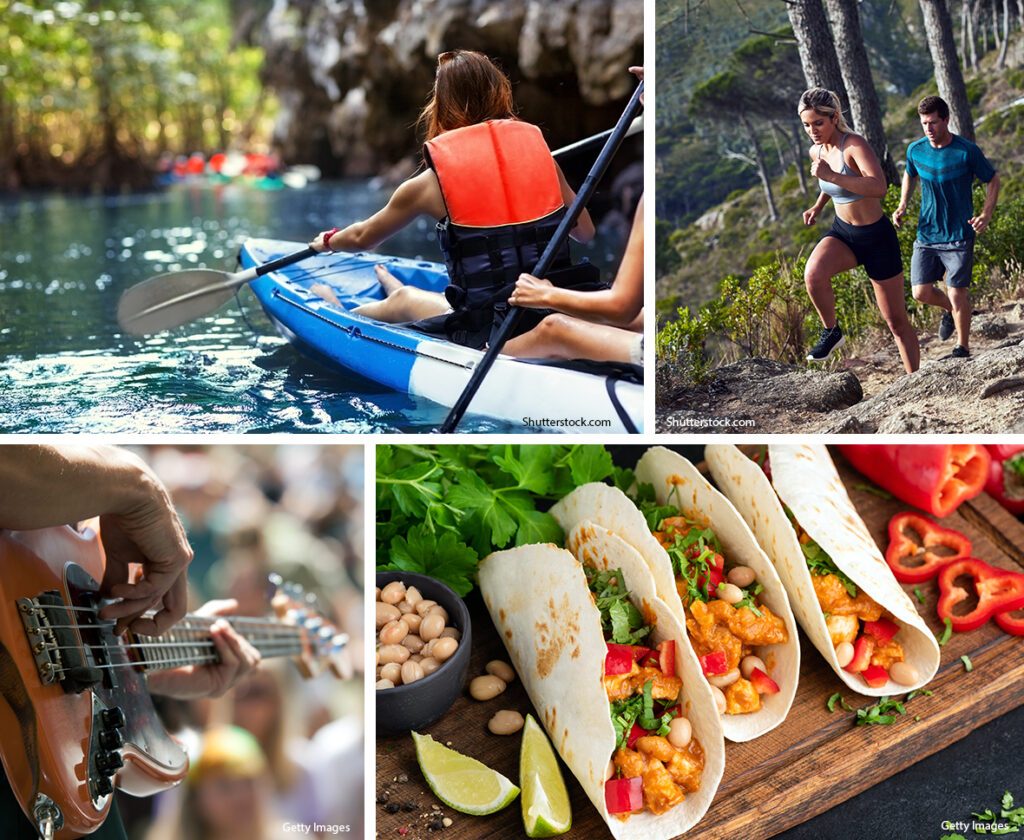 Austin, Texas is not only the Live Music Capital of the World but also home to SHM Converge 2023, March 26-29 at the Austin Convention Center. Plan your conference experience and take advantage of everything Austin has to offer! From Lady Bird Lake to delicious dine-in opportunities, Austin is an incredible city to explore after a day of Converge or to extend your trip post-conference.
Outdoor activities
There's a lot to do around Lady Bird Lake (also known as Town Lake), a river-like reservoir on the Colorado River in Austin. The Ann and Roy Butler Hike-and-Bike Trail surrounds the lake, offering a 10-mile trek with a great view of the city's skyline. You can also rent kayaks, canoes, and stand-up paddleboards. 
If you're feeling really adventurous, you'll find the Texas Hill Country about 30 miles west outside of town.
Zilker Park, which butts up to Lady Bird Lake, has sports fields, cross-country courses, historical markers, concession stands, picnic areas, botanical gardens, a sculpture garden, and more. There's even a mini railway that tours the park. You can also cool off in Barton Springs Pool in the heart of the park; it's fed from underground springs and stays 68 degrees year-round.
The Umlauf Sculpture Garden, near Zilker Park, hosts Texas's largest collection of touchable sculptures. The exhibits feature works from Charles Umlauf and other visual and performing artists.
The Lady Bird Johnson Wildflower Center at The University of Texas at Austin is the 284-acre botanical garden and arboretum of Texas. It's home to more than 900 species of native Texas plants, nine acres of cultivated gardens, and 70 species of native trees, insects, birds, and mammals. Check out highly-acclaimed British artist Bruce Munro's Field of Light immersive exhibition (open through May 2023); the 16-acre display showcases art, technology, and nature. The Wildflower Center is open late every Tuesday in the Spring and features live music, visual artists, food trucks, and adult beverages.
Waterloo Greenway is a public park in downtown Austin that winds along Waller Creek. This multi-stage project includes Waterloo Park and Moody Amphitheater and Symphony Square, which are now open.
You can't leave Austin without viewing the bat cave…well, it's really a bridge. The Congress Avenue Bridge (100 S. Congress Ave.) is home to the largest urban bat colony in North America. Beginning in late March through the early fall, starting at sunset, you can watch as hundreds of thousands of bats fly out from beneath the bridge.
Music and entertainment
It's no joke, Austin truly is the live music capital of the world. From the moment you step off the plane and hear the live musicians in the terminal, to the performers on the streets, and in bars, coffeehouses, and parks, you'll be surrounded by music. 
Be sure to check out what's happening in the outdoor music venues—Stubb's Bar-B-Q (a large outdoor amphitheater that also serves barbecue), Scoot Inn (one of Austin's original venues), and the Far Out Lounge & Stage, to name just a few.
Sixth Street (6street.com) is a great place to discover Austin's music scene—it's been the hub since the 1970s and was saved by the National Register of Historic Places. It's located between Congress Street and Interstate 35 (known as Dirty Sixth to locals). You'll find live music, shops, restaurants, and bars. Some compare the area to Bourbon Street in New Orleans.
Austin is home to the nation's largest University-owned collection on exhibit: Blanton Museum of Art, at the University of Texas at Austin. The first photograph and the Gutenberg Bible are at the Harry Ransom Center among the collection. 
The museum is recognized for its modern and contemporary American and Latin American art, Italian Renaissance and Baroque paintings, an encyclopedic collection of prints and drawings, and Ellsworth Kelly's Austin. The Blanton offers thought-provoking, visually arresting, and personally moving encounters with art.
If you're looking for something more hands-on, Wonderspaces might be up your alley. It features 12 immersive and interactive art installations from artists around the world, along with a full bar of signature cocktails.
Austin is also home to the LBJ Presidential Library, where you can learn about the 36th President, Lyndon Johnson. It includes a replica of the Oval Office and one of the current exhibitions is Lady Bird: Beyond the Wildflowers, a look at the life of Lady Bird Johnson.
The Texas Capitol is widely recognized as one of the nation's most distinguished state capitols. It was placed on the National Register of Historic Places in 1970 and designated a National Historic Landmark in 1986. The 22-acre grounds include the Capitol Extension, myriad monuments and memorials (including a mini-Statue of Liberty), a rose garden, and more.
The Museum of Ice Cream promises to help you rediscover the kid in you by bringing the universal power of ice cream to life. It's an experiential museum where you can learn about ice cream and its history across 12 multi-sensory installations, ride an animal cookie, or take a dip in a pool of sprinkles. Think Willy Wonka but with all things ice cream. You can eat unlimited ice cream treats with global tastes, textures, and toppings.
Food
Whether you're looking for Tex-Mex, BBQ, breakfast tacos (the debate is whether these tasty treats originated in Austin or San Antonio), food trucks, or something else, you're sure to find just the thing to tempt your tastebuds in Austin. Don't leave Austin without trying a breakfast taco and kolaches (buttery, hole-less donuts topped with fruit and cream cheese).
There are food-truck parks throughout the city—East Cesar Chavez park, The Picnic Food Trailer Park, South Austin Trailer Park & Eatery, South First Food Court, and Thicket Food Truck Park. You can sample everything from gourmet donuts (Gourdough's) and Filipino-American food (Tito Adobo) to comfort food (Revolution Vegan Kitchen) and Thai food (Coat & Thai).
There are tons of top-rated restaurants as well:
Koriente—offers vegan-friendly, Pan-Asian fare, run by a mother-daughter duo.
Lamberts—barbecue, smoked meats, craft cocktails, live music—all in a refurbished general store.
Moonshine Patio Bar & Grill—southern comfort food and yes, moonshine.
24 Diner—all-night diner serving nostalgic brunch fare and American classics.
Vince Young Steakhouse—sources its ingredients from farms and ranches in Austin or as local as possible.
Franklin Barbecue—people travel from all over the country for pitmaster Aaron Franklin's wood-smoked fare.
Eddie V's—prime seafood and steak dishes, a raw bar, and a top-tier kitchen.
Curra's Grill—known for its authentic, traditional Mexican cuisine and signature avocado margarita.
Emmer & Rye—upscale contemporary farm-to-table restaurant.
La Condesa—posh dining with the largest collection of 100% blue agave tequila and mezcal in the city; regional Mexican dishes and vegan or vegetarian options.
The Backspace—rustic, Neapolitan-style pizza and seasonal antipasti, behind Parkside restaurant.
Tacodeli—chef-driven, handcrafted taco concept that blends Mexican flavors and Texan hospitality.
SHM Converge 2023 offers lots of opportunities to learn, engage, and network, and Austin offers lots of opportunities for food, fun, and entertainment. Make sure to soak up all you can when you're in Texas next month.