Get ready for an exciting, dynamic, inspiring event in the Lone Star State's capital at SHM Converge 2023! 
We're truly excited to see you all again, following our grand collective reconnection in Nashville, Tenn. for a stellar SHM Converge 2022. What better place to do this in 2023 than in a city that boasts 300 days of sunshine a year, an average temperature of 71 degrees in November, amazing outdoor activities, and hundreds of live music venues? Yes—it's Austin, Texas, the live music capital of the world!
The Annual Conference Committee has once again put in a tremendous amount of time and energy to bring you an outstanding collection of topics relevant to hospitalist practice in many domains. We appreciate all your feedback and have made substantive changes to the format of the meeting to ensure that we make this even more valuable and engaging going forward.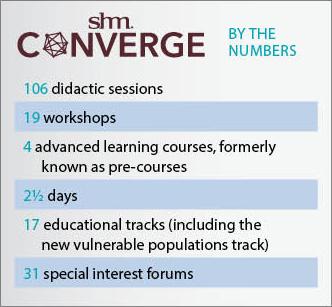 We'll have 106 didactic sessions, 19 workshops, and four advanced learning courses, formerly known as pre-courses.
The meeting will be two and a half days with breakfast at 7:30 a.m. and content kicking off at 8:30 a.m., giving those of you reconnecting with your colleagues from across the globe late at night some wiggle room!
You asked for more networking, and we obliged. There will be dedicated times with hosted networking and social events that won't conflict with clinical sessions, so you can reconnect with your friends and colleagues who share the passions, engagement, and challenges we all face in hospital-medicine circles.
The last day of Converge will end at 1 p.m. to accommodate those traveling long distances, which means you won't miss out on any content if you need to leave.
The clinical content will be presented by some of the best in the field and will be just what any practicing hospitalist needs, spanning topics as diverse as emerging infections, ketamine use in hospitalized patients, blood product stewardship, inpatient sickle cell management, and management of patients with injection drug use-related infections.
We're proud to offer a new curricular track on vulnerable populations, which will include sessions dealing with patients with medical complexity, social instability, language barriers, and transgender and nonbinary patients.
You can also join in engaging discussions on point-of-care ultrasound versus a physical exam, the perioperative "Great Debate," which was a tremendous draw in past years, and Things We Do For No Reason in the perioperative milieu, as well as the value of the inpatient daily physical examination. We hope these sessions will challenge your perspectives on practice efficiencies and value-added care. The always dynamic "Medical Jeopardy" session will return this year as well, with stellar faculty who will be ready to answer challenging questions and expand our knowledge base.
We have an amazing academic Leadership Summit where hospital medicine leaders in academic venues will share ideas, network, and innovate solutions to continuing challenges in the spaces where we teach trainees and grow our fields of amazing clinicians.
New and experienced hospitalists alike will also benefit from our early- and mid-career speed mentorship sessions to provide you with an opportunity to develop, refine, or realign your careers.
Interested in innovation? Don't miss the Shark Tank session, where candidates will present novel hospital-medicine-related proposals to senior research and innovation leaders in hospital medicine; this will help with generating new ideas as to how to deliver optimal care in hospital medicine!
If you have the bandwidth to join us before the main meeting, consider attending the excellent advanced learning courses where you can choose to learn from national experts about point-of-care ultrasound, critical care, ultrasound-based procedures, and a novel course on the spectrum of hospitalist finances and value entitled "From the Bedside to the C Suite."
It's impossible to sum up the unforgettable experience we have in store for you next month. We invite you to join us to learn some amazing content specifically for hospital medicine professionals, leverage great networking opportunities, contribute to your professional development, and improve selected skills in hospital-based care. You'll make lifelong memories, optimize your course in your hospital medicine career, and enjoy a few tunes from an amazing musical city! Please visit shmconverge.org to register, if you haven't already, and to view the most up-to-date conference schedule. We hope to see you in Austin, on March 26-29!  
Dr. Whinney is the chairman of the department of hospital medicine at the Cleveland Clinic Foundation and oversees over 160 hospitalist physicians and 40+ advanced practice providers in seven hospitals throughout Northeast Ohio. He is a clinical assistant professor of medicine at the Cleveland Clinic Lerner College of Medicine (CCLCM) and a frequent lecturer and preceptor on inpatient teaching services for students and residents; he cofounded the CCLCM Acute Care Preceptorship for second-year medical students. He is currently the course director for SHM Converge and has served as a member of the SHM Annual Meeting Committee and the SHM Perioperative Task Force.