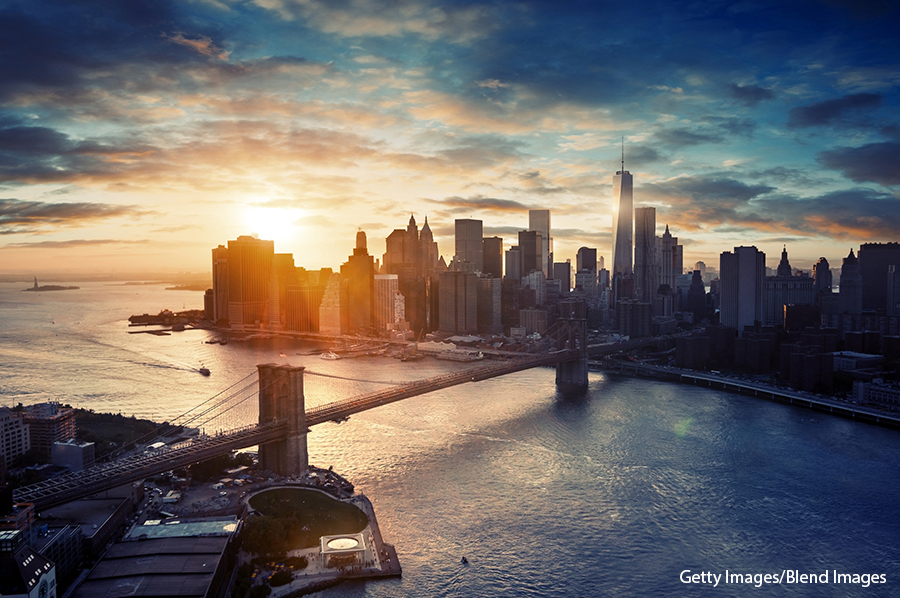 Every SHM Chapter in the country dealt with the crisis scenarios wrought by COVID-19.
Massive upticks in patient censuses hobbled hospitalists in every state. Burnout from seemingly endless days affected health care professionals across the country. News headlines of worry on how our nation's health care system would handle it all took center stage.
However, not every SHM Chapter covers New York City and Westchester County, the epicenter of the pandemic in the spring and summer of 2020. So not to sound too much like a New Yorker, but chapter president Mirna Giordano, MD, a pediatric hospitalist at Columbia University Medical Center, wears those experiences like the proverbial badge of courage. 
"I really feel honored to be the president of this chapter because of how New York City dealt with the COVID-19 crisis," she said. "I feel like my co-hospitalists, both in pediatric and adult medicine, have definitely been seen more as heroes from the public point of view. But, to me, they're more comrades." 
Dr. Giordano sees physician wellness as a main tenet of the chapter, particularly after the professional gauntlet of the past few years. She adds that other groups focus on clinical pearls or practice-management tips, but she sees her SHM colleagues taking care of each other as much as their patients. 
"The burnout rate in our field is pretty high," Dr. Giordano said. "People work many hours, busy hours, on our feet. We're seeing a more and more complex patient population. Hospitalized patients today have many more comorbidities than those hospitalized 10 years ago. The work is challenging. So, we're trying to stay healthy ourselves. First, take care of ourselves, our families, marriages, children, and partners/friends. That's exceptionally important."
One point of pride for Dr. Giordano is the chapter's involvement in the Pediatric Overflow Planning Contingency Response Network (POPCoRN). POPCoRN was born in the early days of the pandemic. Two hospitalists training in internal medicine and pediatrics launched a collaborative that helped pediatric-focused institutions admit adult patients diagnosed with COVID-19. 
"I found that remarkable because, as you say, when things are changing, we really do not know if in the coming year we will have a pandemic that will, for example, affect children," Dr. Giordano said. "In which case, having already established some connections and forming the network, we could go the other way around, where the adult hospitalists would help us fight potentially a very lethal virus in the pediatric environment. I think that was definitely one of the very remarkable outcomes: the collaboration between the SHM and the POPCoRN."
Collaboration is something Dr. Giordano thinks is valuable in all chapter activities. Take the joint event with the American Academy of Pediatrics (AAP) in the spring of 2022, held because she views the professional home for pediatric hospitalists as a grouping of SHM, AAP, and the Academic Pediatric Association (APA). Dr. Giordano adds that another focus of the New York City/Westchester Chapter is a further collaboration between pediatric and adult hospitalists. 
"Children and adults live longer and have more comorbidities and complex issues, including social determinants of health-related ones," she said. "I think pediatric hospitalists can transition their patients to adult hospitalists more smoothly. Very often, the surgeons taking care of our patients are adult surgeons taking care of pediatric patients. So, interprofessional comanagement within the field must be well developed. Learning from each other is how we will grow faster, better, and hopefully pay it forward to future generations of patients and doctors." 
Dr. Giordano said that a future goal for the chapter is to reach out more to trainees interested in becoming hospitalists. 
"The trainees are not always aware of the SHM chapter opportunities, so we're excited every year to get the poster competition for our members, and maybe attract more medical students, residents, and fellows to these events, and give them the incentive to showcase their scholarly projects, exchange the ideas about future collaboration and potentially have their abstract/poster go straight to the national conference," she said. 
Another approach that the chapter uses is implementing social media to connect with younger physicians. 
"We are thinking of inviting hospitalists who have been very present on social networks–like Dr. Eric Burnett—who have huge followings on Twitter, TikTok, Instagram, or Facebook," Dr. Giordano said. They "have managed to connect the important roles both within the hospitals and in society and we want to see and learn more from them about the significance of social media in our life today, and how can we optimize its use in patient care." 
Dr. Giordano adds that whatever the chapter does moving forward, the focus is the well-being of its 327 members. Regular surveys of the group, founded in 2015, are aimed at giving back to them.
"When you collaborate with people, you become closer to them," she said. "There were topics, projects, and outcomes that sprouted out of the COVID-19 crisis that made us stronger as team players." 
Richard Quinn is a freelance writer in New Jersey.