Case
A seven-week-old Hispanic female with a history of prematurity (born at 35 weeks by C-section) presents to the ED with four days of fever as high as 102°F and new-onset cyanotic spells. Cultures of blood, urine, and cerebrospinal fluid obtained 48 hours prior to admission were negative, but she continued to have intermittent fevers and developed a macular, non-pruritic rash on her hands and feet, with associated non-bilious emesis. One day prior to admission, she began to have episodes of apnea, with color change and cyanosis of her lips and eyelids. In the ED, her vital signs include a rectal temperature of 38.4°C, heart rate of 178/min, respiratory rate of 27/min, and blood pressure of 79/66. Examination reveals a non-toxic-appearing infant, with no conjunctival or oropharyngeal abnormalities, unremarkable heart and lung exam, and a blanching, erythematous macular rash on her hands, lower legs, and feet.
When should you suspect Kawasaki disease (KD) as the cause of fever in an infant?
Background
KD is an acute systemic vasculitis of unknown etiology that occurs in children. Affecting the small- and medium-sized arteries, with a striking predilection for coronary arteries, it is the leading cause of acquired pediatric heart disease in Japan and the U.S.1 Occurring predominantly in children younger than five years, KD has been diagnosed in infants and in young adults.2 The incidence of KD is lowest among white children and highest among Asians and Pacific Islanders, with the highest incidence in children of Japanese descent.
A recent epidemiologic study performed in Taiwan showed an incidence of 69 cases per 100,000 per year among children younger than five years, with a male/female ratio of 1.62:1.3 The peak of mortality occurs 15-45 days after onset of fever, although sudden cardiac death may occur many years later. Recurrence rate is approximately 3%. In the U.S., the estimated incidence ranges from nine to 18 per 100,000 children younger than five years per year.4
Review of Data
Because there is no specific diagnostic test or pathognomonic clinical feature, clinical diagnostic criteria have been established to guide physicians. KD diagnosis traditionally requires fever for at least five days and the presence of at least four of the following five principal features:
bilateral conjunctival injection;
changes in the mucous membranes of the upper respiratory tract (injected pharynx, infected, fissured lips, strawberry tongue);
polymorphous rash;
changes of the extremities (peripheral edema, erythema, periungual desquamation); and
cervical lymphadenopathy.5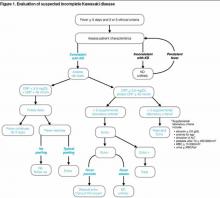 Adapted from: Newburger JW, Takahashi M, Gerber MA. Diagnosis, treatment, and long-term management of Kawasaki Disease: a statement for health professionals from the Committee on Rheumatic Fever, Endocarditis and Kawasaki Disease, Council on Cardiovascular Disease in the Young, American Heart Association. Circulation. 2004;110:2747-2771.
The fever, which is remittent, typically peaks at 39ºC to 40ºC. The mean duration of untreated fever is 11 days; with prompt treatment, fever typically subsides in two days. Bilateral painless non-exudative conjunctival injection begins shortly after onset of fever, involves typically bulbar conjunctiva, and is not associated with edema.
Erythematous rash usually appears within five days of onset of fever and is often a diffuse, nonspecific maculopapular eruption that is commonly pronounced in the perineal region. The appearance might be urticarial, micropustular, or erythema multiforme-like. Changes in extremities include erythema of palms and soles and tender induration of the hands and feet. Subsequently, desquamation begins in the periungual area within two to three weeks after the onset of fever. Typically, peeling begins around the nail folds of fingers, followed by the toes. The least common of the principal clinical features is tender unilateral anterior cervical lymphadenopathy (1.5 cm or greater in diameter).