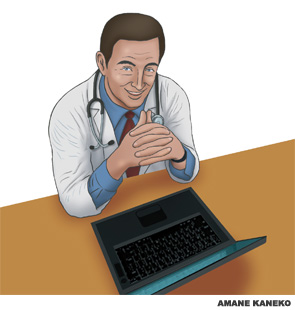 Why is it that there are no focused looks into the ED? We all know, as hospitalists, that the ED locks us into many admissions. Yet I see no initiatives through the Centers for Medicare and Medicaid Services (CMS) going after the ED for wanting patients admitted rather than trying to get these patients sent home for outpatient therapy.
–Ray Nowaczyk, DO
Dr. Hospitalist responds:
Au contraire, my fellow hospitalist! The ED is monitored and investigated by many hospital committees and governmental agencies. Although we physicians, and I'm sure most hospitals, have always acknowledged our responsibilities to take care of patients during an emergency, this responsibility was enshrined in legalese in 1986 with the passage of the Emergency Medical Treatment and Active Labor Act (EMTALA), also known as the "antidumping law." Since its passage, any hospital that receives Medicare or Medicaid funding, which includes almost all of them, is at risk of being fined or losing this vital source of funding if this law is violated.
EMTALA essentially states that any patient who presents to the ED must be provided a screening exam and treatment for any "emergent medical condition" (including labor), regardless of the individual's ability to pay. The hospital is then required to provide "stabilizing" treatment for these patients or transfer them to another facility where this treatment can be provided. Furthermore, hospitals that refuse to accept these patients in transfer without valid reasons (e.g. no open beds) can be charged with an EMTALA violation.
As you well know, what is considered stabilized or at baseline by one clinician can be seen as unstable or requiring urgent care by another. The real day-to-day practice of medicine often defies evidence-based logic and forces us to make decisions based on many clinical and nonclinical variables.
These situations are further compounded by recent CMS attempts to hold hospitals publicly accountable for ED throughput by posting these measures on its website. Along with other metrics, the citizenry can now see how long it takes an ED patient to be seen by a health professional, receive pain medication if they have a broken bone, receive appropriate treatment and be sent home, or, if admitted, how long it takes to get into a bed.
This information makes it clearer that in situations of clinical uncertainty, it may be easier for many ED physicians to admit than to discharge. The "treat-'em or street-'em" mentality of triaging patients, of course, varies from doc to doc and can definitely create antipathy towards physicians in the ED. As much as I may disagree with some of our ED doc's admissions, I always—OK, maybe not always—try to assume they have the patient's best interest at heart.
Once admitted, the onus is placed on us, as hospitalists, to determine whether the patient requires ongoing inpatient care, can be cared for in an "observation" capacity, or should be discharged. We all have received calls from a nurse informing us that the patient "does not meet inpatient criteria"—even if the patient is hypotensive with systemic inflammatory response syndrome and lactic acidosis. Oh, if we could only send them back to the ED!
Do you have a problem or concern that you'd like Dr. Hospitalist to address? Email your questions to [email protected].