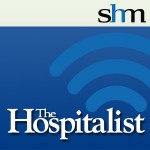 month's podcast features Dr. Ken Epstein, chief medical officer for Hospitalist Consultants, a division of ECI Healthcare Partners; and Dr. Ken Heinrich, regional director with ECI Healthcare Partners and chief medical officer for emergency services for the ECI Advisory Group, discussing their ongoing work helping emergency physicians and hospitalists form collaborative teams.
The focus for emergency physicians, says Dr. Heinrich, is triage and disposition. Differing incentives for hospitalists and emergency physicians can cause stress between the groups, and dialogue is needed to defray the tension, he notes. Dr. Epstein says he thinks that collaboration can be an effective tactic against becoming a "30 day readmission rule" statistic. Shared metrics, developed in partnership, can also improve patient care, he adds.
For more features, visit The Hospitalist's podcast archive.