HM15 presenters: Joshua D. Lenchus, DO, FACP, SFHM, and Nilam Soni, MD, FHM
Summary: Drs. Lenchus and Soni focused on the forces that are driving the value and success of established procedure teams in hospital medicine groups (HMGs). These stem from a need to rapidly address the growing shortage of skilled internists who can perform diagnostic and therapeutic procedures, thus leading to a subset of hospitalists who are willing to provide these services, particularly with the assistance of bedside ultrasonography.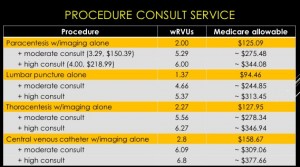 They stressed the importance of providing a platform that is preemptive, proprietary, and scalable. With a defined set of value-creating metrics such as faster turn-around times, a reduction in complication rates, and ultimately a reduction in cost, LOS, and utilization, data must be collected to adequately measure the impact of these services on the institution.
They also discussed the key components necessary to create a procedure service, starting with the logistics of adequate training and demonstration of competence, proper staffing, supplies and equipment, ultrasound image archiving, and the use of documentation templates. The process is followed by the development of pre-procedure and post-procedure guidelines, as well as standardized procedural techniques.
The session also reviewed billing practices and professional fees. An analysis was made comparing Medicare reimbursement and work RVUs for each procedure service with and without a full procedure consultation. A complete consultation significantly increases the allowable fee and associated wRVU. The caveat is that billing for consults is limited to services rendered for patients that are not cared for by the same hospitalist group.
Furthermore, sub-specialists historically perform these procedures. The argument can be made that hospitalists will reduce an unnecessary burden on interventional radiologists, thereby enabling them to focus on more acomplex invasive and highly technical procedures.
The key to success is the ability to find a strategic partner in the C-suite who will directly or indirectly provide the financial and political support. Other sources of funding include private foundations, medical schools, the Department of Veteran Affairs, and such patient safety organizations as AHRQ, IOM, and IHI. HMG leaders also should consider scalability across other hospitalist groups.
"If you build it, they will come."
HM takeaways
Create a business plan;
Find institutional financial and political support;
Start small and selective;
Plan for standardization and training of colleagues;
Create a credentialing/privileging process;
Bill for services and consider billing for full consults; and
Gather baseline and follow-up data.