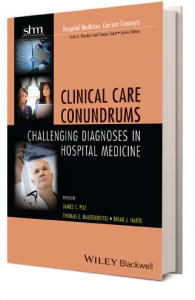 At A Glance
Series: Hospital Medicine: Current Concepts
Title: Clinical Care Conundrums: Challenging Diagnoses in Hospital Medicine
Edited by: James C. Pile, Thomas E. Baudendistel, Brian Harte
Series Editors: Scott Flanders, Sanjay Saint
Pages: 208
---
Clinical Care Conundrums is written in 22 chapters, each discussing a clinical case presentation in a format similar to the series by the same name, published frequently in the Journal of Hospital Medicine.
An expert clinician's approach to the "clinical conundrums" is disclosed using the presentation of an actual patient case in a prototypical "morning report" style. As in a patient care situation, sequential pieces of information are provided to the expert clinician, who is unfamiliar with the case. The focus of each case is the thought processes of both the clinical team caring for the patient and the commentator.
Excerpt
"Clinicians rely heavily on diagnostic test information, yet diagnostic tests are also susceptible to error. About 18% of critical laboratory results are judged nonrepresentative of the patient's clinical condition after a chart review. …CT scans have 1.7% misinterpretation rate. Pathologic discrepancies occur in 11%-19% of cancer biopsy specimens. These data should remind clinicians to question…"
Each case provides great learning potential, not only in the unusual presentation of common diseases or more typical presentations of unusual diseases, but also in discussions of the possibilities in differential diagnoses. The range of information is wide. Readers are taken through discussions of conditions infrequently encountered but potentially fatal in the event of missed or delayed diagnosis, such as strongyloides hyperinfection, a condition that we are reminded is not always accompanied by eosinophilia. Some discussions of the more common conditions include:
Evaluation of confusion;
Etiologies of cirrhosis;
Malignancies associated with hypercalcemia; and
Work-up for new-onset seizures.
My interest remained high throughout the book, because I never knew what to expect. For example, a patient presenting with acute chest pain caused by esophageal perforation resulting in delayed diagnosis might follow the index case presentation of Whipple's disease. We are also reminded that, despite the insistence of Gregory House, MD, (Dr. House is the titular character from the television series "House") that "it's never lupus," it sometimes is actually lupus. A couple of interesting lupus cases are presented in a realistically perplexing manner, followed by beneficial discussion.
Analysis
The real value in this book lies in continued reminders of how and why clinicians make diagnostic errors. In fact, an early chapter in the book deals explicitly with improving diagnostic safety.
Robert Wachter, MD, MHM, reminds us in the introductory chapter that diagnostic errors comprise nearly one in five preventable adverse events. Until recently, diagnostic errors have been given relatively little attention, most likely because they are difficult to measure and harder to fix.
As hospital-based providers, the more awareness we have about the "anatomy and physiology" of both good and faulty decision making, the more likely we are to make better decisions. This book can be a crucial resource for any hospital-based care provider.
---
Dr. Lindsey is medical director of hospital-based physician services at Hospital Corporation of America (HCA).