Physicians are lifelong learners by definition. But Elizabeth Cook, MD, is still an actual student.
Dr. Cook, medical director of the hospitalist division of Medical Associates of Central Virginia in Lynchburg, Va., is working toward her master's degree in public health (MPH) leadership at the University of North Carolina in Chapel Hill, N.C. She is on target to graduate in 2016.
"I am interested in health policy and how the big decisions made at high levels are translated into day-to-day operations," she says. "Oftentimes the unintended consequences are substantial for some of these decisions. I think it is important for those who do the daily provider work to be a part of the process to help inform the decisions."
That day-to-day work for Dr. Cook now includes serving as one of seven new members of Team Hospitalist, the volunteer editorial advisory board of The Hospitalist.
Question: Why did you choose a career in medicine?
Answer: A long series of events. My undergrad degree was in television/film/radio production. I was working in the field but was exposed to the field of medicine for the first time after I tore an ACL [anterior cruciate ligament] and had knee surgery. Some friends worked in medicine and, between their encouragement and my fascination with medicine and the way the body works, I decided to change directions and pursued a medical degree.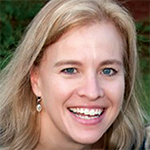 After so many years, the management and diagnosis can lose their sense of impact for providers, as it is daily routine. It is important to remember the patients' perspective and learn ways to reassure and inform to defuse some of the high emotions. –Elizabeth Cook, MD
Q: How/when did you decide to become a hospitalist?
A: I hated inpatient medicine when I was in medical school and as a family practice resident. I intended to open a private practice (family practice) office, but a mentor convinced me to take a job as hospitalist as an interim step while working on putting together the office. I did open the office with intention to transition to just that long term. After doing both for a while, I started to really enjoy the collegiality and pace of hospitalist work and decided to close the office and do hospitalist work full time. That was 14 years ago, and I've never second-guessed my decision.
Q: Was there a specific person who steered you to hospital medicine?
A: A part-time faculty member at the residency where I trained really encouraged me to try hospitalist work. He felt like I would enjoy the pace and the ability to interact with specialists and colleagues, and he was absolutely right. I still thank him and sometimes rib him about it when things are really crazy.
Q: What do you like most about working as a hospitalist?
A: I love the pace and the constant interaction with specialists, nursing staff, and other providers. I also have a great group of fellow hospitalists. We have been a very stable group, and some of us have been together for a long time doing this. Almost feels like family. I also like the constant learning that takes place in the interactions with specialists. They keep us on the cutting edge of medicine, and the patients always provide a new and interesting challenge to learn from.
Q: What do you dislike most?
A: We have a very flexible schedule, but it does require lots of weekends and evenings. It makes it hard to have a social life and do things with people outside of medicine who maintain the usual (Monday to Friday) life.