If you haven't seen the Cleveland Clinic video that has gone viral, Google "Empathy: The Human Connection to Patient Care." The video takes advantage of a universal human trait: When we truly know what another person is experiencing and feeling, we can experience and feel the same thing.
Can Hospitalists Retain an Empathic Approach over the Long Term?
I believe hospitalists can retain or regain the empathy that led to our choice of medicine as a career. To do this, we should consider a few critical practices, some of which occur at work and some at home. These include the following strategies:
Find ways to be fully present in your human encounters with patients and co-workers. This includes minimizing interruptions whenever possible, sitting with people, making eye contact, and putting your phone away.
Reward yourself for hard work. Make rewards, which needn't always be expensive, a regular part of your life.
Take measures to avoid overwork. Know when to say "no" to added responsibilities. Find time to add a wellness practice to your life, such as exercise, art, literature, spending time with your spouse/children, or community service.
Express the gratitude you are feeling to those you work and live with.
Resources for Empathy Training
Empathetics.com offers CME and nursing continuing education credits for training in "how to detect and manage the emotional states of patients and how to respond with empathy and compassion, even in difficult interactions."
PaulEkman.com has a series of training modules geared to detecting the "unspoken feelings" of others by recognizing the meaning of facial expressions.
---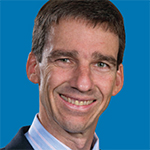 Dr. Whitcomb is Chief Medical Officer of Remedy Partners. He is co-founder and past president of SHM. Email him at [email protected].
Reference
Reiss H, Kelley JM, Bailey RW, Dunn EJ, Phillips M. Empathy training for resident physicians: a randomized controlled trial of a neuroscience-informed curriculum. J Gen Intern Med. 2012;27(10):1280-1286.