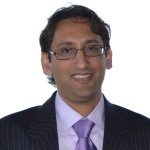 Bilal Hameed, MD, assistant professor of medicine in the Division of Gastroenterology at the University of California San Francisco, reviewed a wide range of serious and life-threatening medical complications resulting from cirrhosis during the annual UCSF Management of the Hospitalized Patient conference.
Recurring complications of cirrhosis can include ascites, acute variceal and portal hypertensive bleeds, hepatic encephalopathy, bacterial peritonitis, acute renal failure, sepsis, and a host of other infections. In many cases, options for treatment are limited as the patient develops decompensated cirrhosis.
Poor prognosis makes it important to urge these patients to get on a liver transplantation list, sooner rather than later, Dr. Hameed told hospitalists attending his small-group session. "Liver transplantation has changed this field," he said. "Call us to see if your patient might be a candidate."
Unlike kidney and some other transplant lists, where patients must wait for their turn, liver transplants are assigned based on need, as reflected in the patient's Model for End-Stage Liver Disease (MELD) score, an objective clinical scale derived from blood values.
"Patients do really well on transplants, with 60% survival at 10 years," he said. He also noted patients with advanced, decompensated disease who do not find a place on the transplant list might instead be candidates for palliative care or hospice referral.
Many conditions, such as infections, can still be managed with timely treatment, returning the patient back to baseline. "The risk of infection is very high. Starting antibiotics early can help," Dr. Hameed said.
And for conditions where fluid volume is an issue, including spontaneous bacterial peritonitis, hypernatremia, or intrinsic renal disease, albumin is recommended as the evidence-based treatment of choice. "Please don't over-transfuse these patients," he said.
Jeannie Yip, MD, a nocturnist at Kaiser Foundation Hospital in Oakland, Calif., said that she frequently admits these kinds of patients to her hospital. For her, Dr. Hameed's albumin recommendation was the most important lesson.
"I was still using IV fluids in patients coming in with volume depletion, to rule out acute renal failure. It's always a dilemma if you have a hypotensive patient with low sodium and low blood pressure, who tells you: 'I haven't eaten for a week,'" she explained. "It's been hard for me not to give them fluids. But after listening to this talk, I see that I should give albumin, instead." TH