And, yet, why? Why would Dr. Catena forgo a comfortable life anywhere in the United States, give up the possibility of practicing in any number of lucrative professional settings (based on the diverse skill set he displays in the video), to earn $350 monthly, with no retirement plan, no disability, and no health insurance? As I watched the video, any concern I had regarding my own future earnings and career evaporated, at least momentarily, in the glow of Dr. Catena's selfless devotion to his patients. One could understand volunteering in this fashion for a month, maybe a year, but seven years? What could keep him going?
I later referred to an article written by Pat Cawley, MD, and others last year and published in the Journal of Hospital Medicine, outlining the characteristics of an effective hospital medicine group, because, in effect, Dr. Catena is a one-man HMG—a solo practice if you will. It is tempting to ascribe his ability to persevere and even thrive in the most inhospitable work environment possible to religious fervor alone. But although he is clearly a devout Catholic, his laconic, "aw shucks" manner suggests the demeanor of an old-time country doctor more than a zealot. As I reread Dr. Cawley's article, I found that, not surprisingly, Dr. Catena's "group" fails on many counts. A small sampling:
1.2: The HMG has an active leadership development plan that is supported with appropriate budget, time, and other resources. Underresourced seems an understatement here.
4.5: The HMG is supported by appropriate practice management information technology, clinical information technology, and data analytics. The last HMG on earth without an EMR?
10.1: Hospitalist compensation is market competitive. And the market is…?
On other characteristics, however, Dr. Catena does surprisingly well:
3.2: All HMG team members (including physicians, nurse practitioners, physician assistants, and ancillary staff) have clearly defined, meaningful roles. Dr. Catena spends extensive time training undereducated but well-meaning local volunteers in providing ancillary services.
5.4: The HMG periodically solicits satisfaction feedback from key stakeholder groups, which is shared with all hospitalists and used to develop and implement improvement plans. The local population is so thankful for his care, they have tried to introduce him to local eligible women in the hope that he will marry and never leave.
9.1: The HMG's hospitalists provide care that respects and responds to patient and family preferences, needs, and values. Dr. Catena's humility and respect for the Nubian people and culture is what keeps him at Mother of Mercy, despite 11 bombings, grueling work, and negligible pay.
But the one characteristic missing from Dr. Cawley's list is likely what keeps Dr. Catena in the Nuba Mountains: He practices at the limit of his skill set on a daily basis and spends the majority of his time in doing what he loves most, patient care (when he is not in his self-dug bomb shelter hole), not being chained behind a computer.
It is the failure of Dr. Catena's group on one of the last characteristics, however, that likely is its greatest:
10.3: The HMG's hospitalists are actively engaged in sourcing and recruiting new members. Somehow, I think finding someone to take Dr. Catena's place will be difficult.
---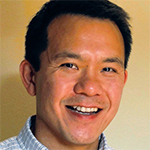 Dr. Chang is pediatric editor of The Hospitalist. He is associate clinical professor of medicine and pediatrics at the University of California at San Diego (UCSD) School of Medicine, and a hospitalist at both UCSD Medical Center and Rady Children's Hospital. Send comments and questions to [email protected].