When you ask Tiffani Panek, division administrator for the division of hospital medicine at Johns Hopkins Bayview Medical Center (BMC) in Baltimore, Md., about her thoughts on the future of hospital medicine, her passion and enthusiasm are immediately apparent. After earning SHM's Certificate of Leadership in Hospital Medicine, Panek was elected vice president of SHM's Maryland chapter. She is the only practice administrator currently in chapter leadership.
Her motto? "I'm a hospitalist who happens not to be a clinician."
The Hospitalist recently spoke with Panek about the future of the HM movement and the roles nonphysician staff play in advancing hospital medicine.
Question: Tell us about your role as division administrator for BMC's division of hospital medicine.
Answer: As part of the executive leadership team, I serve as the administrative counterpart to site director Flora Kisuule, MD, MPH. I am also the program coordinator for the Academic Hospitalist Fellowship Program and partner with Dr. Kisuule and SHM board member and senior physician advisor Eric Howell, MD, SFHM, on the program's growing international work to train academic hospitalists and future leaders of hospitalist programs.
Q: What led you to join SHM and get involved in the Practice Administrators Committee?
A: I had never heard of hospital medicine before I started with [my] division, and I really wanted to learn all I could. I was fortunate enough that Dr. Howell was a part of SHM very early, and as my director, he encouraged me to get involved. In the beginning, it was really about educating myself, but after a few years, when I was immersed and truly in love with hospital medicine, I wanted to get more involved and be a part of the change and innovation that SHM and hospital medicine represent. The movement touches so many people in such a direct way. We are in the trenches, taking care of people when they are at their most vulnerable.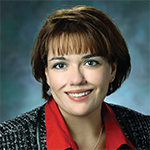 Every single person should feel invested and valued. The diversity of hospital medicine, and of SHM, sets our specialty apart from many others, and we are much stronger for it. —Panek
Q: How were you able to take what you learned from SHM Leadership Academy and apply it to your professional life and new chapter leader position?
A: I should make a cross-stitch of one of my favorite takeaways: "They won't care what you know until they know that you care!" The personality and communication lessons have not only helped me develop my own communication skills, but they have helped me become a better supervisor and mentor. I often return to my notes about leading through adversity when faced with challenges at our own facility. I want to bring all of that to the table as the new Maryland chapter vice president, to help us improve the diversity of the chapter and ultimately the hospital medicine movement.
Q: Moving forward, how do you see your role in SHM—and SHM as an organization— impacting positive change for hospitalized patients and the hospitalists who serve them?
A: As an active member, I am excited to leverage SHM, the Practice Administrators Committee, the local chapter, and other meetings to unite talented people working in hospital medicine and work towards the same mission: improving care of hospitalized patients. In addition to bringing our subspecialty colleagues into the fold, we also must improve our inclusivity of nurse practitioners, physician assistants, pharmacists, nurses, and, of course, our administrators. Every single person should feel invested and valued. The diversity of hospital medicine, and of SHM, sets our specialty apart from many others, and we are much stronger for it. There are no healthcare professionals better situated to improve the quality and cost of care than hospitalists.