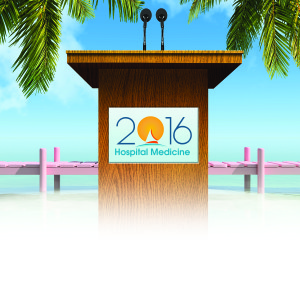 Get ready for hospital medicine's main event—Hospital Medicine 2016 (HM16). SHM remains at the forefront of healthcare, leading the charge to provide the best care for hospitalized patients. We invite you to join us on the sunny shores of San Diego from March 6-9, to learn about the latest advances in hospital medicine and connect with over 3,000 hospital-based professionals.
On hand this year will be some world-class faculty, who will examine today's issues and challenge everyone to be a part of the solution. HM16's renowned speakers are leaders in the field. We proudly welcome:
Karen DeSalvo, MD, MPH, MSc
Acting Assistant Secretary for Health, U.S. Department of Health and Human Services
Dr. DeSalvo has made a tremendous impact on quality in healthcare through direct patient care, medical education, policy and administrative roles, research, and public service. She has received many honors, including recognition as a "Woman of Excellence in Health Care" by the Louisiana Legislative Women's Caucus. Join her for her featured address, "Public Health 3.0, the Role of the Hospitalist and Hospital."
Robert M. Wachter, MD, MHM
Professor and interim chair, department of medicine, University of California San Francisco, author of "The Digital Doctor: Hope, Hype and Harm at the Dawn of Medicine's Computer Age," and of the HM-focused blog, "Wachter's World."
Dr. Wachter, national thought leader in healthcare quality improvement, in his always entertaining style, will address important and interesting work going on in medical leadership, teamwork, artificial intelligence, and physician evaluation. Join him for his closing keynote address: "Hospital Medicine Turns 20: Celebrating the Past While Charting a New Course."
In addition to these much anticipated keynotes, be sure to check out new tracks for HM16, including:
• Co-Management/Perioperative Medicine: This hospitalist core competency increases in complexity, yet many physicians were not even taught the basics in residency. This new track explores the perioperative and consultative medicine questions that challenge hospitalists on a daily basis.
• Health IT for Hospitalists: Technology has changed the practice of medicine. The new Health IT for Hospitalists track focuses on topics to help frontline clinicians perform better by using technology, while helping those with leadership roles in Health IT obtain tools to make them more effective. HM2016 will mark the beginning of an annual update on the best mobile apps in the healthcare sector.
• Post-Acute Care: This track targets two audiences: 1) mainstream hospitalists, who increasingly are being asked to assume responsibility for the full episode of care, including post-acute care services after discharge
These are sessions you won't want to miss! If you haven't registered, now is the time. SHM members save $325 on HM16 registration, and if you're new to SHM, you can receive one free year of membership after registering.
Get the scoop on all things HM16, and register now, at www.hospitalmedicine2016.org.
See you in San Diego! TH
---
Brett Radler is SHM's communications coordinator.