I sometimes think about what several nationally prominent hospitalist leaders have said to me over my career. Not long ago, one said, "Wow. You're still seeing patients and making rounds? I can't believe it. You need to find something better."
This doctor seemed to equate an entire career spent in clinical practice as something done mostly by those who aren't talented enough to have other options. What a change from 30 or 40 years ago.
Several years ago, in a very moving conversation, another nationally prominent hospitalist leader told me, "It's all about the patient and how we care for them at the bedside. There's no better way we can spend our time."
The Best Career
Within a few years, he left clinical practice entirely, even though he was still mid-career.
I hold in highest esteem hospitalists and other doctors who spend a full career in direct patient care and do it well. At the top of that list is my own dad, who is up there with Osler when it comes to dedicated physicians.
Of course, those who spend most or all of their time in nonclinical work really can make important contributions that help the healthcare system better serve patients, in some cases clearly making a bigger difference for more patients than they could via direct clinical care. We need talented people in both roles, but we also need to always be looking for ways to minimize the numbers of doctors who feel the need to flee a clinical career.
Like many hospitalists, I think about these things a lot when making decisions about my own career. I hope we all have the wisdom to make the best choices for ourselves, and for the patients we set out to serve when we entered medical school. TH
---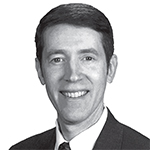 Dr. Nelson has been a practicing hospitalist since 1988. He is co-founder and past president of SHM, and principal in Nelson Flores Hospital Medicine Consultants. He is co-director for SHM's "Best Practices in Managing a Hospital Medicine Program" course. Write to him at [email protected].