From care transitions to antibiotic stewardship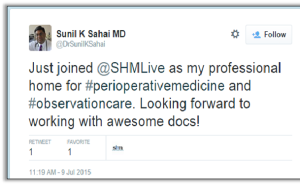 , SHM members are making strides to improve the care of hospitalized patients, and we want to hear your success stories. That's why we've made it easy for you to let SHM—and the social media world—know how you are improving patient care as part of healthcare's fastest growing specialty. Share your successes by getting #SHeMpowered on social media!
What does that mean? When you experience a success related to being a member, attend an SHM event, or use an SHM resource or program, tweet about it using the hashtag #SHeMpowered and mention SHM, @SHMLive. We'll retweet and share your fantastic work with our thousands of followers.


What kinds of things can you tweet about? Pretty much anything! Attended Leadership Academy? Finished a course in the Learning Portal? Implemented a checklist from Project BOOST in your hospital? Tweet about it! Just remember to use the hashtag #SHeMpowered to be a part of the larger conversation on social media, and follow the hashtag to see how others are using their SHM membership to enhance patient care.


For more information, visit www.hospitalmedicine.org/getinvolved, and be sure to follow SHM on Twitter @SHMLive. While you're online, check out our Facebook page, YouTube channel, and LinkedIn group, and get #SHeMpowered!