Hospitalist Jaime Upegui, MD, division president at Apogee Physicians in Coeur d'Alene, Idaho, knows exactly what he wants to do when he retires years from now: sell everything he owns and ride his motorcycle around the world.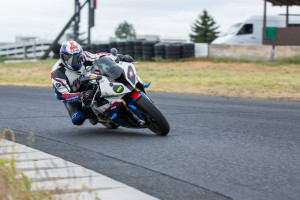 So far, the 39-year-old physician leader has driven across the U.S. at least five times, including a 24-day, 11,700-mile trip during which he visited every state that bordered Canada, Mexico, the Gulf of Mexico, and the Pacific and Atlantic oceans. In spite of snow, ice, rain, wind, and searing 126-degree Farenheit heat, nothing stopped him.
Dr. Upegui is a modern-day explorer who enjoys making the journey as much as getting to the destination. Riding is his personal form of yoga, a meditative experience that demands he stay in the moment and allows him to escape life's daily frustrations. Ever since he started riding motorcycles at age five, he's been hooked and has no plans of shifting into neutral.
Driven by Change
Every day at work, Dr. Upegui, an internal medicine specialist, helps hospitalists thrive in a changing medical world where they're constantly being pushed and pulled in multiple directions. "It's an exciting career that's full of unexpected changes," he says. "I work hard every day on building great teams that produce stellar results."
He brings that same level of enthusiasm to his after-work activities, which include skydiving, tango dancing, scuba diving, snowboarding, and rock climbing. His passion for change and adventure stems from his childhood.
Listen to more of our interview with Dr. Upegui.
Dr. Upegui was born in Colombia and raised predominantly in the cities of Cali and Medellín. His mother, Rocio, was a painter and ballet dancer; his father, Jaime Sr., was a poet and musician. He spent most of his childhood with his mother, who moved frequently in search of new inspirations. During his childhood, he attended 13 different schools and lived in more than 30 different homes in the U.S., Colombia, and Spain. In 2003, he finished medical school, graduating from Universidad Pontificia Bolivariana in Medellín. He worked as an attending physician in the emergency department there for three years before moving to New York City to complete his residency in internal medicine at St. Luke's–Roosevelt Hospital Center.
Throughout medical school and his residency, Dr. Upegui's personal interests extended beyond motorcycling to skydiving and tango dancing, a skill he initially learned to love from his father. Dr. Upegui says he enjoys nothing more than learning, so he's attracted to activities that require a high degree of training or technical expertise.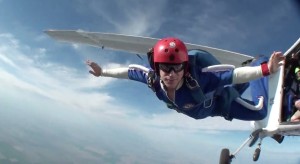 "I like to do things that make me feel like I'm proficient at something that's difficult," he says.
He vividly remembers the first time he jumped out of a plane, in 2002.
"It was thrilling, it was exciting, it was ego-boosting, it was self-gratifying, it was an adrenaline rush," Dr. Upegui explains, adding that he taught English to the owner of the skydiving center in Colombia in exchange for free jumps. "The most exciting part is the decision to take the leap. That critical moment still gives me butterflies."
Over the next six years, he jumped approximately 150 times, then stopped for roughly seven years to handle the demands of school and work, and to avoid the actual cost of skydiving, which is pricey at roughly a few hundred dollars per jump. But, over the years, he missed it, so he resumed skydiving earlier this year.
In between, he learned to tango through private and group lessons. Last year, he traveled to Buenos Aires, Argentina, for an intensive weeklong course and an international tango gathering. He also travels to "milongas," get-togethers for professional and student tango dancers that are held in various cities worldwide.