Each year in the United States, at least 2 million people become infected with bacteria that are resistant to antibiotics, and at least 23,000 people die as a result of these infections. To promote improved antibiotic-prescribing behaviors among the nation's hospitalists, SHM launched its "Fight the Resistance" campaign in November 2015. Cynthia Cheung, MD, a hospitalist in the Triton Hospitalists group at Houston Methodist Willowbrook Hospital and assistant professor of clinical medicine at Houston Methodist, recently shared efforts by a team at her hospital that are closely aligned with SHM's campaign.
Question: What led you to a career in hospital medicine?
Answer: I was very fortunate to train in a program that had excellent hospitalists at the University of California at Los Angeles. Our general wards were staffed by very talented attending physicians, many of whom were hospitalists, and I quickly fell in love with the fast pace of hospital medicine. My UCLA experience confirmed that hospital medicine was the path for me. I finished my residency in 2010 and began my current role at Houston Methodist early in 2014. Almost two years later, I still love what I do.
Q: How did you get involved in antibiotic stewardship at your hospital?
A: One of my colleagues, an infectious disease specialist and chair of our antimicrobial stewardship committee, invited me to join her team. In retrospect, I had never really thought very much about antibiotic stewardship aside from trying to prescribe the proper antibiotics and the appropriate dosages to my patients. I had not fully considered the quality perspective under such a focused lens; being a part of this committee really opened my eyes, especially since the committee's goals are completely focused on optimizing clinical outcomes and minimizing unintended consequences of antibiotic use.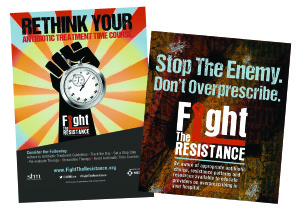 Q: What most excites you about SHM's "Fight the Resistance" campaign?
A: I joined SHM a year ago, and I think it's really exciting that SHM is drawing attention to hospitalists' roles in promoting antibiotic stewardship in addition to its other quality improvement initiatives. Previously, antibiotic stewardship appeared to be mostly the province of infectious disease physicians, but that isn't the case anymore. As frontline providers, we are poised to make a difference in appropriate antibiotic use if armed with the proper knowledge and tools.
Q: As part of "Fight the Resistance," SHM developed recommendations for promoting antibiotic stewardship in hospitals. How do your team efforts align with SHM's campaign?
A: One of SHM's recommendations is to engage with a team of hospital-based clinicians to improve stewardship, and our committee oversees a pharmacist-driven real-time audit and feedback intervention to optimize antibiotic use. Often, after a provider places an antibiotic order, additional culture results and clinical information become available. Our pharmacists evaluate this information and contact the provider if they feel the antibiotic dose prescribed is not the most effective or if there is a culture-antibiotic mismatch.
Or the pharmacist might notice that a patient has been taking an antibiotic for an extended duration and may discuss with the provider whether an appropriate duration can be defined. They will call and consult with providers to help them consider discontinuation or de-escalation if necessary. This is in line with SHM's recommendation to rethink antibiotic treatment time course. Our clinician acceptance rate has been 90 percent in favor of interventions proposed by the pharmacists.
Any time a provider declines pharmacist intervention, our committee reviews these cases to determine whether or not the decision was in the best interest of the patient given the information available. The reviewers include an interdisciplinary team of hospitalists, infectious disease physicians, critical care physicians, and emergency physicians. If one particular clinician has a record of prescribing suboptimally, the team would review that particular provider's prescribing habits with more detail.