As Karen Smith, MD, SFHM, chief of hospital medicine at Children's National Health System in Washington, D.C., sees it, communication problems often arise at the first possible opportunity, when she's trying to find out whom to call when she needs to inform a primary care physician or specialist about a hospitalized patient. Sometimes, that information isn't readily available.
"Which specialist is on and available to talk?" she says.
Then there's timing.
"By the time we can set up a time to actually talk to people, it's after normal business hours," Dr. Smith says. "People aren't answering their office phones after five. …Your other choice is going through the answering service, but then you get a variety of people and not the person who knows this patient."
Dr. Smith spearheaded an effort to reach out in a more reliable fashion to community physicians, with a goal of speaking to—or, more commonly, leaving messages with—at least 90% of hospitalized patients' physicians. They reached the goal, but it was an eye-opening effort.
"The feedback I got from the hospitalists was it's 'just so difficult,'" Dr. Smith says. "I'm sitting on the phone waiting to get ahold of someone. Even trying to use administrative people and have them call and contact us, which is kind of complicated to do."
Yul Ejnes, MD, MACP, a past chair of the board of regents of the American College of Physicians and an internist at Coastal Medical in R.I., says that if he were grading hospitalist communication with primary care providers on a poor-fair-good-excellent scale, he would give it a "fair."
"It runs the spectrum from getting nothing—which is rare, I have to say—to getting at least a notification that your patient is in the hospital: 'Here's a contact number,' sometimes with diagnosis," he says. "And, much less commonly, getting a phone call. That usually occurs when there are questions."
Dr. Ejnes says consistent communication is not as "robust as I would like it to be."
"Some institutions do much better than others, in terms of the hospitalist always letting us know patients have come in," he says. "With others, it doesn't seem to be part of the institutional culture."
There has to be a better way.
And, in fact, Dr. Smith and many other hospitalists are developing ways to better use technology to communicate more effectively with primary care, specialists, nurses, and patients. The goal is to make communication more routine, more effective, and more convenient for both parties, all the while—hopefully—improving patient care and strengthening working relationships.
Most of the approaches are not ultra-high tech. Too high tech might, in itself, be a potential barrier to communication for those who might be uncomfortable with new technology. Instead, the initiatives are mostly common sense tweaks to—or new, logical uses of—existing technology.
EHR-Embedded Communication
At Children's National, Dr. Smith and colleagues use a standardized letter as part of a patient's electronic health record (EHR). In addition to facts about the patient's condition, the EHR includes information that makes it easier for physicians to communicate.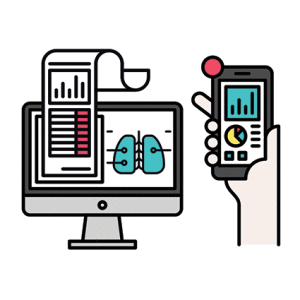 "What's lovely with that is that [the letter] tells the provider the team that they're on," she said, adding that teams are divided by letter and color. "It has information on how you can reach the doctor. All of our doctors carry a phone around with them, and so it's got that number."
The EHR also includes a note suggesting that physicians avoid calling during rounds and gives them information on how to access the portal, so they can follow along with the patient's care, should they choose to do so.