Twenty years ago, Robert Wachter, MD, MHM, and Lee Goldman, MD, first coined the term "hospitalist" in the New England Journal of Medicine.1 A new medical specialty was born along with a new career path dedicated to promoting exceptional care for hospitalized patients.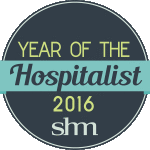 This year ushers in a new era in medicine. The Society of Hospital Medicine (SHM), the professional medical society representing hospital medicine professionals, is proud to introduce 2016 as the "Year of the Hospitalist … Celebrating 20 Years of Hospital Medicine and Looking to the Future."
At the 20th anniversary of the term "hospitalist," SHM remains committed to its mission to transform healthcare and revolutionize patient care by providing members with evidence-based quality improvement and clinical resources, best practices for managing hospital medicine groups (HMGs), and an extensive network of professionals. SHM remains committed to empowering members to lead change, develop the best HM programs, and provide the best patient care.
Help us celebrate by:
Posting, tweeting, and sharing your SHM and hospital medicine success stories using the hashtag #SHeMpowered on your favorite social media outlets. Express how you are making an impact on patient care via hospital medicine in the YOTH and beyond.
Visiting and sharing the Future of Hospital Medicine website (futureofhospitalmedicine.org) to learn about the wide variety of resources SHM offers to help medical students and residents navigate and understand hospital medicine and the career options available in the field.
Stay tuned throughout 2016 for regular updates on how SHM is making a difference in healthcare today, how it has changed the face of the specialty, and how you can join in the YOTH celebrations. TH
---
Brett Radler is SHM's communications coordinator.
Reference
Wachter RM, Goldman L. The emerging role of "hospitalists" in the American health care system. N Engl J Med. 1996;335:514-517. doi: 10.1056/NEJM199608153350713