Patient falls are a national issue, creating costs for every player in the healthcare system.
"Patient falls negatively impact patient outcomes, hospital costs, and costs for insurance and health systems," says Jennifer Hefner, PhD, MPH, lead author of "A Falls Wheel in a Large Academic Medical Center: An Intervention to Reduce Patient Falls with Harm," published in the Journal of Healthcare Quality.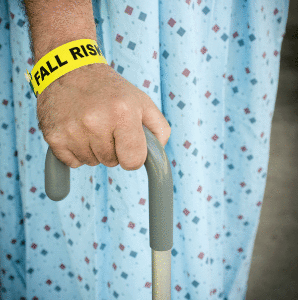 "Patients are negatively impacted by falls in terms of outcomes like loss of confidence and readmission risks," Dr. Hefner says. "Centers for Medicare & Medicaid Services in 2008 declared they wouldn't reimburse hospitals for treatment of fall injuries if they occurred during a patient's stay and they could be prevented by hospitals. In terms of the cost to society, the length of stay is longer if there's been a fall with harm, and the total charges are 60% higher between those who fell and sustained an injury and those who didn't."
In the researchers' yearlong study, a falls wheel—a tool that categorized each patient on two dimensions: risk of fall and risk of injury from fall—was placed on every patient's door. During the year, the rate of falls with harm dropped by almost 50%.
The falls wheel was just one element—the main innovative element—of the hospital's multifaceted approach to falls prevention. The hospital also enhanced staff education and focus on the issue, launched a resource website, and sent a daily email reporting the number of falls.
"The most important thing we learned is that falls are not a nurse-sensitive indicator," says co-author Susan Moffatt-Bruce, MD, PhD. "Falls are a team-sensitive indicator. It's only when you realize falls are not just a nurse's responsibility but everybody's responsibility can you actually impact them and reduce them."
Focusing on the problem and developing specific, multifaceted interventions was the key, the authors say.
"I don't think everybody needs to use a falls wheel, but you need some kind of system or program," Dr. Moffatt-Bruce says. "Just putting a wristband on someone to say they're at high risk is great, but so what? What are you going to do about it? What are the actual items you're asking the team to do to prevent falls?"
Reference
Hefner JL, McAlearney AS, Mansfield J, Knupp AM, Moffatt-Bruce SD. A falls wheel in a large academic medical center: an intervention to reduce patient falls with harm. J Healthc Qual. 2015;37(6):374-380.