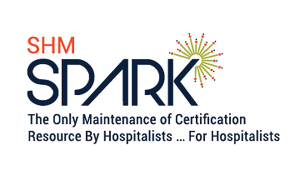 The Focused Practice in Hospital Medicine exam is just two months away (May 17). Have you started your preparation?
SHM recently developed the only maintenance of certification (MOC) exam by hospitalists for hospitalists. SHM SPARK is a fantastic complement to MOC tools already on the market and will help hospitalists succeed in the upcoming exam; it delivers access to relevant hospital medicine review content to enhance patient care while at the same time giving you the flexibility to fill your knowledge gaps and study needs at your own pace.
Featuring a unique online platform, SHM SPARK offers 175 vignette-style multiple-choice questions that bridge the primary knowledge gaps found within existing MOC exam-preparation products today. Other preparation tools are targeted toward the ABIM Internal Medicine exam and cover only roughly 60% of the Focused Practice in Hospital Medicine exam.
SHM SPARK is designed to serve as a supplemental study guide providing targeted study in the remaining roughly 40% of the Focused Practice in Hospital Medicine exam blueprint.
SHM SPARK provides in-depth review on the following systems-based content:
Palliative care, ethics, and decision making
Patient safety
Perioperative care and consultative co-management
Quality, cost, and clinical reasoning
The tool's self-study provides detailed learning objectives and discussion points and allows users to define individual areas of strengths and weaknesses. Users will have the option to claim applicable ABIM MOC Part II Medical Knowledge points as they complete each module with a minimum passing score of 80%. After successful completion of all four modules, participants may claim up to 10.5 AMA PRA Category 1 Credits.
Order SPARK today at www.hospitalmedicine.org/SPARK.