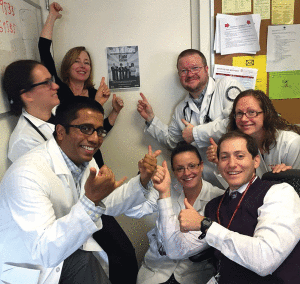 When developing the "Fight the Resistance" campaign last year, the SHM team knew that antibiotic resistance would continue to be one of the most high-profile medical concerns heading into 2016. To promote appropriate antibiotic prescribing, SHM worked with its members to establish the following recommendations for clinicians and other hospital-based staff to promote awareness and inspire a dialogue around antibiotic stewardship:
Identify opportunities to engage with all hospital-based clinicians to improve antibiotic stewardship in your hospital.
Pay attention to appropriate antibiotic choice and resistance patterns and identify mechanisms to educate providers on overprescribing in your hospital.
Consider the following:

Adhere to antibiotic treatment guidelines.

Track the day.

Set a stop date.

Reevaluate therapy.

Streamline therapy.

Avoid automatic time courses.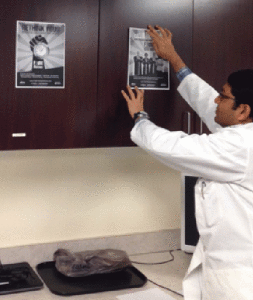 As part of this initiative, SHM designed a series of posters inspired by the propaganda style of the early 20th century to display the recommendations and asked for your help to join the fight through SHM's first Twitter contest. The support and enthusiasm from members and nonmembers alike were contagious! To enter, participants took a photo of themselves and their teams hanging a "Fight the Resistance" poster in their hospitals or offices, then tweeted the photo with the #FightTheResistance hashtag to @SHMLive.
Not only did participants receive recognition for their efforts hanging up the posters and engaging their teams, the posters' presence in various hospitals and offices around the country created thousands of impressions among hospital-based staff and others directly responsible for proper antibiotic prescribing.
Although the contest is over, you can still help facilitate culture change related to appropriate antibiotic prescribing. Follow SHM on Twitter @SHMLive, and continue to visit FightTheResistance.org for the latest updates on the campaign and new tools to promote antibiotic stewardship. TH
---
Brett Radler is SHM's communications coordinator.