Teaching quality improvement and patient safety is no longer an elective—it's a necessity. The Quality and Safety Educators Academy (QSEA, sites.hospitalmedicine.org/qsea) provides medical educators with the knowledge and tools to integrate quality improvement and safety concepts into their curricula. This year, QSEA will be held May 23–25 at Tempe Mission Palms Hotel and Conference Center in Arizona.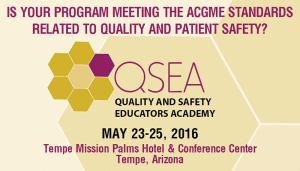 Here are the top 10 reasons you can't afford to miss it—and will be glad you went!
Unparalleled Education: Develop and refine your knowledge in the field of quality and patient safety.
Curriculum Development: Return to your institution with a collection of new curriculum ideas from QSEA faculty and peers.
Professional Development: Spend focused time developing and reflecting on your career goals as a physician educator in quality and safety.
Networking: Build a network of quality and safety educators with both faculty mentors and colleagues with similar career interests.
Institutional Support: Learn strategies to engage your institutional and program leaders to support and implement a quality and patient safety curriculum to meet the Accreditation Council for Graduate Medical Education (ACGME) Next Accreditation System/Clinical Learning Environment Review (CLER) expectations and improve patient care.
Hands-On Activities: Dive in to an interactive learning environment with a 10-to-1 student-to-faculty ratio, including facilitated large group sessions, small group activities, and mentor groups.
Variety of Content: Each day features a variety of topics, such as the principles of quality improvement and patient safety, mentoring trainees in quality improvement project work, high-value care curriculum, curriculum development and assessment in medical education, and many others.
Distinguished Faculty: All sessions are led by experienced physicians known for their ability to practice and teach quality improvement and patient safety, mentor junior faculty, and guide educators in curriculum development.
Valuable Resources: Leave with a tool kit of educational resources for quality and safety education.
Desert Beauty: Enjoy sunny Tempe, Arizona, or travel to nearby Phoenix or Scottsdale!
It's no surprise that QSEA sold out each of the past four years, so don't delay—it's almost here! Register online or via phone at 800-843-3360. Questions? Email [email protected].