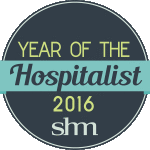 Editor's note: As SHM celebrates the "Year of the Hospitalist," we're putting the spotlight on some of our most active members who are making substantial contributions to hospital medicine. You can get involved, too! Log on to www.hospitalmedicine.org/yoth for more information on how you can join the yearlong celebration and help SHM improve the care of hospitalized patients.
Hospitalist Jerome C. Siy, MD, SFHM, CHIE, is head of the Department of Hospital Medicine at HealthPartners in Minneapolis-St. Paul, Minn., and chair of SHM's Practice Management Committee. As a member of SHM for more than 15 years and recipient of SHM's prestigious Award of Excellence for Clinical Excellence in 2009, Dr. Siy has been a driving force in advancing hospitalist practice and improving patient care in the U.S. and beyond.
Question: What led you to a career in hospital medicine?
Answer: After graduating from the Mayo Graduate School of Medical Education, I started in the med-peds residency program at the University of Minnesota and then transitioned to an internal medicine residency program. It was at the University of Minnesota that I recognized my intense passion for the care of acutely ill hospitalized patients. During my residency, I had the good fortune of finding exceptional hospitalist role models in my program. As I worked with them, my passion for working with hospitalized patients continued to grow; I realized that my ideal job was to work with this group of doctors that I so greatly admired. In 2000, I joined the Department of Hospital Medicine at HealthPartners in Minneapolis-St. Paul and now proudly lead the department.
Q: When did you first get involved with SHM? What value does it bring to your daily practice?
A: When I first joined HealthPartners, Dr. Rusty Holman was our director. He was extremely active in the early days of SHM, when it was known as the National Association of Inpatient Physicians (NAIP). Our team at HealthPartners was fairly small, between 15 and 18 hospitalists, and identified early on with the hospital medicine specialty and NAIP. Many of them are still engaged with SHM 16 years later. As a team, we continue to encourage our entire group of over 90 practitioners, including our PAs and NPs, to get involved with SHM.
At SHM, chances to connect with people exist everywhere. So many hospitalists tell stories about how they went to an SHM meeting and ran into an old friend or medical school colleague that they didn't realize was a hospitalist. That's exactly why the SHM community is a fertile ground to build and expand upon ideas for your own program. For example, at HealthPartners, we are embarking on early work with telemedicine. With the network of hospitalists at SHM, I immediately knew colleagues who were working in hospital medicine and was able to visit some of them at their telemedicine specialty center.
Whether you join committees, give a joint lecture, or attend a session at an annual meeting with someone, you are opening yourself up to collaboration that will ultimately lead to better care for patients.
Q: What is one of the most unique or rewarding experiences you have had while practicing hospital medicine?
A: After 10 years at HealthPartners, I took a personal sabbatical to study Chinese in Taiwan for eight months. Even though I was away from my hospital, hospital medicine followed me overseas. While in Asia, I visited contacts in Taiwan and Japan. With the U.S. government just rolling out the Affordable Care Act, I wanted to gain a better understanding of how nationalized healthcare programs impacted care providers and care delivery.