Only then will our leadership result in creating effective and productive bricks and mortar. TH
References
Heffernan M. Margaret Heffernan: why it's time to forget the pecking order at work. TED Talks. June 16, 2015. Available at: https://www.youtube.com/watch?v=Vyn_xLrtZaY&feature=youtu.be.
Steeves SA. Scientists find method to pick non-competitive animals, improve production. Available at: https://news.uns.purdue.edu/x/2007a/070212MuirSelection.html.
Collins J. Good to Great. New York, N.Y.: HarperBusiness; 2011.
---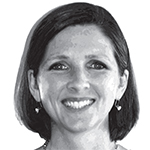 Dr. Scheurer is a hospitalist and chief quality officer at the Medical University of South Carolina in Charleston. She is physician editor of The Hospitalist. Email her at [email protected].