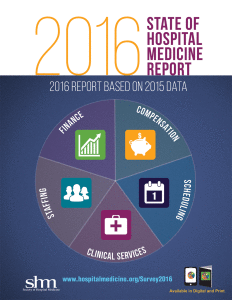 Thank you to all who participated in the 2016 State of Hospital Medicine survey, the only national survey that collects information at the practice level. The results of the survey, when combined with the Medical Group Management Association's hospitalist compensation and productivity data, will result in a single resource that provides the most accurate and comprehensive information available on the hospital medicine landscape.
Having credible information about how HM groups are structured and operate will benefit the entire healthcare industry and those involved in public policy and research. The survey results will be used by a wide variety of individuals and organizations to make important decisions about practice design and resource allocation.
Visit www.hospitalmedicine.org/survey and complete the notification form to be the first to know when the SOHM report becomes available this fall.
---
Brett Radler is SHM's communications coordinator.