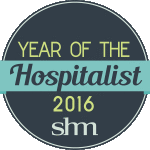 As part of the Society of Hospital Medicine's "Year of the Hospitalist" celebration of the 20th anniversary of the hospital medicine specialty, SHM recently welcomed its 15,000th member, Marilyn Glauber, MD, a hospitalist at St. Joseph's Hospital Health Center in Syracuse, N.Y.
Now with 15,000 members and growing, SHM continues to change the face of medicine—one patient at a time. We recently spoke with Dr. Glauber about her path to hospital medicine and why she believes in its continued growth and success during these times of unprecedented change.
Question: What steered you toward a career in hospital medicine?
Answer: Believe it or not, I did not enter medical school at New York Medical College with dreams of becoming a hospitalist. I first became aware of hospital medicine as a career path during my internal medicine residency at Loyola University School of Medicine in Maywood, Ill. I had some great hospitalist mentors during residency who clearly enjoyed their careers.
As I completed my training, hospital medicine was the clear choice for me. I wanted to manage patients with a variety of diagnoses and wasn't ready to limit myself to any one subspecialty. I had always found diagnosis and management of acutely ill hospitalized patients to be the most interesting part of medicine, and I thoroughly enjoy working in the hospital environment. The field of hospital medicine was rapidly evolving, and I was curious to see where I could go with it. After four years, I can say with confidence that it has been a great experience.
Q: What do you see as the most rewarding part of your job?
A: Although my experiences practicing hospital medicine have been rewarding in a variety of ways, in the end, it's pretty simple: I get satisfaction from helping my patients heal and helping them through the experience of hospitalization. It may take days, or it may take months to accomplish, and it is often the result of a cumulative effort of numerous hospitalists, consultants, and the entire hospital staff. But the reward for me is seeing my patient sitting in a chair, dressed in their street clothes, and waiting for their ride to come pick them up.
Q: Why do you think hospital medicine is the fastest-growing specialty in medicine? How can this momentum be sustained moving forward?
A: The growth of hospital medicine reflects the changing landscape of medicine nationwide. Hospitalist jobs are available because hospitals recognize the benefits of having us on hand to provide efficient and quality care to the patients. In terms of career choices, it is appealing to those coming straight out of residency, more experienced physicians practicing outpatient medicine, and even subspecialists who are looking for a career change. It is a satisfying and interesting job, which by nature benefits from unconventional work schedules. I think this flexibility is a big draw as well, in addition to the rewarding career.
Q: Why were you intrigued to join SHM and also attend Hospital Medicine 2016 (HM16)?
A: I think joining SHM is probably long overdue! I have been practicing for four years and feel that it's time to take stock of my strengths and weaknesses as a hospitalist and try to improve. Through SHM, I can stay up to date on relevant medical topics, including everything from antibiotic resistance to glycemic control, as well as learn how to be a better hospitalist through the experience and research of colleagues. Attending HM16 seemed like a great way to get started, learn some new things, and network with hospitalists around the country.
Q: As a new member to SHM, what do you hope to gain from your membership?