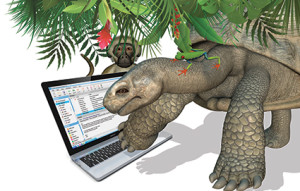 Forty-five years ago, an engineer in Boston sent an electronic message between two computers some 10 feet apart. It took another 10 years or so before the electronic message was dubbed "email"—a term now perhaps more ubiquitous than any other in the lexicon of modern communication.
And yet despite the seemingly definitive place email communication holds for hospitalists—for messages to one another, missives to hospital administrators, instructions to patients, and myriad other uses—there are those who often wonder if email is outmoded. In a world bent on text messaging, Facebook, Twitter, Skype, Vine, Periscope, and Google Talk (not to mention dozens of lesser-known services and a seemingly endless string of startups aiming to be the proverbial next big thing), is email old-fashioned or ineffective?
In a word, no.
But that doesn't mean email is the only communication method in a hospitalist's toolbox or the best one for every situation. Physicians and communication experts interviewed by The Hospitalist agree that email has a function and isn't going anywhere anytime soon. However, that function is dependent on trust, urgency, formality, and relationships.
"It has a place in communication, especially for busy hospitals, but the key is to figure out what is that place," says Vineet Arora, MD, MAPP, FHM, a hospitalist at the University of Chicago, who has spoken at SHM annual meetings on how hospitalists communicate. "All of the information that is coming to you is in a push-pull model … There is information that you want pushed to you because it's important and you want to see it. And then there is information that you want to pull because perhaps you know it relates to a patient in front of you … Where does email fit into it?"
Communications consultant A.J. Moore, associate professor of communication at Rider University in Lawrenceville, N.J., put it even more bluntly when assuring that email isn't going anywhere.
"Research shows, and I know I do it myself, the first thing I do in the morning when I pick up my phone is check my email," he says. "People often check their email before they check the weather, before they check social media.
"Sure, there are other places to go, there's other ways of communicating. But I still think that email is the center point. It's the starting line for your communication."
A Modus for the Medium
Hospitalist Aaron Jacobs, MD, associate chief medical information officer at University of New Mexico Hospital in Albuquerque, appreciates the academic discussion over the future of email, but he also knows he uses it every day. To him, there are several factors that go into choosing which medium he uses for a particular message.
"It depends on the situation and the message you are sending," says Dr. Jacobs, associate professor in the Department of Pediatrics at the University of New Mexico School of Medicine. "If I'm friends with the pediatric nephrologist, I may text him a quick question about a [glomerular filtration rate] or a clinical question. But if I'm not on those terms with another subspecialist, I wouldn't do that.
"There's definitely a relationship aspect that is relevant."
Another factor in choosing to send an email versus a text message versus a tweet is timing. In the days when email was the only alternative to in-person communication or a phone call, the electronic message was the fastest way to reach a person. It was the best way to hold a synchronous conversation. But in today's era of smartphones, tablets, and even wristwatches that have instant access, email is no longer the fastest option. In fact, email today is best tailored to asynchronous conversations, Dr. Arora says.