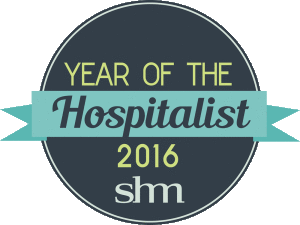 As the national vice president of the hospital medicine service line at Catholic Health Initiatives (CHI) in Englewood, Colo., Amanda Trask, MBA, MHA, FACHE, CMPE, SFHM, faces many challenges daily surrounding strategy and engagement of CHI's hospital medicine group. She recently talked with The Hospitalist to discuss how her SHM membership has helped her lay a strong foundation for the group's success.
Question: What attracted you to become involved with SHM?

Answer: When I accepted my current position as the national vice president for the hospital medicine service line at CHI several years ago, I wanted to go to the leading resource for hospitalists to make sure I was up-to-date with the latest information about the specialty. I was immediately attracted to SHM and have since used it as a resource to bring information into my organization and also give back to the profession through attendance at annual meetings, committee membership, and more. Though I am not a physician, my involvement with SHM allows me to connect our hospitalist leaders with the most relevant data about the practice and leadership of hospital medicine.
Q: How has your experience with SHM brought value to your professional career?
A: Not long after I joined, I realized that SHM features a very welcoming body of members, and it encourages regular conversation about how to solve complex problems in our continuously evolving world of healthcare delivery. What I find so valuable is that SHM provides members with ample avenues to share results, success stories, challenges, and more—whether that is at the annual meetings or through the Journal of Hospital Medicine, The Hospitalist, the Hospital Medicine Exchange (HMX), social media, and more.
As a result of this culture of inclusivity, I accepted a role on the Practice Administrators Committee and subsequently on the Practice Analysis Committee as a way to further engage with SHM and network with other hospital medicine professionals. Two SHM resources I refer to on a regular basis are the Key Principles and Characteristics of an Effective Hospital Medicine Group and the biannual State of Hospital Medicine survey. Having access to key recommendations and research about hospital medicine is critical, but knowing that it was endorsed by the society dedicated to hospital medicine added extra emphasis to its relevance.
Q: How has CHI used these resources to inform decisions about hospitalist practice and leadership?
A: The list of key principles and characteristics is especially helpful with our hospitalist dyad leadership model at CHI, in which we pair strong medical and business leaders together to collectively lead and improve each division. The two key principles we always come back to are the first two: effective leadership and engaged hospitalists. The foundation of high-quality care and financial success is engaged hospitalists, requiring a meaningful relationship between hospitalists and hospital leaders. Both strategic business and medical leadership are essential to sustaining performance. For example, by having strong leadership and engaged hospitalists, we have been able to develop and implement clinical standards based on primary evidence to improve patient outcomes. By incorporating recommendations from the key principles and characteristics, we continue to advance and evolve our model to best meet our hospitalists'—and our communities'—needs.
The State of Hospital Medicine survey is a valuable asset when we're evaluating care teams and staffing models. Reviewing data that cover what others have done—whether it is about incorporating advanced practice clinicians (NPs and PAs) into the hospital medicine group, evaluating a nocturnist model, or looking at how others have handled differentiation of schedules—ensures we not only incorporate these best practices into our decision-making process but also allows us to consider how our processes compare to others. Tie this back in with the key characteristics, and you can understand what staffing model and resources you need to build the hospital medicine group that best fits your hospital and its local needs.