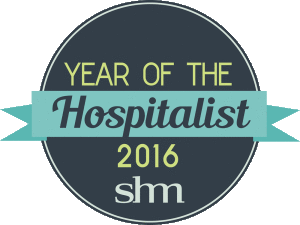 Editor's note: As SHM celebrates the "Year of the Hospitalist," we're putting the spotlight on some of our most active members who are making substantial contributions to hospital medicine. You can get involved, too! Log on to www.hospitalmedicine.org/yoth for more information on how you can join the yearlong celebration and help SHM improve the care of hospitalized patients.
This month, The Hospitalist spotlights Vishal Verma, MD, medical director of the hospitalist program at 4C Medical Group in Scottsdale, Ariz. In addition to being an active SHM member and regular attendee at SHM meetings, Dr. Verma recently purchased a group membership for his hospitalist team. He also started an Arizona chapter of SHM, based on his positive experiences with SHM. He recently spoke with The Hospitalist to share his path to hospital medicine and his inspiration to expand the society's reach in Arizona.
Question: How did you arrive at a career in hospital medicine?
Answer: After finishing my medical school training at Kasturba Medical College in Manipal, India, I traveled to the United States to further my education and begin my internship and residency. I started my internship in internal medicine at a downtown Brooklyn, N.Y., hospital in 2006. Internship year, though often considered to be a hectic and laborious year, was when I learned for the first time how to care for hospitalized patients. I was chosen by the chief residents as intern of the month in my first month of training. This honor, and the experience of training in an inner-city hospital, further ignited my passion to practice medicine.
It was during my time as an intern and resident when I fully realized the critical role hospitalists play as the main coordinators of care and witnessed their influence on care outcomes. I later served as chief medical resident and was elected by my fellow residents as president of house staff. I was also elected as vice president of the Committee of Interns and Residents (CIR) and served on CIR's National Executive Board, where I passionately advocated for my patients and fellow colleagues. Serving in various roles provided me with an in-depth knowledge of hospital medicine and helped me build it as my career.
Q: In your current role, how does your membership with SHM help you improve quality of patient care?
A: Our group consists of 14 hospitalists who serve in two community hospitals. Being a member of SHM for many years has been a rewarding experience as it keeps me informed about changes and advances in hospital medicine. Through the Journal of Hospital Medicine, regular webinars, and SHM conferences and annual meetings, SHM helps us enrich our knowledge base on quality, performance, patient experience, coding, practice management, acute and post-acute care, and other aspects of hospital medicine.
At our recent visit to HM16 in San Diego, a few members of our team attended sessions on post-acute care and value-based reimbursements. At the sessions, we learned of the importance of stressing quality and engaging sub-acute rehab facilities in meaningful ways so as to improve the quality of care in skilled nursing facilities and also help to decrease the length of stay from 30 days to closer to 15 days. 4C Medical Group has implemented many suggestions from these lectures and is in the process of transforming our post-acute-care teams.
I also serve as a member of the board of directors for 4C Medical Group, where my association with SHM has helped me give valuable input while we manage the care of over 20,000 patients in acute, sub-acute, and home-based teams as well as outpatient clinics. SHM provides its members with a platform to sharpen their leadership skills and enables members to build a strong network among fellow leaders, which helps us learn about and share best practices, which translates to better quality of care.