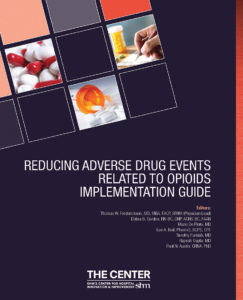 Opioid management is a hot topic not only in the world of healthcare but in the larger public dialogue. To combat opioid misuse, SHM developed a step-by-step toolkit to improve safety and reduce adverse events for inpatients receiving opioids. The toolkit, "Reducing Adverse Drug Events Related to Opioids (RADEO)," provides instructions for hospitals to implement a successful quality improvement program to make opioid prescribing safer with fewer adverse events.
The RADEO toolkit also provides strategies for facilitating policy formation, evaluating current processes, tracking progress against implementation goals, and identifying best practices. Although the RADEO toolkit is designed for the inpatient setting, it also discusses care transitions for patients on opioid therapy to the outpatient setting.
Download the toolkit today at www.hospitalmedicine.org/RADEO. Check out all available quality improvement and patient safety toolkits at www.hospitalmedicine.org/qi.