Editor's note: "Everything We Say and Do" is an informational series developed by SHM's Patient Experience Committee to provide readers with thoughtful and actionable communication tactics that have great potential to positively impact patients' experience of care. Each column will focus on how the contributor applies one of the "Key Communication" areas in practice.
View a chart outlining key communication tactics
What I Say and Do
In interactions with patients and families, I make sure I communicate with empathy. By communicating with empathy, I mean not only listening for and understanding a patient's experiences, concerns, and perspective but also communicating this understanding with my intention to help.
Why I Do It
Time constraints, endless to-do lists, and racing minds can eclipse empathic, attentive, and personalized care. When empathy is missing from the patient-clinician relationship, patients and clinicians suffer. Patients feel disengaged from their clinician; they remain anxious and lose trust. And physicians miss out on the gratification of feeling connected with patients and on achieving the best possible patient engagement and outcomes.
Physician empathy is associated with not only higher levels of patient satisfaction and survey scores but also with patient engagement, adherence to care plans, and positive health outcomes as well as physician job satisfaction.1–3
How I Do It
I start with mindfulness. I sustain eye contact, sit eye to eye, and give the person my undivided attention, listening to their words and nonverbal behavior—without judgment.
Then I draw on several techniques that express empathy. My favorites are these: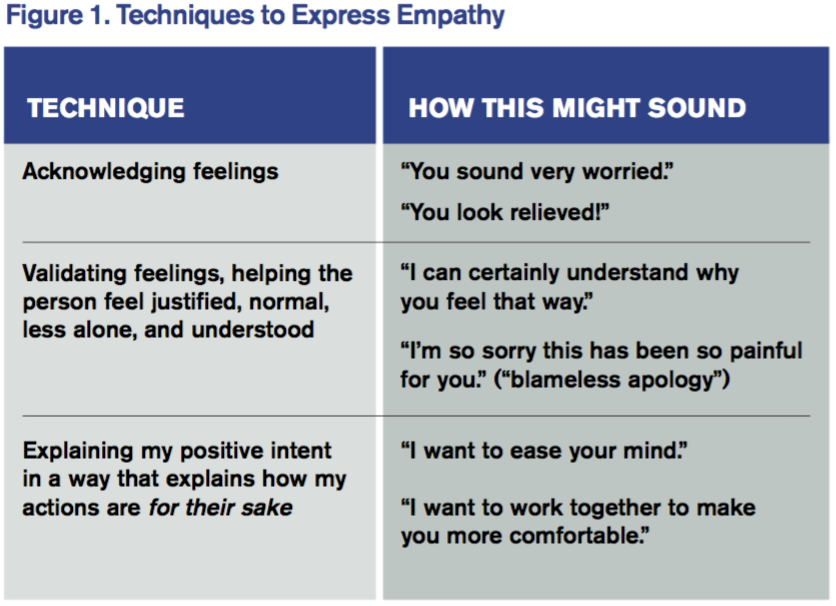 On a Personal Note
Albert Schweitzer said, "At times, our own light goes out and is rekindled by a spark from another person. Each of us has cause to think with deep gratitude of those who have lighted the flame within us." Communicating with empathy, to me, is the spark that rekindles the lights of patients, families, and colleagues in our relationships with them. TH
---
Wendy Leebov is founder and partner in Language of Caring, LLC, author of The Language of Caring Guide for Physicians, and developer of the Language of Caring for Physicians web-based learning program. Reach her at [email protected].
References
Leebov W, Rotering C. The Language of Caring Guide for Physicians: Communication Essentials for Patient-Centered Care. 2nd ed. Language of Caring, LLC; 2015.
Butterfield S. New research links empathy to outcomes. ACP Internist website. Available at: http://www.acpinternist.org/archives/2013/03/empathy.htm. Accessed July 8, 2016.
Hojat M, Louis D, Maio V, Gonnella J. Empathy and health care quality. Am J Medical Quality. 2013;28(1):6-7.