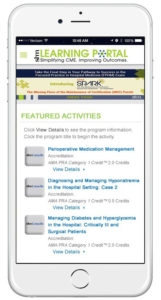 Access educational content to improve your practice and earn CME today at www.shmlearningportal.org. New content includes:
Seven-Module Anticoagulation Series
This comprehensive series of recorded webinars reviews best practices for inpatient anticoagulation, including the evidence-based management of atrial fibrillation, venous thromboembolism, perioperative anticoagulation, and anticoagulant-related bleeding. Features include:
Seven 60-minute webinar-based sessions accessible on-demand
Brief introductory materials accompanying each webinar as well as a post-test
Links to additional resources with each webinar
6.5 CME credits for all seven sessions
This module is free for SHM members and non-members.
Acute Coronary Syndrome Performance Improvement CME Activity
Improve quality improvement strategies around acute coronary syndrome (ACS) while earning CME. This tool is a free, self-directed, web-based, yearlong activity designed to help you evaluate your practice. Upon completion of the activity you will receive 20 CME credits. The activity features three stages, including completing a performance assessment measurement through a self-evaluation, building an action plan for personal improvement, and using a performance analysis tool to compare performance from the previous stages.
The deadline to participate is fall 2016. This module is free for SHM members and non-members.
Adolescent and Young Adult Inpatient Care: Not a Kid Anymore
This online case-based module allows participants to:
Identify appropriate interview techniques with the adolescent inpatient
Recognize the components in a complete psychosocial interview with an adolescent inpatient
Define the necessary elements of a pelvic examination in an adolescent female inpatient
Select the appropriate diagnosis, treatment, and partner notification for STI in the inpatient setting
Earn 10 self-evaluation points when enrolled in the American Board of Pediatrics' MOC program and 3.0 AMA PRA Category 1 Credits upon completion of the activity
This module is free for SHM members and $50 for non-members.
Updated Hospital Quality and Patient Safety MOC Self-Assessment (Adult and Pediatrics)
Quality improvement and patient safety principles such as QI theory, system processes, measurement tools for implementation and error types, disclosure, and prevention strategies
26 multiple-choice questions with accompanying answers, rationales, and references
8 self-evaluation points for diplomates enrolled in ABIM's MOC program as well as 2.0 AMA PRA Category 1 Credits
SHM members receive a special price of $65; the non-member price is $100.