Every player coached by Summitt finished her undergraduate degree, often with considerable prodding directly from her.
"Across the board with her kids, she also prepared them for life after basketball," basketball coach Bob Knight said. "Not many people have prepared their players that well for life."2
You don't have to be a women's basketball fan to understand and respect the impact that Summitt had on the lives she touched. She didn't just win a lot of games—she changed the game. Think about how you will be remembered in your career as a hospitalist. Will you be remembered as someone clocking in and clocking out, just getting by for a paycheck? Or will you be remembered and revered as a "Summitt," someone who always gave it their all and coached others to their best?
Hospital medicine is still in its relative infancy as a specialty. We all have the potential to pave a positive future for thousands more to come behind us; we all have the potential to be a Summitt. TH
References
1. Gregory S. Q&A: Tennessee Coach Pat Summitt. Time website. Accessed August 7, 2016.
2. Pat Summitt, winningest coach in Division I history, dies at 64. ESPN website. Accessed August 7, 2016.
---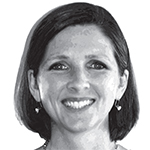 Dr. Scheurer is a hospitalist and chief quality officer at the Medical University of South Carolina in Charleston. She is physician editor of The Hospitalist. Email her at [email protected]