Editor's Note: Listen to Dr. Smith share more of his views on the State of Hospital Medicine report.
2016 is the "Year of the Hospitalist," a sobriquet meant as a proud nod to the specialty's maturation as a fixture in hospitals across the country. Hospital medicine is no longer the new kid on the block as it has assumed care for the vast majority of hospitalized patients nationwide.
One could understand then if the ever-rising salaries hospitalists have commanded for 20 years might have finally plateaued, particularly as tightening budgets have C-suite administrators looking to trim costs.
Think again.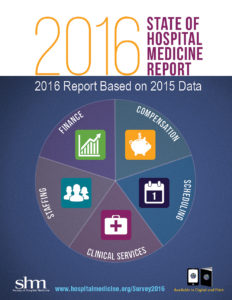 Median compensation for adult hospitalists rose 10% to $278,746 from 2013 to 2015, according to data from the Medical Group Management Association (MGMA). The compensation data from MGMA are wrapped into the 2016 State of Hospital Medicine Report (SoHM), which published this month. That double-digit increase continues the steady climb of hospitalist pay, which is up 30% since 2010.
"Growth suggests that there is still a huge demand," says Leslie Flores, MHA, a partner in Nelson Flores Hospital Medicine Consultants and a member of SHM's Practice Analysis Committee. "The demand for hospitalists still exceeds the supply, and so recruiting hospitalists, particularly to nonurban areas, is really challenging and is requiring more money."
The SoHM is a biennial partnership between SHM and MGMA that provides HM group leaders and rank-and-file hospitalists a litany of benchmarks for salaries, workloads, and everything that informs those two topics. Call it the specialty's empirical roadmap.
"Often, compensation information relative to staffing information is proprietary, so hospitalists are in a position where they are dependent upon their hospital stakeholders to have access to this information, but they are also the same stakeholders with whom they negotiate their contracts," says G. Randy Smith, MD, MS, FRCP(Edin), SFHM, an assistant professor in the Division of Hospital Medicine at Northwestern University Feinberg School of Medicine in Chicago and a member of SHM's Practice Analysis Committee. "The State of Hospital Medicine report by SHM provides an opportunity for hospitalists to have an independent view of the compensation and workforce distribution factors that can impact negotiations with their hospital stakeholders. It's a very powerful tool."
Compensation Data
Rachel Lovins, MD, SFHM, CPE, voraciously reads every SoHM report because she uses its keynote compensation data to benchmark what she should pay her staff.
"I make a promise to my group," says Dr. Lovins, chief of hospital medicine and vice chair of the Department of Medicine at Middlesex Hospital in Middletown, Conn. "I promise them that we will always be at or above what is standard for our areas. So for me, I have to look every time."
Promises like that are getting more expensive to keep.
Hospitalists in the East region earn a median compensation of $245,977, up 3.1% from the $238,676 figure reported in 2014. But the East, where the bulk of the country's population lives and where competition for hospitalists is typically lessened, is by far the lowest-paid region.
Hospitalists in the South continue to earn the most, with a median compensation of $301,833, up a whopping 16.9% from $258,020 from 2013. Hospitalists in the West earned a median of $275,658 (up 10.3% from $249,894), while Midwestern hospitalists saw a median compensation of $285,213 (up 8.9% from $261,868).
In addition to year-over-year growth, HM is also seeing outsized growth as compared with family medicine physicians, according to MGMA data. From 2011 to 2015, family medicine hospitalists saw an average compensation increase of 4.7%, bringing the average salary to $285,213. During the same period, family medicine physicians who are not hospitalists and don't practice obstetrics saw an average annual compensation increase of only 3%, bringing the average salary to $230,456.